Obama-Era Immigrant Child Foster Care Programs Used to House Separated Children
In order to accommodate the surge of immigrants entering the United States in 2014, the Obama administration created a network of foster care programs across the country to take care of unaccompanied minors crossing the border.
But in the wake of the Trump administration's "zero-tolerance" immigration policy announced last month, some of those same foster care facilities have been used to house some of the thousands of children taken from their parents at the U.S.-Mexico border.
"We are now in a different political climate, so we will see how this goes," Vickie Thompson-Sandy, president of Samaritas, told Newsweek on Thursday.
Samaritas is the largest foster care provider in Michigan and has been helping place children into foster care homes for decades. But in 2014 they were asked by the federal government to extend their services to support unaccompanied immigrant children who were picked up at the border.
From 2014 to 2015 the organization reunified 100 percent of immigrant children with existing family members in an average of less than 30 days, Thompson-Sandy told Newsweek.
"The challenge for us with this policy is that it separates children and creates trauma for children that is unnecessary," she said.
While the organization has not received any immigrant children from the border who have been separated because of the "zero tolerance" policy, they are preparing for their arrival by getting more programs and shelters approved and licensed.
But Thompson-Sandy worries that the Trump administration's hardline immigration policies may affect how successful they are with caring for the children.
"There is a question for us that while we were successful in 2014 in reunifying, will it be more challenging this time to reunify if the family member is undocumented? Will they feel comfortable coming forward?" she added.
During Barack Obama's tenure, nearly 69,000 unaccompanied children were apprehended by border patrol from 2013 to 2014 alone, according to data from the U.S. Customs and Border Protection agency. At the time, Obama addressed the issue as an "urgent humanitarian situation" and immediately called on Washington to make a number of law changes aimed at improving the well-being of the children.
As a result, the administration took various steps to make sure children were placed into a shelter or foster program as soon as possible, allowing them to be held by the Department of Homeland Security for no more than 72 hours before they would be transferred into the care of the Health and Human Services Department.
The White House also established a linked network of foster care programs, often run by religious nonprofit organizations, to cater towards these immigrant children. In May, 2014, the federal government gave a $2.28 billion budget to help set up state-licensed shelters and foster care agencies around the country.
These programs are funded in the same way that state or county laws and regulations govern domestic foster care.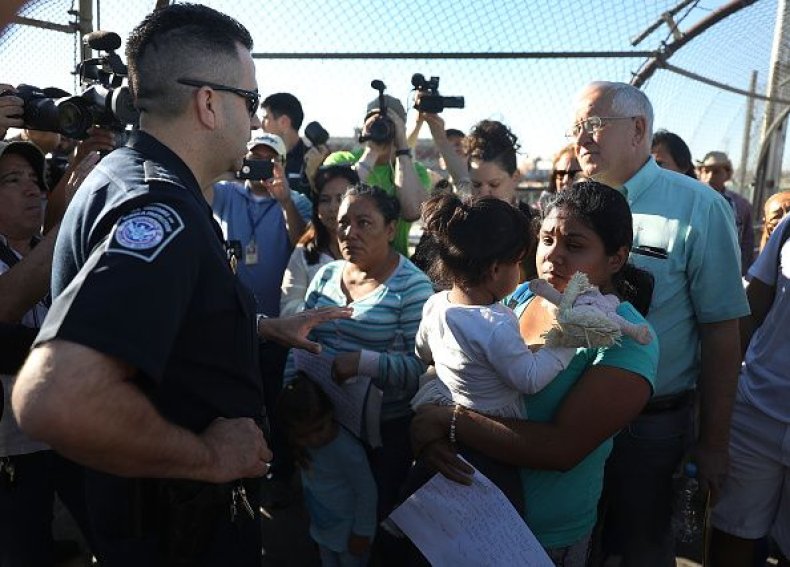 As of May, over 2,300 children had been forcibly separated from their parents as a result of Attorney General Jeff Sessions's announcement of the Trump administration's "zero-tolerance" policy. Instead of treating those who cross the border illegally with civil punishment, they are being charged with criminal penalties and have to await trial.
Children who are removed from their parents by ICE are still legally considered "unaccompanied alien children" and therefore spend an average of 51 days in a temporary shelter before they are put into sponsor homes with relatives already living in the U.S. or are put into the foster care system.
For the most part, they are being held in three large detention centers in Texas with a fourth one currently being planned in Houston that would house up to 240 children.
Obama broke his silence on Trump's policy on Wednesday, saying that the U.S. needs to show more compassion while at the same time "upholding our laws and honor our values at the same time."
In a statement on Facebook, he added: "And to watch those families broken apart in real time puts to us a very simple question: are we a nation that accepts the cruelty of ripping children from their parents' arms, or are we a nation that values families, and works to keep them together? Do we look away, or do we choose to see something of ourselves and our children?"
On Wednesday, Trump signed an executive order ending the practice of separating families, instead stating that that adults and children would be detained together. But he made no mention of what will happen to the thousands of children already forcibly removed from their parents and sent to different shelters and foster care programs around the country.