Obama Is Now Campaigning for Germany's Angela Merkel—Or His Face Is, Anyway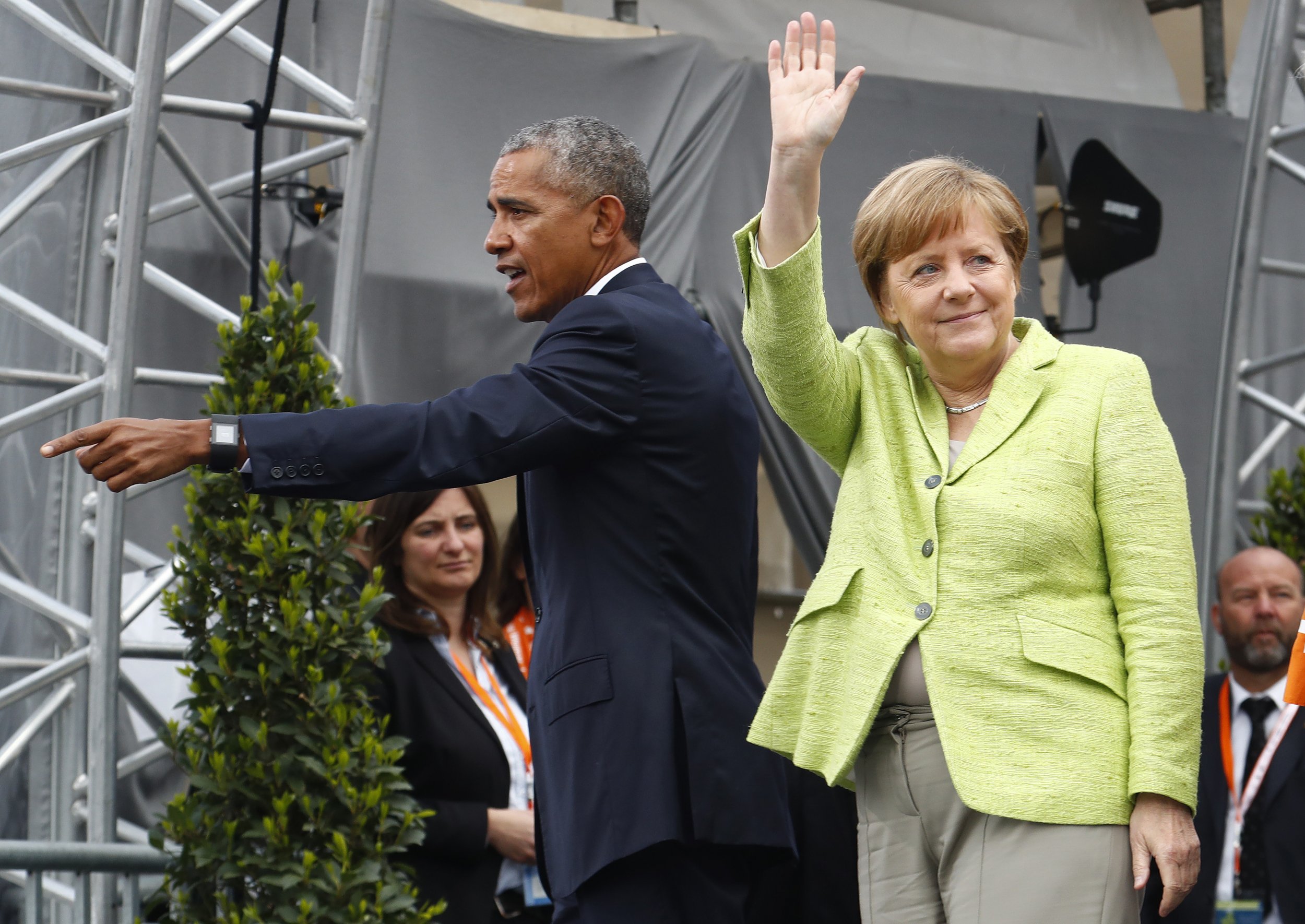 Barack Obama as good as admitted, back in December, that he missed the campaign trail, when he told his formed aide David Axelrod in an interview that he would have won the 2016 election against Donald Trump.
Sadly for him, that pesky constitution keeps him from standing again in the U.S. But he is getting one more moment out on the road nonetheless—in Germany.
As Chancellor Angela Merkel battles for re-election in the country's federal election on September 24, her allies have decided that the former president's endorsement is a powerful weapon in their arsenal. In one of his last trips as president in November Obama said in Berlin that he'd vote for Merkel if he were German.
According to the Washington Post, a translation of Obama's endorsement, reading "Wenn ich könnte, würde ich Merkel wählen," appears on a set of posters promoting the campaign of Thomas Heilmann, a candidate for Merkel's Christian Democratic Union (CDU) party.
The posters use the iconic stenciled image of Obama from his 2008 campaign, designed by artist Shepard Fairey. The German posters juxtapose the image's original red white and blue colouring with the red, black and gold of the German flag, and the CDU's logo.
Heilmann, whose staff have put up 100 of the posters in South West Berlin, told the Post that the posters are a snub to President Donald Trump. "This is a nice way of saying, 'We prefer the former one,'" Heilmann said. "This is how we'd like to see America as a nation, compared to what Trump is doing."
Merkel is running for a fourth term and was in power in Germany throughout Obama's time in office. The pair had to forge a close partnership as they tackled international problems including the 2007-8 financial crisis and growing tensions with Russia under Vladimir Putin.
While Merkel is on the center-right in Germany, the different parameters of European politics allowed her to see eye to eye with an American politician considered left-wing in his own country.
Obama was also known for his friendship with the right-wing former prime minister of Britain David Cameron. Merkel better hope his endorsement works better for her; when Obama gunned on Cameron's side in favor of staying in the European Union during the 2016 Brexit referendum, it didn't work out so well, with Brits voting to leave the bloc.