Obama Girds for Fight With Israel Lobby Over Iran Nuclear Deal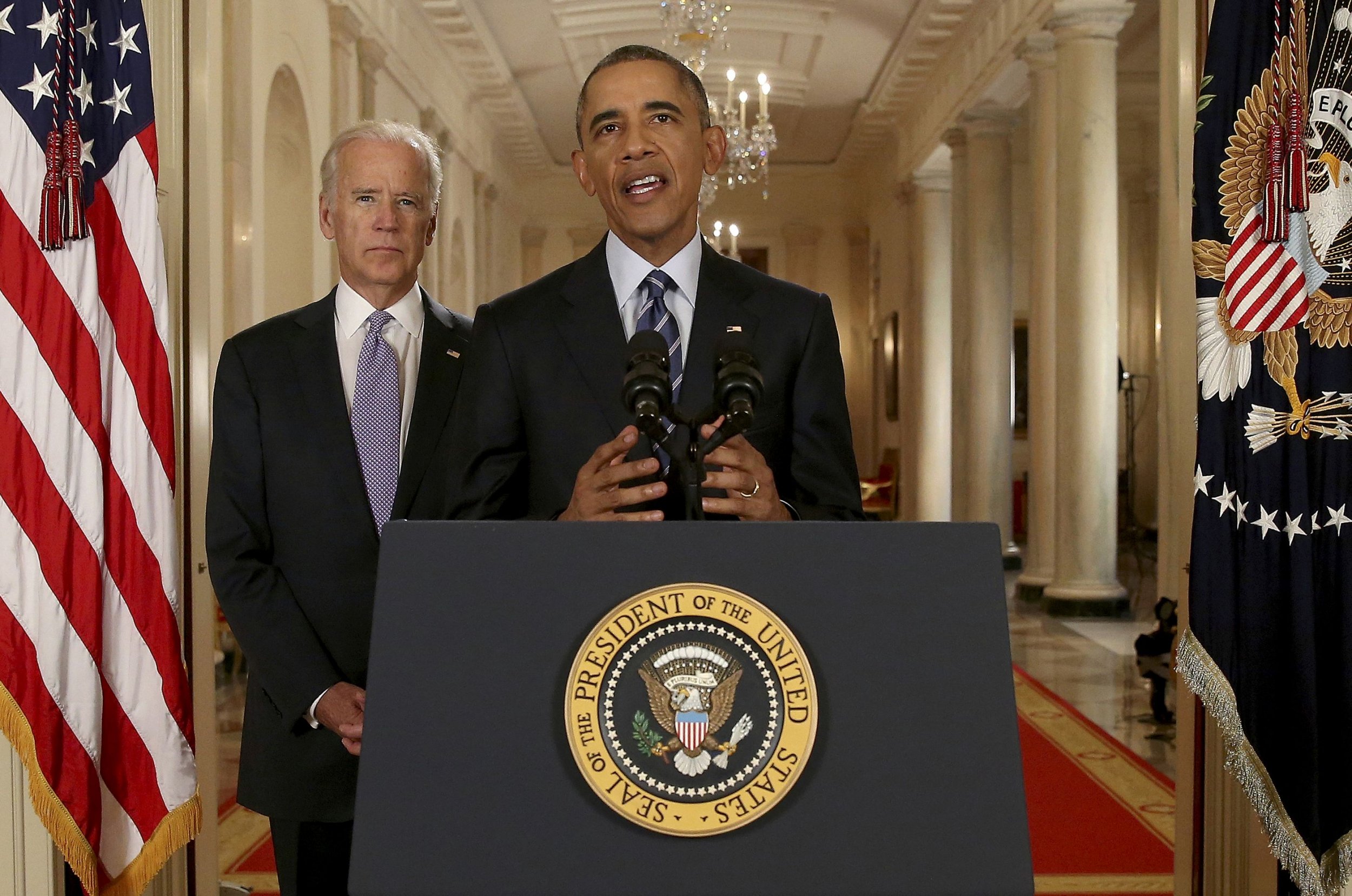 An epic political battle has begun over the Iran nuclear deal, pitting Israel and its most powerful American lobby against President Barack Obama.
In congressional hearings beginning next week, top administration officials will work through the summer to convince skittish lawmakers to embrace the deal, which they announced earlier this week. Meanwhile, the Israel lobby will try to persuade them to reject it. Come September, Congress may weigh in with a resolution of approval or disapproval. And though the chances are slim that lawmakers ultimately will be able to derail the deal, the vote will be an important test for Obama's signature foreign policy achievement and its fate under his successor.
The way the White House sees it, the deal blocks Iran's ability to develop nuclear weapons for at least a decade in exchange for the easing of sanctions that have crippled its economy. The deal's detractors say it leaves Iran's nuclear infrastructure intact, allowing it to cheat or make a dash for a nuclear weapon once the agreement has expired. Israeli Prime Minister Benjamin Netanyahu has called the deal a "historic mistake."
A simple majority in both of the Republican-led chambers is enough to reject the accord. If that happens, Obama has threatened to wield a veto, setting the stage for a veto override, which requires a two-thirds majority in both the House and the Senate. Most experts believe Obama would be able to sustain a veto. But White House officials say the president would rather win enough votes to defeat a resolution of disapproval. Such a victory would allow him—and the next president—to claim majority support in Congress for the agreement.
With Republicans strongly opposed to the deal, the White House is focused on persuading a group of undecided House and Senate Democrats who find themselves in the uncomfortable position of having to choose between support for their president and support for Israel. Some of their initial reactions to the deal underscore the tough sales job the administration faces.
"I'm concerned that the deal ultimately legitimizes Iran as a threshold-nuclear state," Senator Robert Menendez of New Jersey, a former chairman of the Senate Foreign Relations Committee, said in a statement on Wednesday. "I'm concerned the red lines we drew have turned into green lights; that Iran will be required only to limit rather than eliminate its nuclear program, while the international community will be required to lift the sanctions, and that it doesn't provide for anytime-any-place inspections of suspected sites. The bottom line is: The deal doesn't end Iran's nuclear program—it preserves it."
Senator Ron Wyden of Oregon said in a press release that "all along I was skeptical that Iran's leaders would agree to dismantle their nuclear weapons program, and I have questions about whether this agreement accomplishes that, particularly in light of Iran's history on this issue."
Obama is urging all members to study the 159-page agreement carefully. "My hope is that everyone in Congress also evaluates this agreement based on the facts," Obama said Thursday at a White House news conference, "not on politics. Not on posturing. Not on the fact that this is a deal that I bring to Congress, as opposed to a Republican president. Not based on lobbying."
That appeared to be a reference to the pro-Israel lobby, led by the influential American Israel Public Affairs Committee (AIPAC). Earlier this week, AIPAC urged Congress to reject the agreement. "Congress should reject this agreement, and urge the administration to work with our allies to maintain economic pressure on Iran while offering to negotiate a better deal that will truly close off all Iranian paths to a nuclear weapon," the group said in a statement Wednesday.
The lobby condemns the agreement for failing to grant inspectors immediate access to suspected nuclear sites; not requiring the dismantling of Iran's nuclear infrastructure; and lifting some restrictions on Iran's nuclear program after only eight years. AIPAC also claims the deal would lift sanctions before Iran has fulfilled its obligations—a claim that the Obama administration disputes—and challenges one of the president's key arguments in favor of the deal: that the only alternative is war. "In fact, the reverse is true," AIPAC said in a statement. "A bad agreement such as this will invite instability and nuclear proliferation. It will embolden Iran and may encourage regional conflict."
In a move to concentrate its efforts, AIPAC has formed a separate lobbying group, called Citizens for a Nuclear Free Iran, whose only focus will be convincing Americans to oppose the Iran nuclear deal, The New York Times reported Saturday. Advisers to the $20 million campaign include several former Democratic lawmakers, including Senators Joseph Lieberman of Connecticut, Evan Bayh of Indiana and Mary Landrieu of Louisiana. Meanwhile, Isaac Herzog, the leader of Israel's left-wing opposition, has provided opponents with additional ammunition. He told The Atlantic's Jeffrey Goldberg the nuclear agreement "will unleash a lion from the cage, it will have a direct influence over the balance of power in our region, it's going to affect our borders, and it will affect the safety of my children." Democrats who have assailed Netanyahu as an alarmist are likely to listen to what Herzog has to say if he comes to Washington to join the pro-Israel lobbying effort.
Meanwhile, J Street, which distinguishes itself from AIPAC as the "pro-Israel, pro-peace" lobby, plans to mount its own campaign in support of the deal, although it will be much smaller than AIPAC's.
AIPAC has a good chance of getting Congress to vote against the accord, as much for political reasons as any criticisms of the agreement itself. Congressional aides say one of the lobby's methods of persuasion is dangling the promise of hefty campaign contributions to lawmakers who support AIPAC's positions—along with an implied threat to help fund the challengers of those who don't vote its way. AIPAC doesn't raise money for candidates, but pro-Israel political action committees use its vote studies to determine which candidates they will support. In 2014, such groups gave nearly $12 million to congressional candidates, according to the Center for Responsive Politics, a nonpartisan group that monitors campaign donations.
The last time AIPAC took on the White House in a do-or-die political battle was in 1981, when President Ronald Reagan announced he would sell sophisticated surveillance aircraft to Saudi Arabia. Israel opposed the sale as a threat to its security, and AIPAC came very close to blocking the sale in Congress. After one of the most brutal political fights in the history of U.S.-Israeli relations, Reagan lost the vote in the House by an overwhelming margin. He finally stopped the pro-Israel juggernaut in the Senate, but just barely—by a vote of 52-48.
That performance established AIPAC as one of Washington's most powerful lobbies. This time, the group's job appears more difficult since there is a slim chance it will prevail over the president. But even defeat has its rewards. In the likely event the Iran deal remains intact, Obama has made it clear he's ready to provide Israel with more military aid to ensure its superiority over all enemies.