Obama Got It Wrong: Buffalo Players Says Former President Should Have Backed "The Handsome Guys"
Barack Obama's March Madness predictions got off to a mixed start and two Buffalo Bulls players poked fun at the former president's decision to back heavy favorites Arizona.
On Wednesday, Obama revealed he backed Michigan State University to claim a first NCAA title since 2000, but one of his predictions failed in the first round, as Arizona, ranked fourth in the South region, fell to a surprise 89-68 defeat against 13-seeded Buffalo.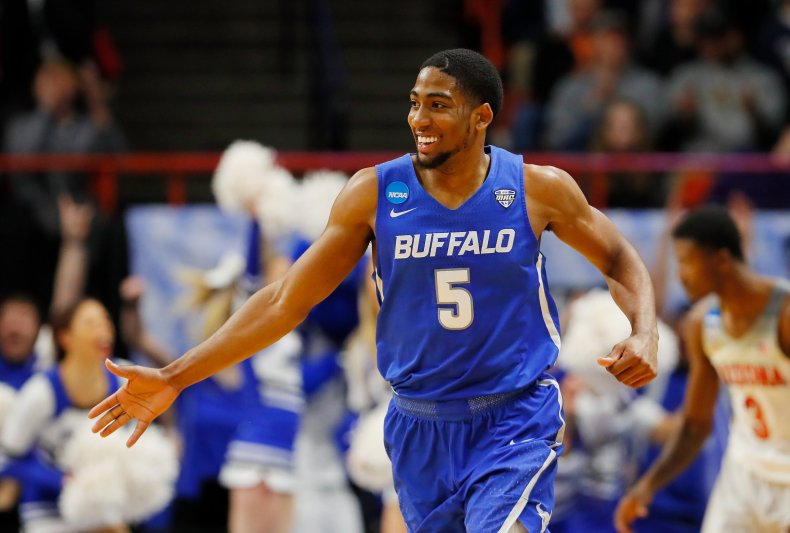 The result was the fourth-largest point differential in the history of the NCAA Tournament in a game involving a number 13 seed beating a number 4 seed.
Following the win over the Wildcats, who many tipped as one of the potential Final Four contenders, Bulls guard C.J. Massinburg revealed Obama's prediction had provided some extra motivation.
"I saw President Obama picked Arizona in his bracket […] Sorry President Obama, but I had to," Massinburg, who scored 19 points, said after the game as reported by The Washington Post's Tim Bontemps.
Wes Clark, who top scored for the Bulls with 25 points and 10/14 from the field, added, "He [Obama] should've picked the handsome guys."
The result saw the Bulls progress past the first round for the first time in the NCAA Tournament, in what is only their third appearance in the Big Dance and will now play the University of Kentucky on Saturday for a place in the Sweet Sixteen round.
Arizona was not the only team to let Obama's predictions down, as eighth-seeded Virginia Tech lost 86-83 to number-nine seed Alabama in the East section of the tournament.
The 44th president was in good company, however, as George H.W. Bush, who has backed Texas A&M to go all the way this year, had also picked both Arizona and Virginia Tech to progress.
However, Obama correctly tipped one of the upsets of the tournament so far, as Loyola-Chicago, ranked 11 in the South region, beat sixth-seeded Miami.