Drive Down Obama Highway: Bill Naming Expressway From Chicago to St. Louis Near Approval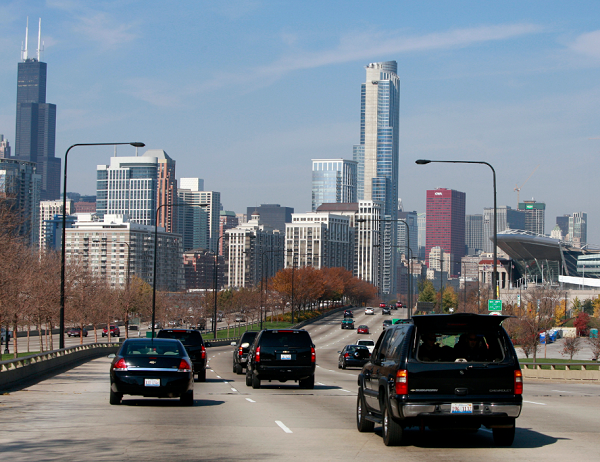 People nostalgic for the 44th president may be able to take a trip down memory lane: Illinois is weighing whether to rename Interstate 55 after former President Barack Obama. Illinois Regulation, Roads and Bridges Committee approved a bill that would dedicate more than a 300-mile stretch of highway after Obama.
The highway's new name, Barack Obama Presidential Expressway, was approved Tuesday after Democrats outvoted Republicans in the committee, 6-5. The measure is headed to the state's Calendar of Resolutions and if approval continues, drivers would be able to ride along the Obama-named highway from East St. Louis to the tristate tollway in Chicago.
It's unclear how soon the highway would be renamed after the bill is considered under the Calendar of Resolutions.
I-55 won't be the first highway to be named after Obama. In 2015, a stretch of Old Dixie Highway passing through Rivera Beach, Florida, was renamed President Barack Obama Highway following a City Council approval. Rivera Beach's Mayor Thomas Masters told local media at the time that the decision to rename Old Dixie after Obama was the city "stepping up to a new day, a new era" and embodying the many changes within the U.S. that Obama represented.
The decision to rename I-55 after Obama comes just a few weeks after members of the House in Illinois shot down a proposal to make the former Chicago senator's birthday, August 4, a statewide holiday. The proposal would have authorized state facilities and schools to close down each year on Obama's birthday.
The proposal fell short by six votes. House members who disapproved of the measure said the state could not afford to close official buildings in honor of Obama due to the economic shortfall Illinois is already facing. The state already spends more than $3.2 million in personnel expenses on holidays and suffers a loss of $16 million in productivity on state holidays each year.
Drive Down Obama Highway: Bill Naming Expressway From Chicago to St. Louis Near Approval | U.S.