Former President Barack Obama slammed President Donald Trump as a "failure" while urging voters to support former Vice President Joe Biden during the Democratic National Convention on Wednesday.
Obama's speech at the virtual convention recalled his Oval Office meeting with the newly elected Trump. He said that he had hoped Trump might "show interest" in taking his new job "seriously" and at some point, but had instead used the presidency as a vain "reality show."
"For close to four years now, he has shown no interest in putting in the work, no interest in finding common ground," Obama said. "No interest in using the awesome power of his office to help anyone but himself and his friends. No interest in treating the presidency as anything but one more reality show that he can use to get the attention he craves."
"Donald Trump hasn't grown into the job because he can't," he added. "And the consequences of that failure are severe. 170,000 Americans dead. Millions of jobs gone, while those at the top take in more than ever. Our worst impulses unleashed, our proud reputation around the world badly diminished, and our democratic institutions threatened like never before."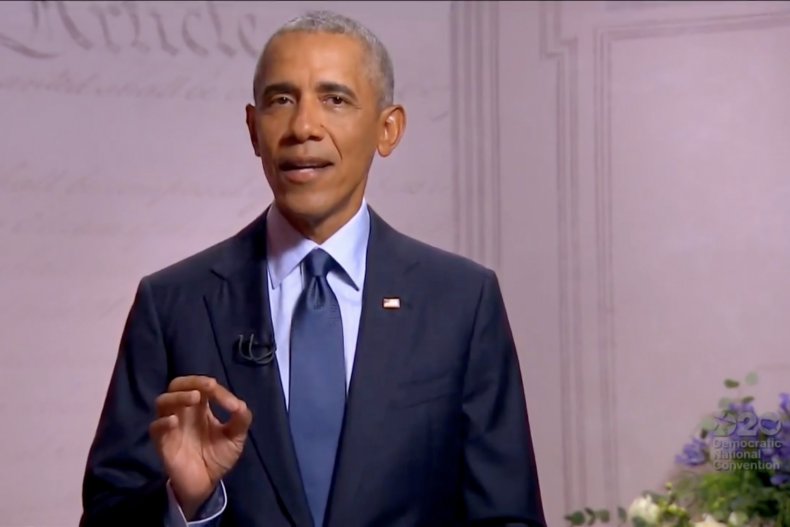 Obama urged those who may be inclined to sit out the election to not allow others to "convince you that your vote doesn't matter" while also railing against what he characterized as voter suppression tactics by Republicans.
"We can't let that happen," Obama said. "Do not let them take away your power. Don't let them take away your democracy. Make a plan right now for how you're going to get involved and vote. Do it as early as you can and tell your family and friends how they can vote too."
The former president insisted that Biden has "the character and the experience to make us a better country." He praised both Biden and his running mate Sen. Kamala Harris by comparing them to Trump, saying that they "actually care about every American" and "care deeply about this democracy."
"I am asking you to believe in Joe and Kamala's ability to lead this country out of these dark times and build it back better," said Obama. "I am also asking you to believe in your own ability—to embrace your own responsibility as citizens—to make sure that the basic tenets of our democracy endure. Because that's what at stake right now, our democracy."
Obama officially endorsed Biden in April. Former presidents have traditionally been reluctant to attack their successors, and Obama had remained largely silent until earlier this year as the COVID-19 pandemic emerged. However, his Wednesday speech was his most direct attack on Trump by far.
Republicans reacted with anger before the speech was even delivered. Sen. Lindsey Graham took to Twitter to remark that Obama and former Secretary of State Hillary Clinton "give sore losers a bad name" before either had spoken, while sharing a Fox News article on their prepared remarks.
"WHY DID HE REFUSE TO ENDORSE SLOW JOE UNTIL IT WAS ALL OVER, AND EVEN THEN WAS VERY LATE? WHY DID HE TRY TO GET HIM NOT TO RUN?" Trump tweeted as the speech aired.
Newsweek reached out to the Trump campaign for comment.