Obama: If Republican Presidents Can't Handle CNBC Moderators, How Will They Handle Putin?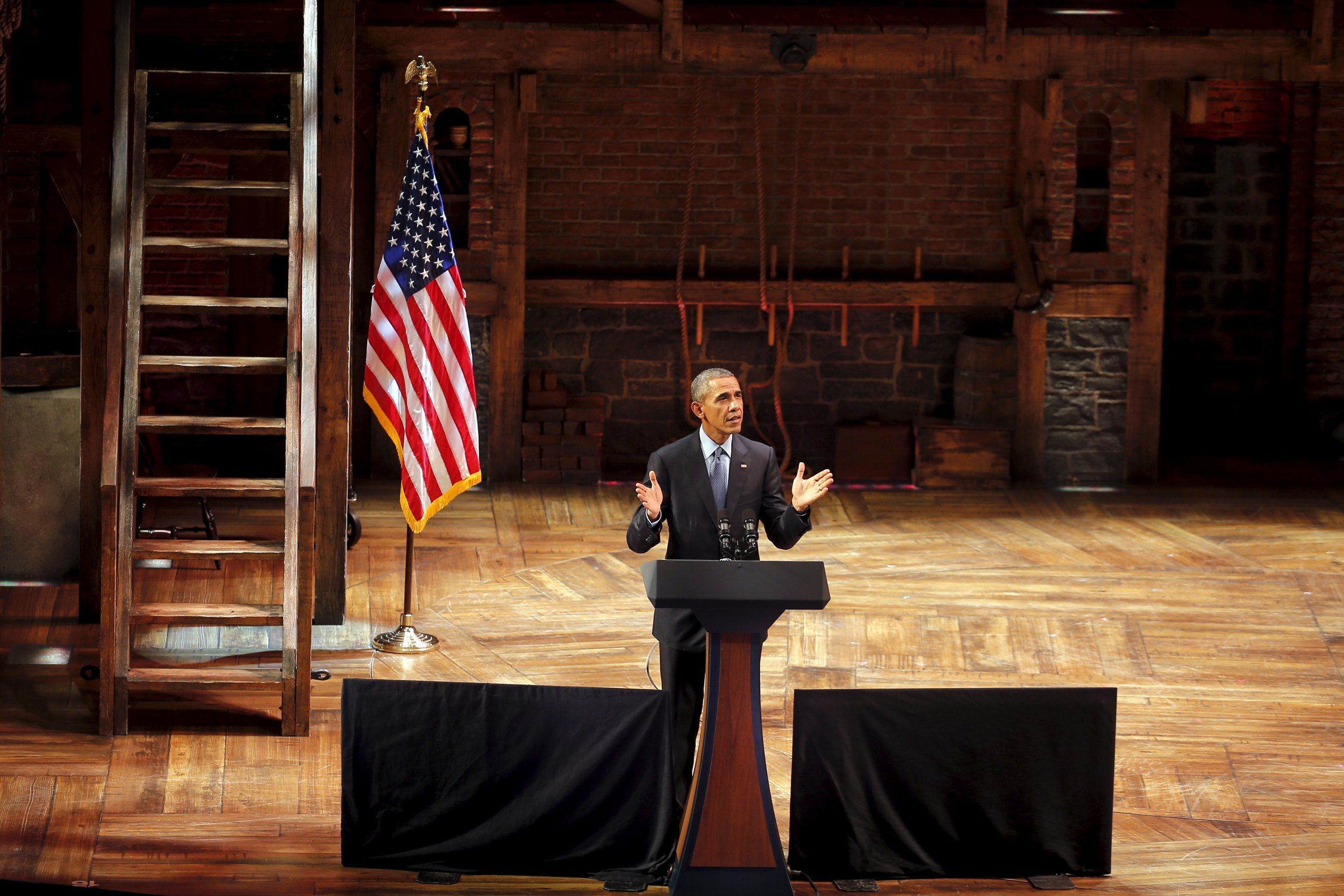 President Barack Obama arrived at the Richard Rodgers theater just before 8 p.m. on Monday evening to attend a Democratic National Committee fundraising event, taking the stage just moments after the end of Hamilton, a musical focusing on Alexander Hamilton's life at the time of the American Revolution.
Obama kicked off the speech by asking "What'd I miss?" a lyric from the musical sung by Thomas Jefferson, who returns from France to find a young America in need of governing. "I am annoyed that I did not get to see this show again. Michelle and I love this show. It also happens to be the only thing Dick Cheney and I agree on," the president said, according to a White House Press Pool transcript.
The star-studded crowd included Kerry Washington, Chris Rock and Senator Tim Kaine. Though he thanked the crowd for attending the fundraiser, he joked that it was entirely too enjoyable an event to get true praise for: "You write a check to watch some boring politician talk? That's commitment. But coming to this show? You don't get props for this."
Part of the president's speech was scripted and similar to what he said at a fundraising dinner earlier in the evening, touching on the foreign policy, economic and human rights successes of his seven years in office. Later into his speech, Obama made a few free-form remarks, looking up from his notes and at one point even flipping backwards in his speech binder.
Obama gave his condolences to the New York Mets, who fell to the Kansas City Royals in the World Series on Sunday night, and spoke of his love for New York. He praised the show at length, gesturing often to the actors who had gathered at the far end of the stage to watch him speak.
The crowd was most receptive to Obama's comments on the Republican Party, both the members in office now and those who hope to take office in the 2016 presidential election. Obama listed what he sees as his accomplishments as president and then added "but I don't know if the Republicans who are running for this office know any of these things. Because they occupy a different reality, it seems. According to them, everything was going really great in 2008.... This apparently was the golden age that I messed up! Obamacare, immigration, taxes and deficits all just messed everything up. And they're really so glum. They really are so frustrated."

The president prodded the climate change deniers in the Republican Party as well, making an analogy that went over quite well with the crowd: "You go to a doctor. No, let's change that. If you go to 100 doctors and 99 of them tell you you have diabetes, you wouldn't say, 'That's conspiracy. All 99 doctors got together with Obama to keep me from having bacon and doughnuts.' You wouldn't do that. There's not a single person here who would do that. It would be funny, but it's about climate change."
President Obama referenced Kanye West's infamous lyric "That shit cray" in his speech on climate change as well, referring to when Senator James Inhofe brought a snowball to the Senate floor in an attempt to prove climate change was not real.
The high point of the evening came when Obama tackled the Republican candidates' issues with CNBC moderators during the last Republican debate. Obama said the candidates consider him weak, unable to stand up to Russian President Vladimir Putin: "They say, when I talk to Putin, he's going to straighten out.... Then it turns out they can't handle a bunch of CNBC moderators.... If you can't handle those guys, I don't think the Chinese and the Russians are going to be too worried about you." The line received enormous cheers from the crowd.
The president concluded by saying that despite a successful term, he would not run for a third nor would be wish to. He made another reference to the musical, the moment in which George Washington tells Hamilton he will step down to teach the nation to move on from a leader. "This has never been about me. I did not say, 'Yes I can.' I said, 'Yes we can.'"