Former President Barack Obama repeatedly expressed his confidence in Democratic presidential candidate Joe Biden in a video conversation released online Thursday, contrasting his former vice president's approach with that of President Donald Trump.
"What you and I understood, and why I have so much confidence that you're going to be able to deal with COVID in the way that other countries with our kinds of resources are dealing with it right, which is smartly, I have confidence that you're actually going to listen to the experts," Obama said in the nearly 16-minute clip.
"You're going to pay attention to the science, and you're not going to quit on trying to actually bend down the curve of disease and transmission rates," Obama said.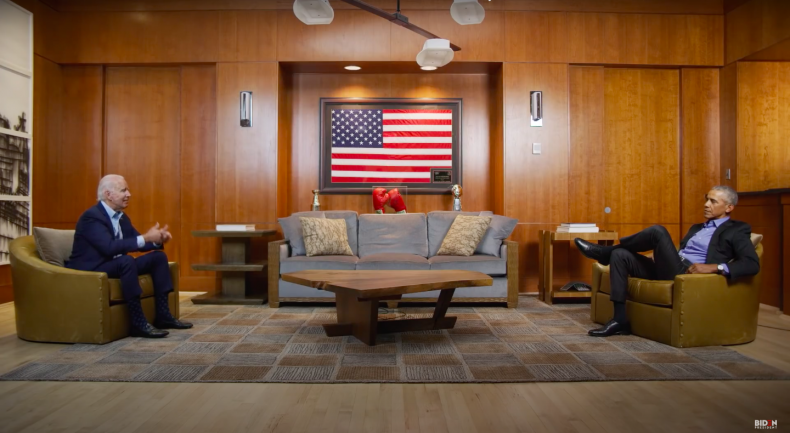 Hogan Gidley, national press secretary for Trump's re-election campaign, told Newsweek in a statement that Obama's comments in the video were "half-hearted."
"Even the former president's half-hearted, scripted praise can't cover-up Joe Biden's nearly 50-year long legacy of failure. Biden's half-century in Washington has been mired in controversy and failed socialist policies that don't reflect our values, while in just three years, President Trump has provided every day, hard-working Americans with real success and more opportunities to reach their American Dream," Gidley said.
The former president's remarks come as the coronavirus pandemic has surged across the country. The U.S. reported nearly 70,000 new infections on Wednesday, while most countries in Europe and East Asia have largely curbed the spread of new cases. As of Thursday morning, the U.S. had confirmed more than 3.9 million virus infections and over 143,000 deaths from its disease, COVID-19.
"I know how deeply you care about American families, in that any loss of life that is preventable, if you're president of the United States, it's your job to try and prevent it," Obama said.
"You can't separate out the public health crisis from the economy. If you want the economy growing again, people have to feel safe," the former president said. The comment appeared to be a dig at Trump's insistence on reopening the economy quickly, which many public health experts say led to the surge in new infections across the country.
Biden took aim at Trump as well, saying he did not think the president "has any sense of empathy. I don't think he can associate at all" with the problems facing Americans.
Obama said he believes Biden will be able to "reassemble the kind of government that cares about people and brings people together."
Obama first endorsed his former vice president on April 14, after maintaining a low profile throughout the Democratic primary process. His endorsement came after Biden's path to the nomination had become nearly certain, with rival candidate Bernie Sanders endorsing him the day before.
"Joe has the character and the experience to guide us through one of our darkest times and heal us through a long recovery," Obama said in the 11-minute video clip endorsing Biden.
"I'm so proud to endorse Joe Biden for president of the United States. Choosing Joe to be my vice president was one of the best decisions I ever made, and he became a close friend. And I believe Joe has all the qualities we need in a president right now," he said.
The former president continues to be one of the most admired Democrats in the country, and the party hopes his campaigning for Biden will help rally the coalition that led Obama to victory in 2008 and 2012.
"What [does] campaigning during a pandemic look like? This is it," Eric Schultz, a spokesperson for Obama, told The Washington Post. "This is an attempt at bringing together two beloved and respected leaders to discuss the challenges of our time."
Recent polls suggest that Biden is well positioned to beat Trump in November, with the Real Clear Politics average of national polls showing the Democratic candidate ahead of the president by about 8.7 points. Biden also leads Trump by significant margins in polls in key battleground states, including Wisconsin, Michigan, Florida and Pennsylvania.
Updated July 23, 2020, 5:39 p.m. ET to include statement from Trump campaign official.