Will Obama Bomb ISIS in Libya?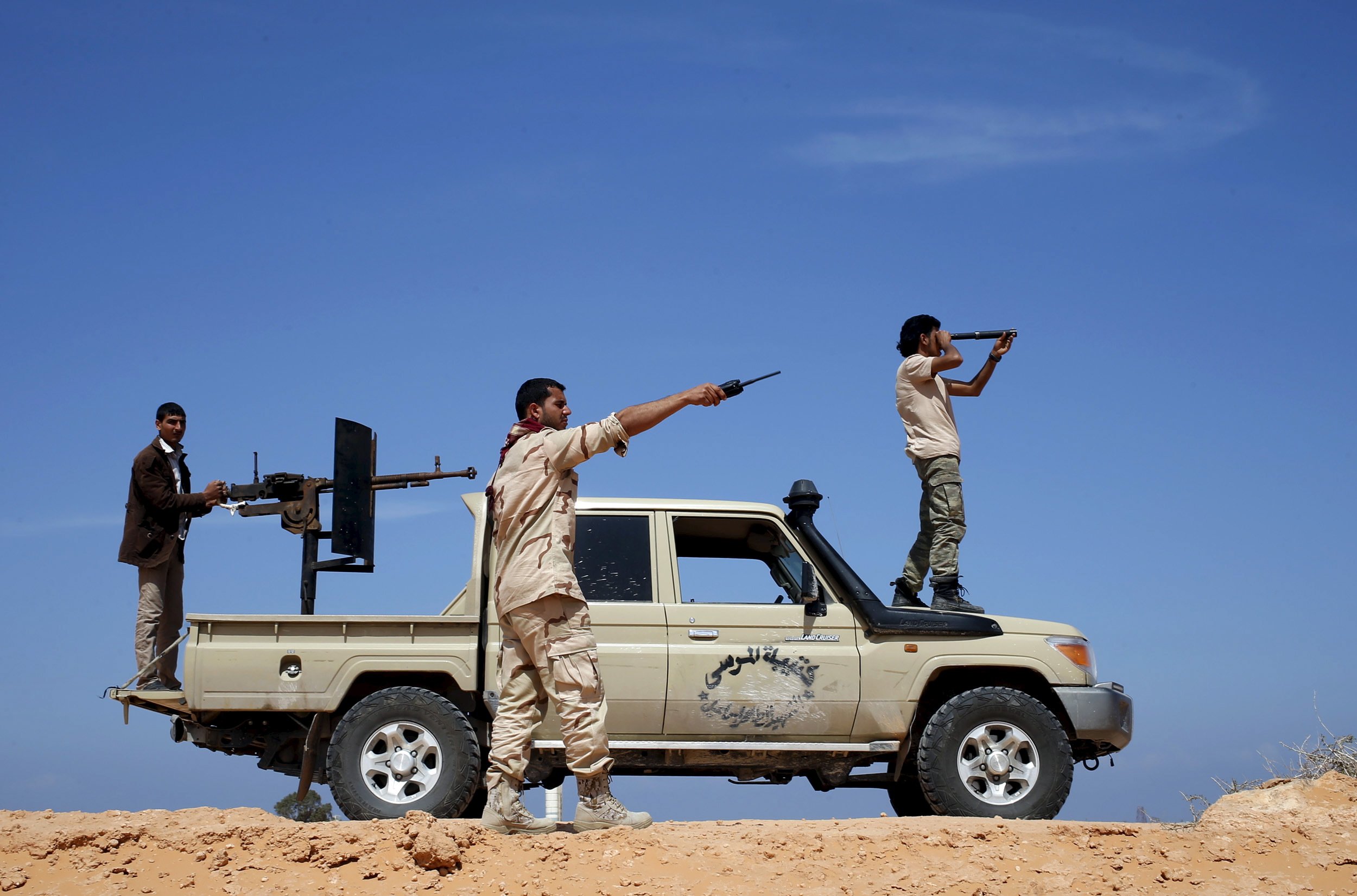 For the past few months, American and allied special operations forces have been conducting clandestine intelligence missions in Libya in preparation for possible joint military action against the Islamic State group, whose growing presence in that war-torn country is now seen as a major threat to the U.S. and its allies in Europe and Africa.
Operating from a military airport on the small Sicilian island of Pantelleria, one team of Americans has been using an unmarked twin-engine Beech King 300 to make almost daily flights to air bases in Libya, according to local reports that cite the aircraft's flight plans. Once in Libya, U.S. military officials say, the special operations teams have been gathering tactical intelligence for possible airstrikes and commando raids against ISIS targets. They've also been meeting with various local militias to assess both their combat capabilities and their willingness to join the new Libyan government in a fight against ISIS. The Americans, Pantelleria Mayor Salvatore Gabriele tells the Italian daily La Repubblica, are "fundamental for the security of Italy and Europe, a shelter against the terrorism of ISIS."
The intelligence-gathering underscores the growing concerns of American and allied officials as ISIS continues to take advantage of Libya's political and security vacuum. Five years after a NATO bombing campaign led to the overthrow of Libyan strongman Muammar el-Qaddafi, control of the oil-rich North African country remains divided among a patchwork of militias and fractured along tribal and regional lines.
One of the biggest groups is ISIS, also known as ISIL, which now controls a 150-mile beachhead in and around the Mediterranean coastal city of Sirte, Pentagon officials say. Attracting recruits from Libya and other North African countries, ISIS's Libyan affiliate now has as many as 6,000 fighters, these officials estimate. With the group's fighters in Syria and Iraq under growing pressure from Kurdish and Iraqi forces and U.S. airstrikes, the officials say ISIS leaders in Syria have dispatched several top commanders to Libya to organize and train new fighters. "They see Libya as a springboard to move into the rest of North Africa and the Sahel," a former intelligence official tells Newsweek.
Secretary of State John Kerry has even raised the specter of ISIS becoming the dominant power in Libya, exercising control over its vast oil fields. "The last thing in the world you want," he said earlier this week in Rome, "is a false caliphate with access to billions of dollars in oil revenue."
Senior American policymakers are so alarmed at the prospect of ISIS's growing influence that, as The New York Times reported on Thursday, top military officers are now urging President Barack Obama to approve limited U.S. military strikes against ISIS targets in Libya.
For now, however, Obama is withholding approval in favor of a dual-track approach to the problem. According to administration officials, who spoke on condition of anonymity to discuss internal deliberations, he asked the Pentagon to provide him with a plan for military action that will blunt the ISIS threat. But he also has asked his diplomatic aides to figure out a way to form a national unity government from Libya's main rival political factions. "He wants a recognized government that we can give our military aid to," a State Department official says.
Any military action in Libya is likely to involve the same kind of limited warfare that Obama has approved for the fight against ISIS in Syria—airstrikes, commando raids against ISIS leaders, and special operations programs to arm, train and advise pro-government forces and vetted militias, Pentagon officials say. (Any such moves, they add, will be coordinated with the U.K., France and Italy.) "It's fair to say that we're looking to take decisive military action against ISIL in conjunction with the political process," General Joseph Dunford, chairman of the Joint Chiefs of Staff, said in January in Paris after meeting with his European counterparts. "Although I want to move quickly, we've got to make sure we do this right."
So far, however, the effort to find reliable Libyan partners on the ground hasn't been easy. Libya's new government, midwifed just in January by the United Nations, remains holed up in a Tunis hotel after the country's internationally recognized Parliament in Tobruk and a rival parliament in Tripoli refused to recognize its proposed Cabinet. Kerry says the coalition will work with Martin Kobler, the U.N. envoy for Libya, to help the rival factions form a unity government. But the prospects for resolving their differences appear to be slim, says John Pike, an expert on defense and intelligence matters who runs the GlobalSecurity.org website. "How it is that the U.N. thinks it's going to put the poop back in the puppy, I don't know," Pike tells Newsweek.
Meanwhile, the Pentagon won't say if the special operations forces on Pantelleria have succeeded in identifying any Libyan militias who can act as an effective ground force against ISIS. Either way, military officials warn, the ISIS presence in Libya keeps growing. And that means Obama will have to make a decision soon.
With additional reporting by Jeff Stein