Ex-Obama Staffers Call Ivanka Trump a 'Joke' at G20, Liken Her to Villain in 'House of Cards'
Former staffers for President Barack Obama on Thursday ripped first daughter Ivanka Trump's role at the G20 summit, saying it was a "joke" that she butted into conversations with seemingly unamused world leaders, and likened her to House of Cards villain Claire Underwood.
Former speechwriter for Obama, Ben Rhodes, and ex-White House National Security Council spokesman Tommy Vietor criticized Trump's conduct at the summit in Osaka two weeks ago on their Pod Save The World podcast. Vietor said the first daughter interacting with world leaders while lacking policy expertise was probably a stepping stone for her to become U.S. ambassador to the United Nations.
Rhodes opined the situation was "worse" and likened Trump to Underwood, the wife of the central House of Cards protagonist, who rises from a lobbyist to first lady of the U.S., U.S. ambassador to the U.N., and ultimately president of the country.
"Just so that they can complete the House of Cards cycle here? Where the sexual predator who's president nominates the woman in his life for the U.N. ambassador?" Rhodes said, adding that Trump becoming an ambassador could be her exit strategy to New York.
Rhodes said Trump's behavior seemed part of a reality show and that he didn't think Americans understood the gravity of that.
"I mean to quote Donald Trump, they're laughing at us. This is a joke," Rhodes concluded, "Like that his person is butting into conversations with the global economy at the G20?"
Rhodes continued that other countries have dealt with a daughter who's the leader's favorite, or a corrupt son-in-law, but the U.S. has not.
"That's something that happens in countries that we think are broken and that are hopelessly corrupt," Rhodes said.
Vietor said that when he and Rhodes were at the National Security Council, they would spend 90 minutes digging deep into policy unlike Trump, who was "jumping into photo ops with world leaders." He recapped a viral video of Trump interjecting into a conversation with leaders including French President Emmanuel Macron and British Prime Minister Theresa May and said they just wanted her to "get out of here."
"So, it's fun to clown on her," Vietor said, adding, "I'm wondering when the U.S. transitioned into a constitutional monarchy."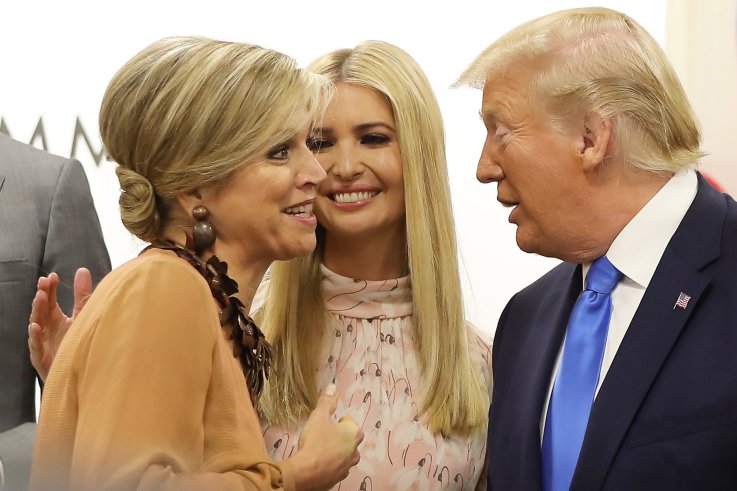 Despite the criticism, President Donald Trump last week claimed that the G20 leaders "loved" his daughter.
"I thought Ivanka was amazing at the G20," the president said. "And I'll tell you, the foreign leaders loved her. And they just think she's great."
The president boasted that "Ivanka has worked on almost 10 million jobs, training and going to companies and getting them to hire people," and reiterated, "the people, the foreign leaders, really like her a lot."
Ex-Obama Staffers Call Ivanka Trump a 'Joke' at G20, Liken Her to Villain in 'House of Cards' | World