Obama Says He's 'Basically a Liberal Jew,' Is Not Optimistic About Israeli-Palestinian Peace Talks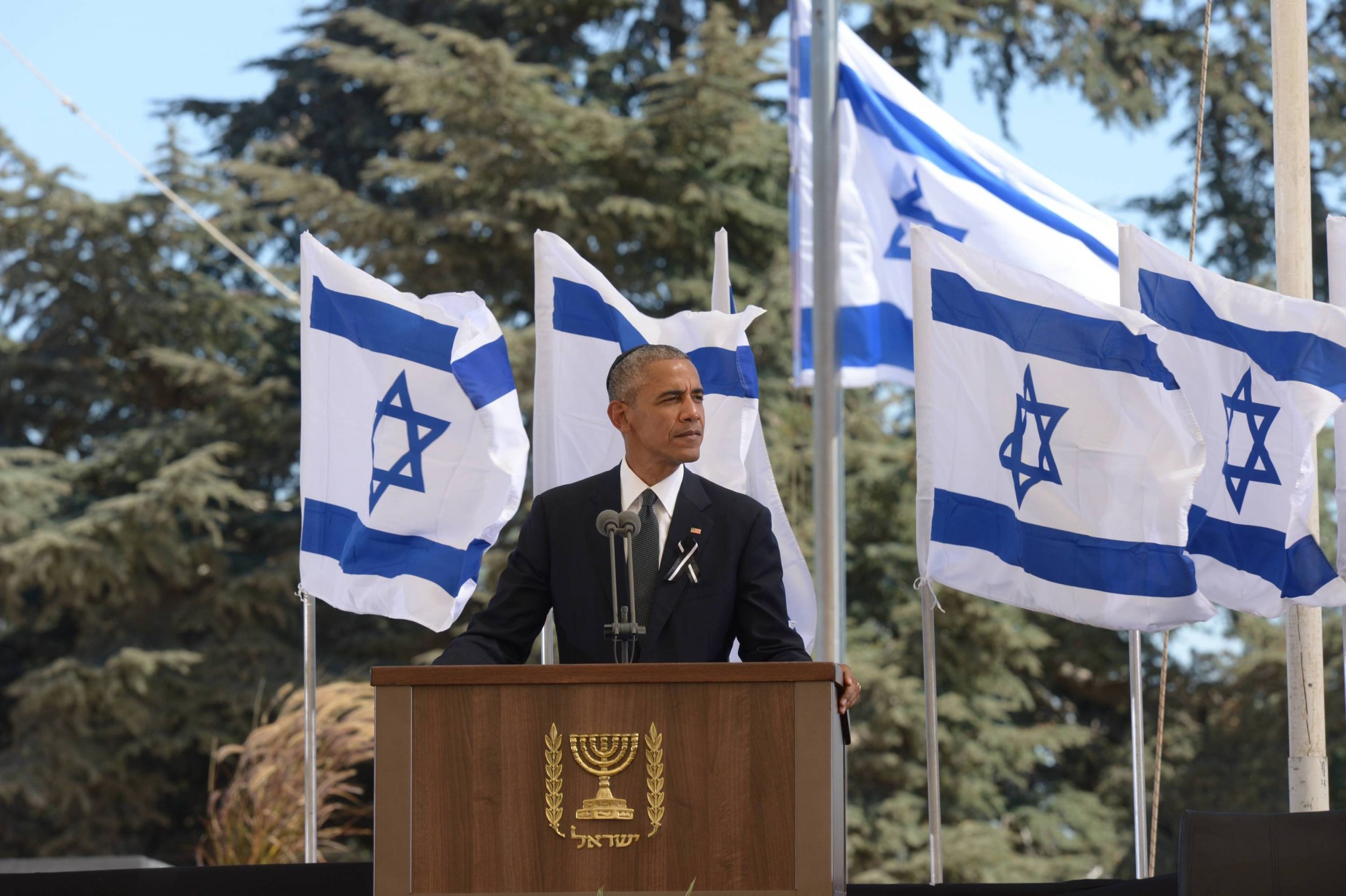 Former President Barack Obama defended his much-criticized legacy as a friend of Israel at a synagogue event in New York this week, joking with the crowd that he was "basically a liberal Jew."
The first black president defended his record on Israel and Middle East policy at New York's Temple Emanu-El Wednesday evening—the first time Obama has spoken publicly about Israel since leaving office one year ago.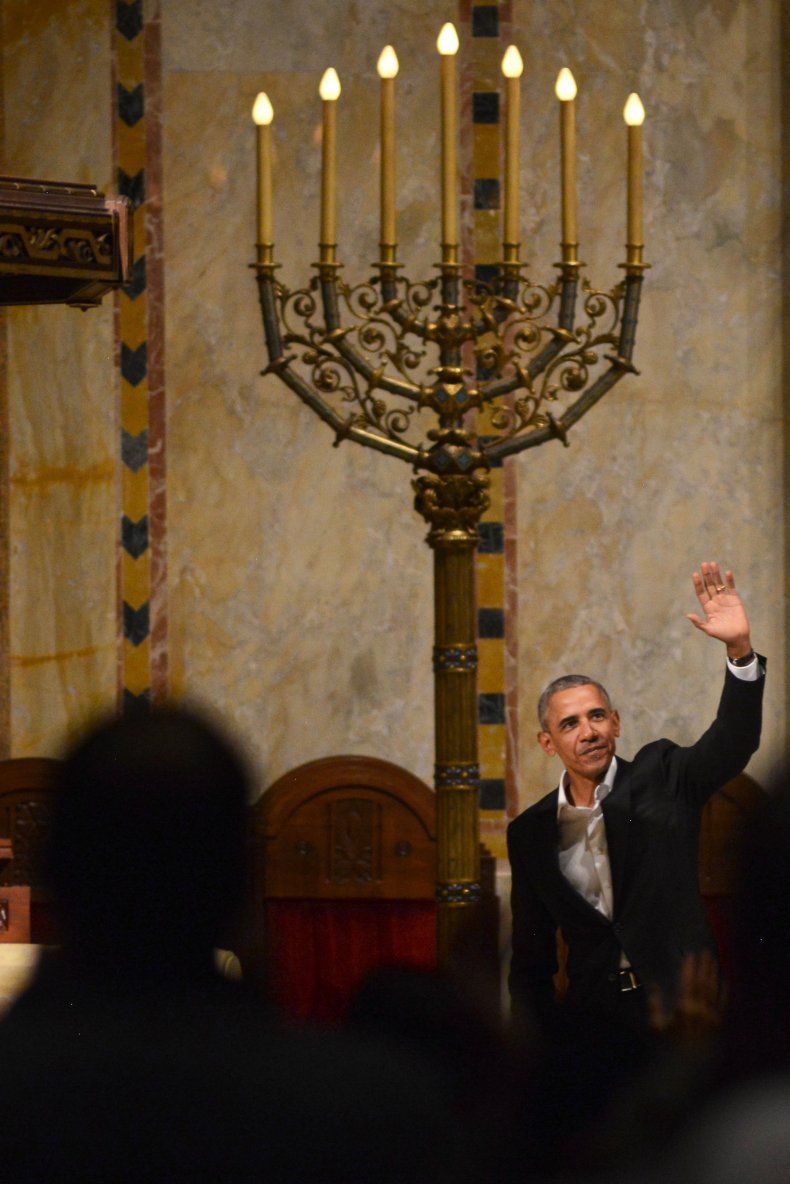 At the event, Obama said that his decision to criticize Israeli occupation of the West Bank came from a friendly place. "To be a true friend of Israel it is important to be honest about it, and the politics of this country sometimes do not allow for it," he said.
As one of his last acts in office, Obama had the U.S. abstain from voting on, rather than following the longstanding American practice of vetoing, a United Nations Security Council resolution that condemned Israeli settlement in the West Bank and East Jerusalem.
To some, that act cemented Obama's legacy as an anti-Israel president. Conservatives often criticized the former president's tough love approach to Israeli policy, with right-wing icon Bill Kristol even launching an anti-Obama pro-Israel group, called the Emergency Committee for Israel.
But the 44th president emphasized that his administration was a friend of America's longtime ally in the Middle East. He said, for example, that his administration gave Israel more military support than any other, and that "this is not a matter of dispute," an indirect reference to a defense bill he signed during his last year in office that included $600 million for aid.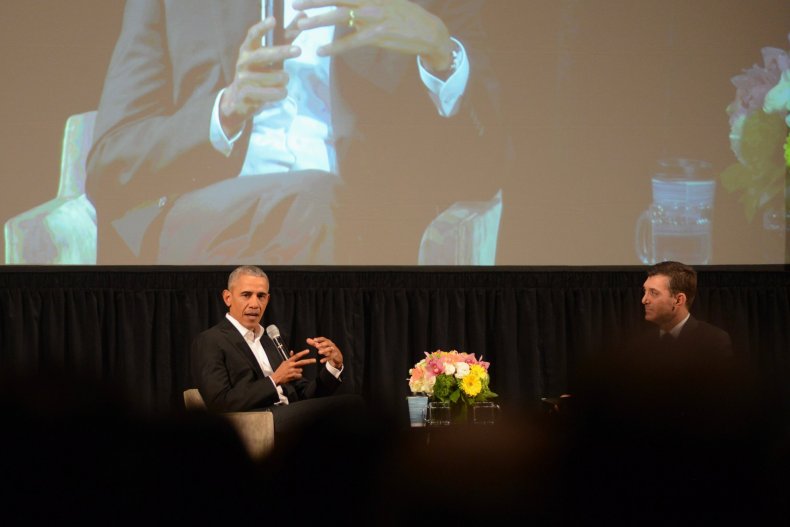 But he continued to criticize Israel for its settlement building in occupied areas.
"The pace of [Israeli] settlement has skyrocketed and accelerated ... [making] it impossible to make any kind of functioning Palestinian state," Obama said. Vetoing the U.N. resolution, he told members of the famous reform synagogue, would have hurt "our credibility on human rights."
The president earned applause when he said the "current arrangement in the West Bank and Gaza is unsustainable," said Gili Getz, a photographer who attended the event.
Obama's successor, President Donald Trump, has been reluctant to criticize Israel in any way. He also said he intends to move America's embassy in Israel from Tel Aviv to Jerusalem—the first president to make good on a 1995 law requiring the move.
Trump threatened this week to take away aid from Palestinians if they refused to negotiate with Israel.
But Obama said he didn't think the threat would work. "Right now I can't say I'm optimistic about the potential peace process. The Palestinian leadership is too weak and Israeli politics have moved away from the vision of a two-state solution," he said.
Obama's joke about being a liberal Jew drew criticism from conservative commentator Ben Shapiro.
"If by this he means most liberal Jews don't believe in basic Jewish tenets or care deeply about the safety and security of Israel, then yes," Shapiro wrote on Twitter.
Obama Says He's 'Basically a Liberal Jew,' Is Not Optimistic About Israeli-Palestinian Peace Talks | U.S.