Barack Obama Jokes About 'Politicians Who Could Use Some Meditation' In Apparent Jab at Donald Trump
Former President Barack Obama spoke to a town hall of about 300 young leaders in Berlin, Germany, on Saturday, and made what appeared to be a jab at his successor President Donald Trump.
Taking questions from the audience at the event organized by the The Obama Foundation, the former president was asked how he practices mindfulness and if he meditates. Obama's response drew laughter from the audience, as many in the room were undoubtedly making a comparison between him and his successor.
"I definitely think that there's some politicians who could use some meditation," he said, to a roar of laughter. "There is no doubt about that. I can think of a few who, you know, should just sit there for a little bit and — reflect," he continued, laughing himself. "Find some inner peace."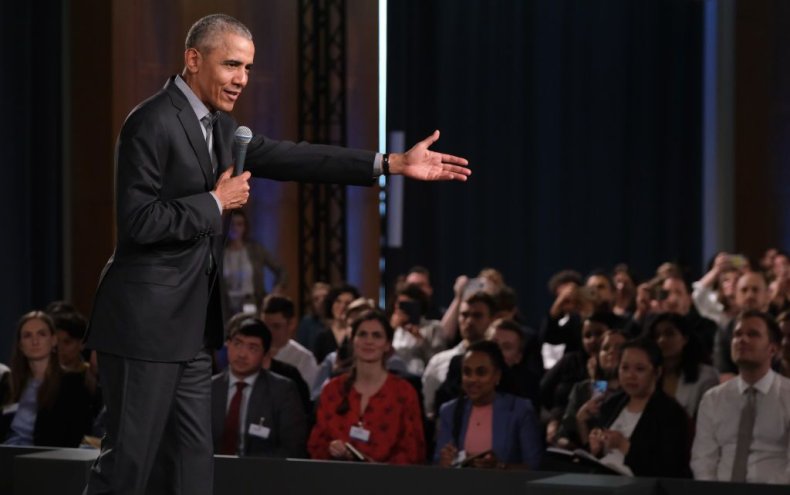 Journalists on CNN shared the clip on Saturday evening, pointing out that Obama appeared to be contrasting himself with Trump, although a reporter in Germany noted that the former president didn't specifically call out the current president.
"So, was that a dig at the current president? Perhaps," the reporter said. "Again, he didn't mention any particular names," she continued. "And in fact, he really refrained from weighing in too much on the domestic politics of the day. Instead he really focused on trying to inspire this group of leaders."
Obama did, however, weigh in a bit on domestic issues to highlight what he said is a personal concern regarding progressives in politics.
"One of the things I do worry about sometimes among progressives in the United States—maybe it's true here as well—is a certain kind of rigidity where we say, 'Oh, I'm sorry, this is how it's going to be,'" he said. "And then we start sometimes creating what's called a 'circular firing squad' where you start shooting at your allies because one of them is straying from purity on the issues."
Obama continued: "When that happens, typically the overall effort and movement weakens, so I think … you have to recognize that the way we've structured democracy requires you to take into account people who don't agree with you." He suggested that compromise is "necessary for everyone," pointing to policy achievements of his own administration.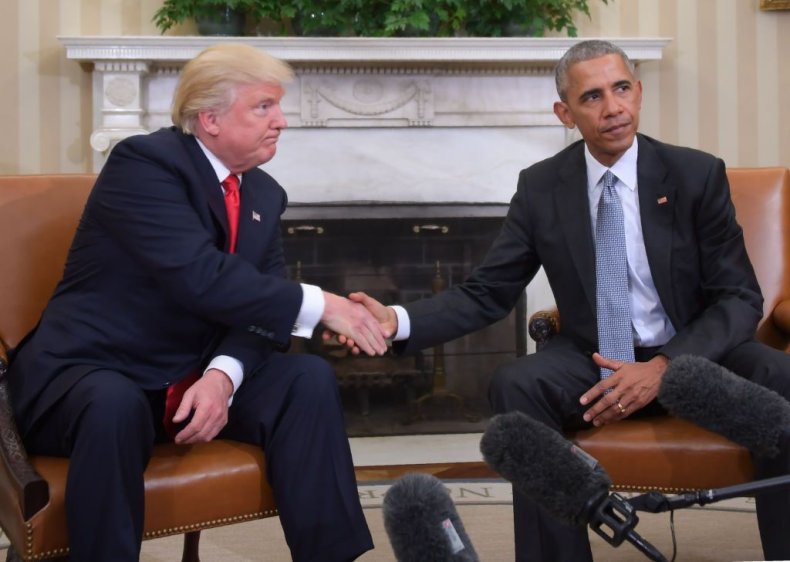 The former president has taken several swipes at Trump in recent months, sometimes choosing to attack more directly. During a speech last October in Milwaukee, he mocked the indictments of several former Trump campaign associates and administration officials.
"They have racked up enough indictments to field a football team," Obama said to loud laughter from the audience. "Nobody in my administration got indicted," he pointed out.
Last month while speaking at a conference in Salt Lake City, Obama also made an apparent dig at the Trump administration, saying he personally believes "in things like facts and logic." Trump routinely uses inaccurate information and sometimes complete lies to justify his positions. Continuing his March remarks, Obama explained that: "Things like rule of law, democracy and you know, competence and facts; those things are not partisan, but they also don't happen automatically."