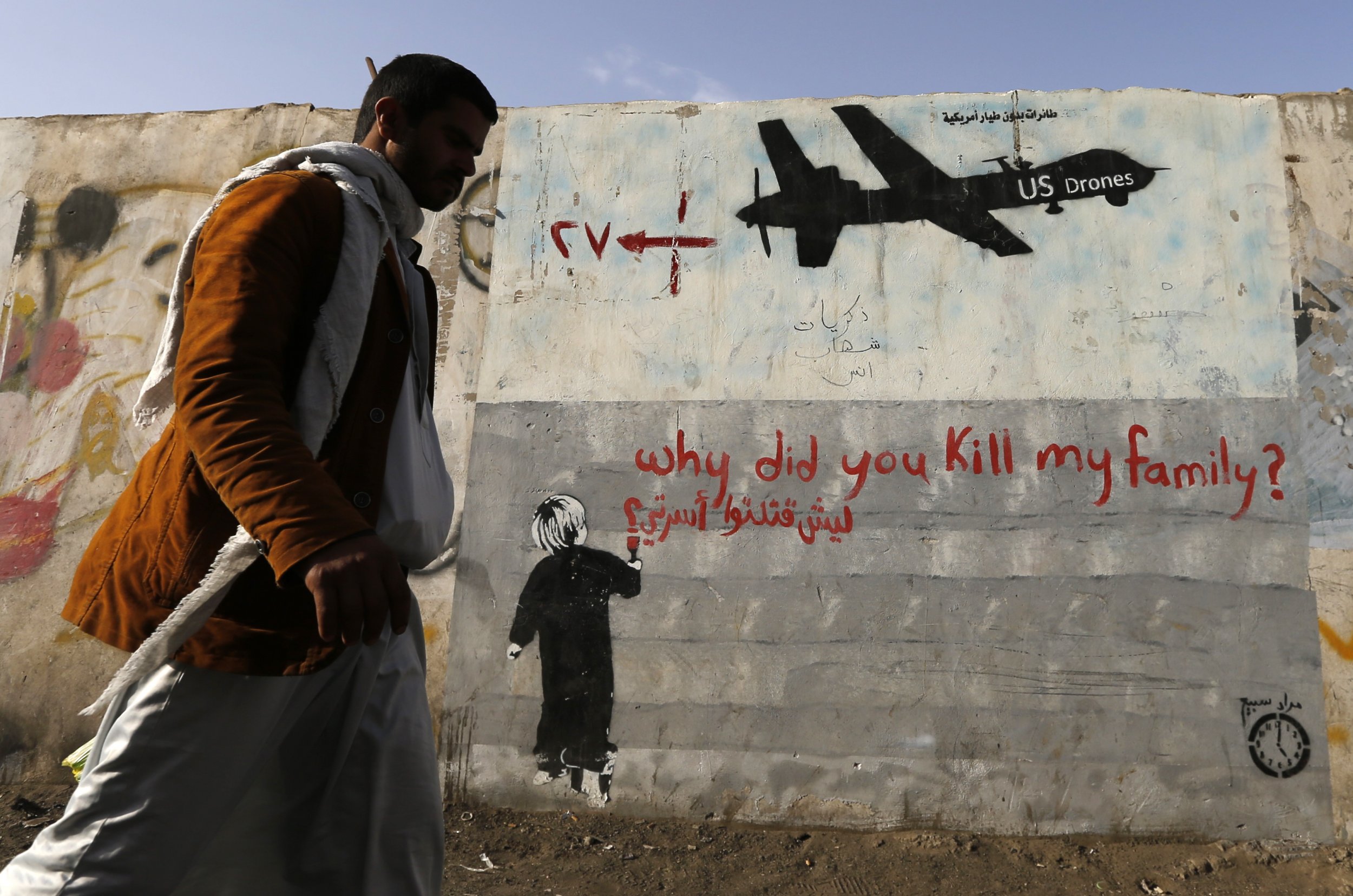 After watching the State of the Union address two weeks ago, 72 percent of viewers, according to one CNN poll, said that they felt President Obama's policies would move the country in the right direction. And this is understandable—Obama's speech had an upbeat tone and State of the Union addresses historically have been well received by the public. When reflecting on the past year of American foreign policy, for instance, Obama said, "[I]t is making a difference."
"In Iraq and Syria, American leadership—including our military power—is stopping ISIL's advance," Obama said, though earlier reports indicated that the group was gaining ground. And when mentioning the highly controversial use of drones, Obama said, "I've...worked to make sure our use of new technology like drones is properly constrained."
Is it true that Obama-led American deployments of drones has been "constrained"?
The January report on U.S. drone use by the Bureau of Investigative Journalism (BIJ), a nonprofit based in London, suggests otherwise.
Pakistan
According to the BIJ's findings, the U.S. stepped up its drone campaign in Pakistan last month with five confirmed drone strikes and between 26 to 37 killed—the most strikes and the highest casualty rate in six months.
But more strikes doesn't necessarily mean Obama is failing to keep his promise, argues Christopher Swift, adjunct professor of National Security Studies at Georgetown University. "What we really need to be looking at is: What's the nature of the operations themselves." It is true that the president never claimed that there were fewer strikes, only that the use of drones would be properly reined in.
Swift argues that if strikes occur amid a large-sized war, and the majority of the casualties are combatants, there is little reason to believe that this violates international law. Conversely, if there are a small number of drone strikes when there is not much of a war and everyone killed is a civilian, there is high cause for concern. The argument goes that it is the quality of strikes not the quantity.
But Swift acknowledges that there is an issue about whether the targets chosen are covered by the acts passed following 9/11. "The United States is hitting targets," Swift says. "I worry that they are covered under the authorization for the use of military force."
In Pakistan's case, four out of five of the strikes reportedly targeted the Shawal area, known to be a major stronghold for armed groups in the country's tribal areas. As the BIJ report implicitly indicates and Swift says upfront, the American tallies of strikes on Pakistani soil are questionable.
Part of the reason, Swift says, is that the Pakistani government openly opposes and criticizes U.S. drone strikes while covertly providing targeting lists and strike requests. The information aggregated by groups like BIJ is what is available with limited government cooperation. One can't be entirely sure that there aren't unreported strikes or who is being killed in each strike.
But BIJ also addresses that civilians are being killed outside the Afghan-Pakistan theater.
Yemen
The number of drone strikes continue to decline after peaking in 2012. While there was only one confirmed drone strike in January, there was a child around the age of 12 amongst the three people killed.
The confirmed drone strike took place during Yemen's worst political crisis since the 2011 revolution, four days after the government resigned due to armed rebels overrunning the capital.
While Al Qaeda in the Arabian Peninsula (AQAP) said that all three killed belonged to the organization, an AQAP source rhetorically asked the Yemen Times, "How can a 12-year-old be a member of al Qaeda?" Although the use of child soldiers is well documented, for instance, in myriad African conflicts.
Swift attributes civilian deaths in Yemen to a multitude of factors, including the reliance on poor intelligence—overhead surveillance and Yemeni security services—to determine where adversaries are located, as well as AQAP deliberately sheltering amongst civilians. "That's a war crime," Swift says of insinuating guerilla forces among a noncombatant population.
Somalia
There were two strikes in Somalia on January 31, with between 45 and 69 people killed—a death toll uncharacteristically higher than any other U.S. drone strike in the country.
While it is unclear if they were drone strikes versus another type of aerial assault, BIJ notes that 2014 saw the highest number of confirmed U.S. drone strikes in the east African nation of any year despite the administration's praise of Somali government reforms.