Obama Letter Condemns GOP-Led Investigation into Biden and Ukraine, Says It Lends Credence to 'Russian Disinformation'
Former President Barack Obama's office condemned an investigation of former Vice President Joe Biden and his son's dealings in Ukraine while granting a request from Republican senators for records pertaining to the country despite the underlying "misinformation campaign" behind the request.
Obama's office sent a letter responding to a November 2019 records request from Sen. Chuck Grassley (R-Iowa) and Sen. Ron Johnson (R-Wis.) to David Ferriero, archivist for the National Archives and Records Administration on March 13.
"The current request... arises out of efforts by some, actively supported by Russia, to shift the blame for Russian interference in the 2016 election to Ukraine," Anita Decker Breckenridge, Obama's records representative, wrote in the letter.
"The request for early release of presidential records in order to give credence to a Russian disinformation campaign — one that has already been thoroughly investigated by a bipartisan congressional committee — is without precedent," the letter continued.
Obama's office suggested that the request was part of an attempt by Republicans to legitimize a debunked conspiracy theory that Ukraine interfered in the 2016 election instead of Russia, with the letter quoting testimony from former National Security Council official Fiona Hill during last year's House impeachment proceedings against President Donald Trump.
"Some of you on this committee appear to believe that Russia and its security services did not conduct a campaign against our country—and that perhaps, somehow, for some reason, Ukraine did," Hill said in her opening testimony on November 21, 2019. "This is a fictional narrative that has been perpetrated and propagated by the Russian security services themselves."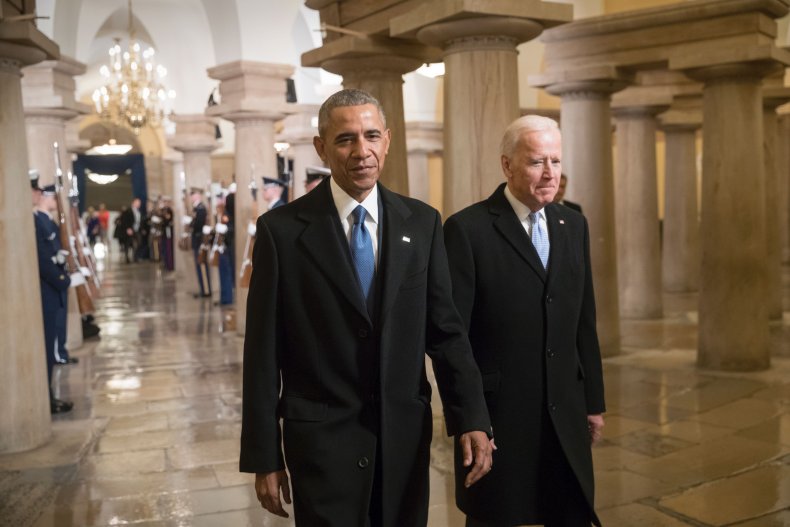 Trump was impeached by the House after allegedly withholding aid as a bargaining chip to convince Ukraine to announce an investigation of Biden. Republicans have continued to push claims concerning the former vice president, his son Hunter Biden and Ukraine as the 2020 election draws nearer.
While the letter provides a strong condemnation, Obama himself has yet to directly comment on the Ukraine allegations. The former president endorsed Biden's candidacy for president last month.
The GOP senators who made the records request insist that their inquiry was not part of an attempt to help Trump get re-elected. A spokesperson for Johnson told Buzzfeed News, who first reported on the letter, that the accusations from Obama's office were "unfounded."
Obama ultimately granted the request even though the former president could have withheld the records by claiming executive privilege under federal law.
"In doing so, we emphasize that abuse of the special access process strikes at the heart of presidential confidentiality interests and undermines the statutory framework and norms that govern access to presidential records," the letter concluded.
Newsweek reached out to Obama's office for comment. This article will be updated with any response.