Watch: Obama Endorses Macron Over Le Pen in French Election, Citing Choice for 'Hope' Not 'Fear'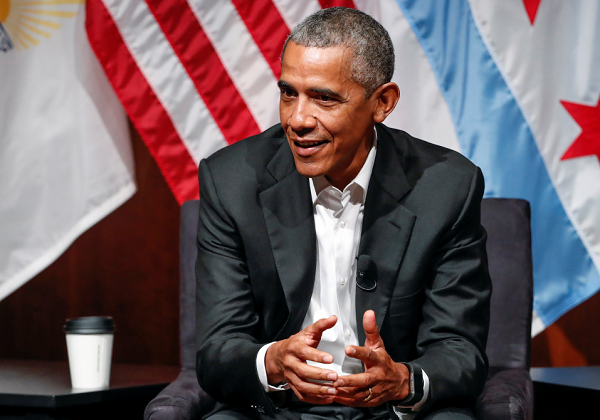 In what was the former U.S. president's first major foray into international politics since leaving the White House, Barack Obama announced in a video released Thursday that he is supporting Emmanuel Macron in Sunday's French presidential election.
Related: Watch Barack Obama's phone call with France's Emmanuel Macron
Macron, an independent centrist representing his own En Marche! (Onward!) party, is up against far-right leader Marine Le Pen in Sunday's second-round vote. The 39-year-old, who has never held elected office, has a commanding lead in the opinion polls.
Ahead of the first-round vote two weeks ago, in which Macron finished first with 24 percent support, Macron and Obama had a phone conversation that was captured on video. Now the two-term U.S. president has gone a step further, formally endorsing Marcon's candidacy.
"Because of how important this election is, I also want you to know that I am supporting Emmanuel Macron to lead you forward," he said. "En Marche. Vive la France."
Obama has made only sparse public comments since leaving the White House in January, largely staying away from both international and domestic politics—including the policies of his successor, Donald Trump. He said he was making a rare exception due to the particular significance of the French election.
"I'm not planning to get involved in many elections now that I don't have to run for office again, but the French election is very important for the future of France and the values that we care so much about, because the success of France matters to the entire world," he said.
Macron's rival has called for France to leave the European single currency, the euro, and also pledged to review its membership in the European Union. Le Pen, who announced last week she was temporarily stepping down from her role as leader of the National Front party for the election, has also frequently denounced what she sees as threats from Islam and immigration.
"I have admired the campaign that Macron has run," Obama said. "He has stood up for liberal values. He put forward a vision for the important role that France plays in Europe and around the world, and he is committed to a better future for the French people. He appeals to people's hopes and not their fears."