Obama to Make First Mosque Visit Amid Divisive Republican Campaign Rhetoric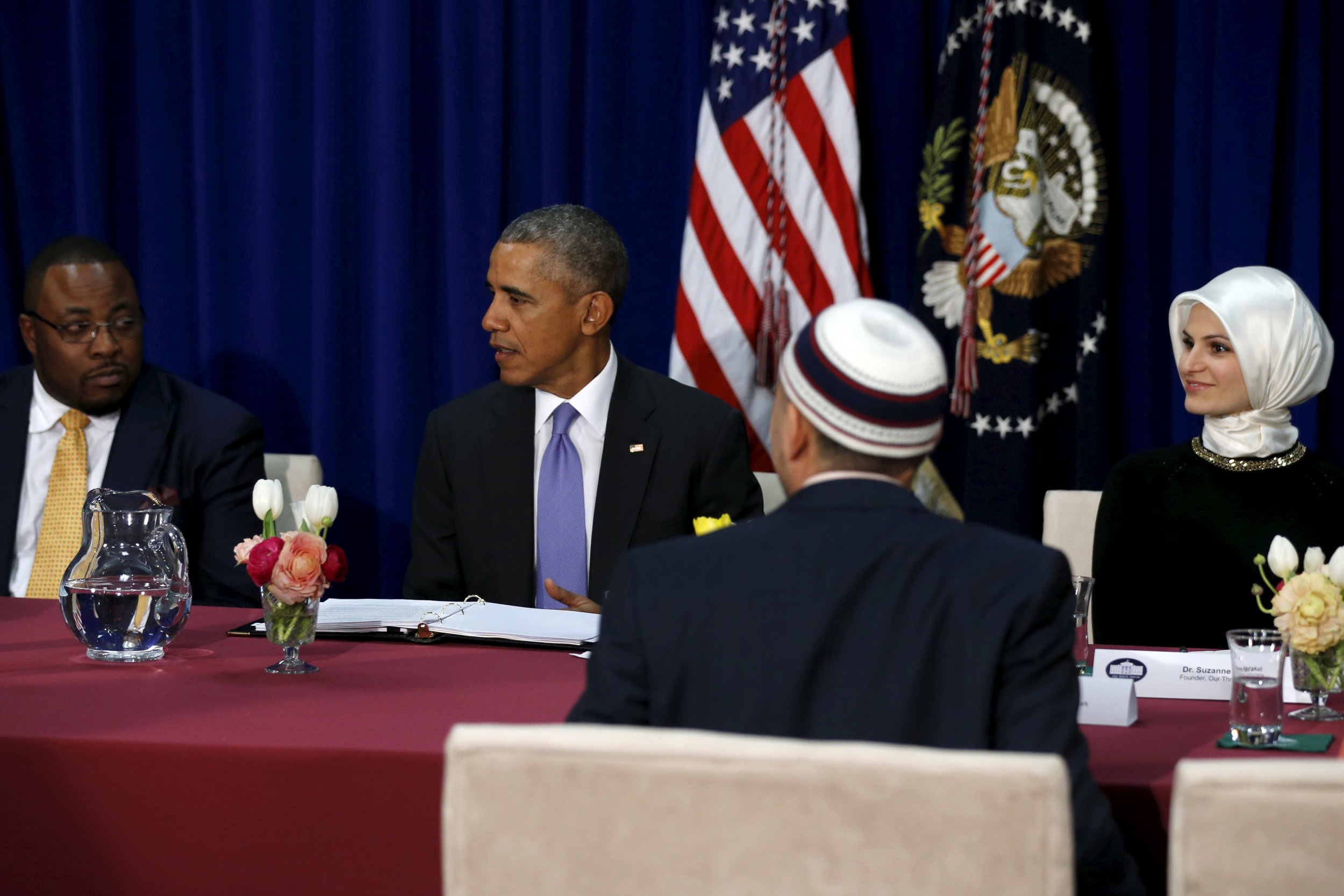 For the first time during his presidency, Barack Obama on Wednesday will visit a U.S. mosque, where he'll meet Muslim community leaders for a roundtable and deliver remarks to the Islamic Society of Baltimore.
The president will "celebrate the contributions Muslim-Americans make to our nation and reaffirm the importance of religious freedom to our way of life," according to the White House schedule. "The visit reiterates the importance of staying true to our core values—welcoming our fellow Americans, speaking out against bigotry, rejecting indifference, and protecting our nation's tradition of religious freedom."
The visit comes just one week after Obama became the first sitting president to speak at the Israeli Embassy in Washington. The president attended a ceremony there on January 27 and addressed some of the same themes of bigotry and discrimination that he will speak about on Wednesday.
"Too often, especially in times of change, especially in times of anxiety and uncertainty, we are too willing to give in to a base desire to find someone else—someone different—to blame for our struggles," Obama said at last week's Righteous Among the Nations ceremony, which marked International Holocaust Remembrance Day and honored individuals who risked their lives to save Jews during the Holocaust.
"We're called to live in a way that shows that we've actually learned from our past," Obama said at the event. "It means taking a stand against bigotry in all its forms, and rejecting our darkest impulses and guarding against tribalism as the only value in our communities and in our politics."
Obama's visit to the Islamic Society, which has a mosque as well as a K-12 school, comes at a time when attacks on mosques have increased, according to the Council on American-Islamic Relations (CAIR), in the wake of the Paris attacks in November and the San Bernardino, California, shooting in December that left 14 dead.
"I don't think there's ever been this level of fear and apprehension in the Muslim-American community," Ibrahim Hooper, a spokesman for CAIR, told the Associated Press. "For some time, we've been asking for pushback. Perhaps this will start a trend," he added, speaking of Obama's upcoming visit to the mosque.
Jen Psaki, the White House communications director, said that on Wednesday the president will "talk about how some have conflated the recent horrific acts of terrorists with an entire faith, and how that type of language contributes to making us less safe," according to The New York Times. "An entire community is being blamed for the acts of a few."
In December, Donald Trump called for a "total and complete shutdown" of Muslims entering the United States. Fellow presidential candidates vying for the Republican nomination have made similar remarks. Jeb Bush said the U.S. should prioritize Christian refugees over those of other religions, while Ted Cruz said the U.S. should ban Syrian Muslim refugees from entering the country and introduced a bill that would allow states to opt out of accepting Syrian refugees.
"We've seen an alarming willingness on the part of some Republicans to try to marginalize law-abiding, patriotic Muslim-Americans. And it is offensive," Press Secretary Josh Earnest told reporters at a White House press briefing Tuesday. It's "offensive to a lot of Americans who recognize that those kinds of cynical political tactics run directly contrary to the values that we hold dear in this country. And I think the president is looking forward to the opportunity to make that point."
Earnest said he "wouldn't expect any of the candidates tomorrow to enjoy the benefit of being singled out by the president of the United States." Nevertheless, "I think the fact that this visit is taking place in the current political context is obvious to everyone."
Obama to Make First Mosque Visit Amid Divisive Republican Campaign Rhetoric | U.S.