Obama, Hollande Call on Allies to Unite Against ISIS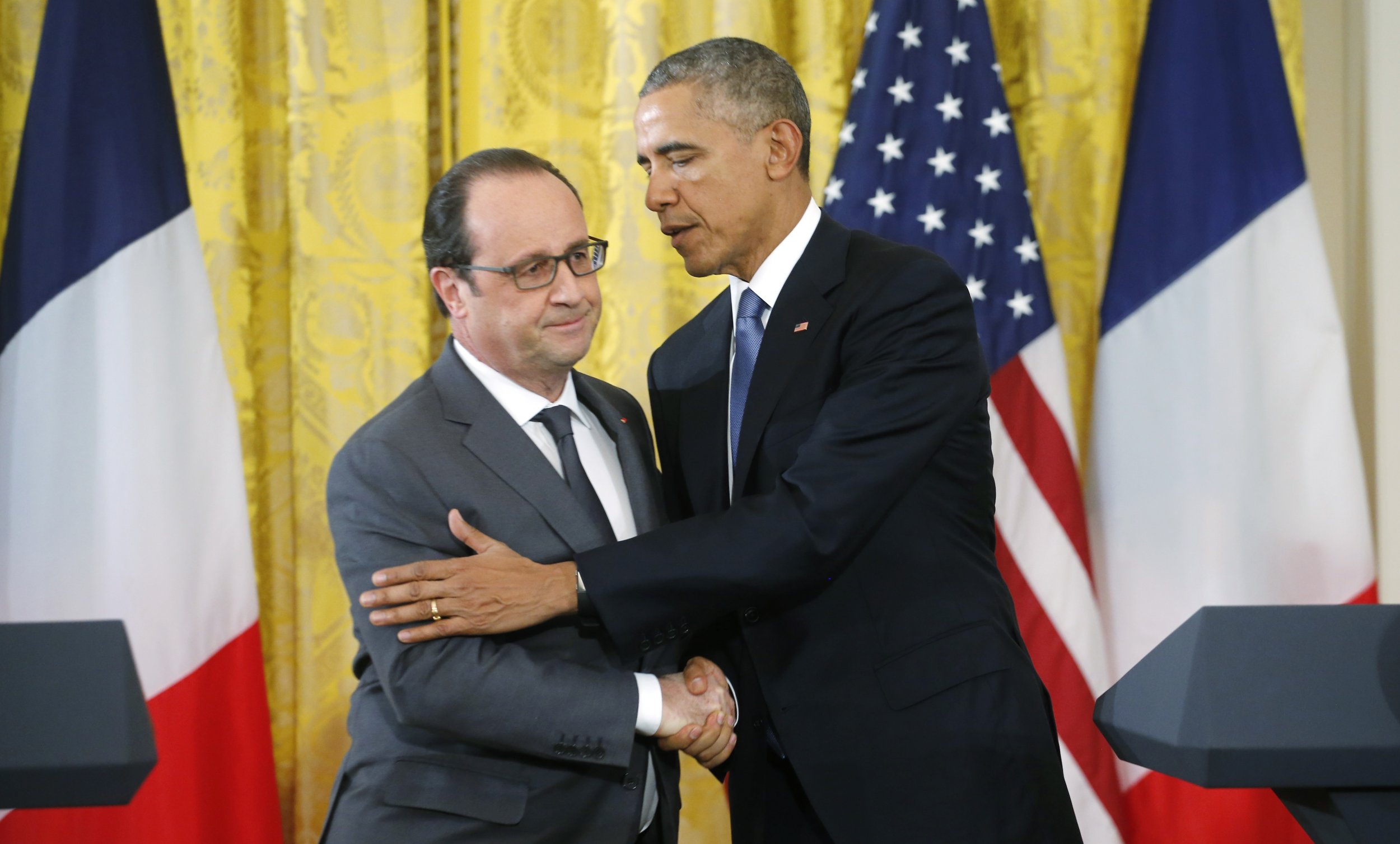 Updated | The United States and France stand in solidarity to serve justice and defend against terrorism, President Barack Obama said Tuesday during a joint press conference with his French counterpart, François Hollande.
Obama called on other allies to stand united in destroying the Islamic State militant group (ISIS), which claimed responsibility for the deadly series of coordinated attacks in Paris on November 13.
"As Americans, we stand by our friends, in good times and bad," Obama told reporters after meeting with Hollande at the White House Tuesday morning. France is America's oldest ally.
It was the first time the two leaders had met since the Paris attacks, and they discussed their cooperation in the battle against ISIS. They reviewed the U.S.-led coalition against the militant group and agreed their countries must do more together. They also agreed that Russia's airstrikes against the moderate opposition forces in Syria only bolster President Bashar al-Assad's regime.
ISIS said the Paris attacks, which killed 130 people and wounded hundreds more, were in retaliation for France's involvement in U.S.-led airstrikes in Iraq and Syria.
"This barbaric terrorist group," Obama said, "poses a serious threat to all of us. It cannot be tolerated. It must be destroyed."
The U.S.-backed coalition has been bombing ISIS for more than a year. Russia joined the conflict in September, but Russian airstrikes have largely targeted Western-backed rebels fighting Assad's regime, rather than ISIS. Russia, Obama said, could "play a more constructive role" if it focused its strikes on defeating ISIS.
Obama said the best way to bring peace to Syria is for Russia to actively support a cease-fire, as well as a transition away from Assad to a democratic government that can unite Syria against terrorism.
He also called on the European Union to implement an agreement that would require airlines to share passenger information to stop foreign fighters entering countries undetected. "We must do a better job at coordinating between countries," the president said.
Earlier on Tuesday, Russian President Vladimir Putin accused Turkey of endorsing terrorism by shooting down a Russian warplane that allegedly violated Turkish airspace. Obama said his top priority will be to "ensure this does not escalate." He urged the two countries to have a discussion following the downing of the plane.
In the wake of the Paris attacks, Hollande vowed to destroy ISIS and called on the U.S. and Russia to join a global coalition to destroy the militants. He has urged greater unity in the fight against ISIS and said he would meet with Obama and Putin to ask them to pool their resources.
On Tuesday, Hollande thanked the U.S. for its "solidarity" with France and paid tribute to an American student who died in the Paris attacks, as well as the U.S. rock band that was performing in a theater at the time.
Hollande said France "will not intervene militarily on the ground" in Syria. But he did vow to strengthen airstrikes in the country.
Hollande met with British Prime Minister David Cameron in Paris on Monday. Both countries are permanent members of the U.N. Security Council, which last week adopted a resolution that pledged to "take all necessary measures" against ISIS.
Cameron said he will ask the British Parliament for approval to begin bombing ISIS targets in Syria. In 2013, British lawmakers voted against airstrikes on ISIS targets.
Hollande will meet with other world leaders this week, including German Chancellor Angela Merkel on Wednesday and Putin on Thursday.
The U.S. State Department has issued a worldwide travel alert, citing "increased terrorist threats" from militant groups in various regions around the globe. The warning came just days before millions of Americans will travel for the Thanksgiving holiday.
Obama urged Americans not to let the fear of terrorism undermine freedom. "We will not succumb to fear, nor can we let fear divide us, because that is how terrorists win," he said. "Americans will not be terrorized."
This story has been updated to include information from the two leaders' joint press conference.