Obama: More Airstrikes and Troops to Iraq to Defeat Islamic State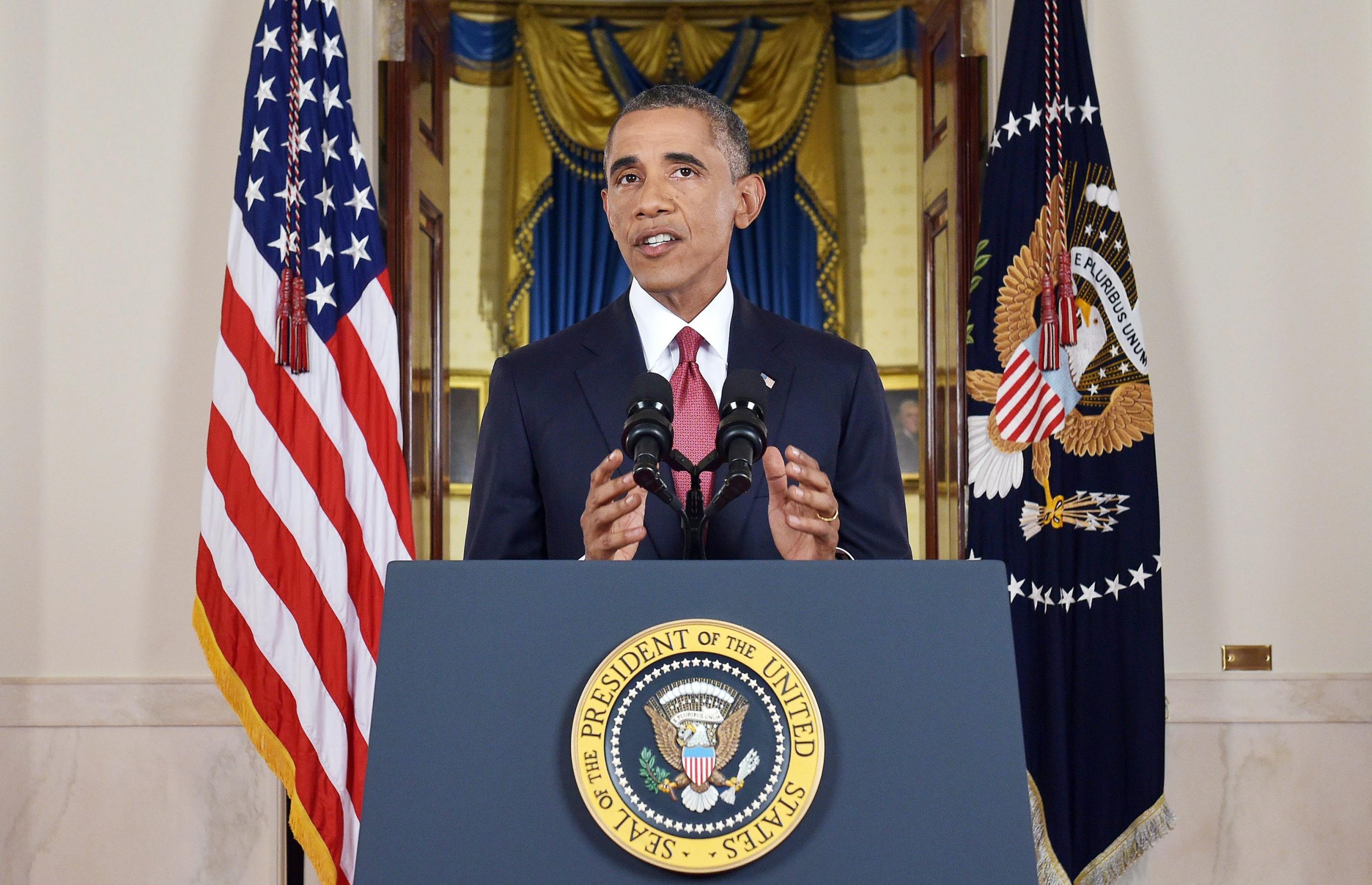 President Barack Obama addressed the nation in a televised prime time address on Wednesday night and laid out his plan for the country to "degrade and ultimately destory" the Islamic State (IS) militant group, formerly known as ISIS.
President Obama announced the U.S. will lead a "broad coaltion" of nations in defeating IS by launching airstrikes in Iraq and Syria and supporting Arab and regional partners in the fight against the religious extremist group. Any additional U.S. action will "depend upon Iraqis forming an inclusive government, which they have now done in recent days," said Obama. The president emphasized the U.S. will not be involved in a ground combat mission.
IS, a Sunni Muslims jihadist group, have declared broad swathes of northern Iraq and Syria an Islamic "caliphate" and have waged a campaign of terror throughout the region that has included brutal executions and the systematic rape of women and children.
The U.S. will deploy another 475 troops to Iraq to help support Kurdish and Iraqi security forces working to defeat IS. Those troops will join the several hundred American troops Obama deployed in June, but none of them are working in a direct combat role and they will provide support through training, equipment and intelligence, said Obama.
Obama did not directly address whether or not he would seek congressional approval for further military action in Iraq and Syria, but did say his administration has "secured bipartisan support." The President said the IS operation would be similar to U.S. interventions in Yemen and Somalia, rather than the wars in Afghanistan and Iraq, which he has spent his presidency winding down.
"I have the authority to address the threat from ISIL. But I believe we are strongest as a nation when the President and Congress work together," said Obama. "So I welcome congressional support for this effort in order to show the world that Americans are united in confronting this danger."
Obama also announced that the American government will not be working with Syrian President Bashar al-Assad to defeat IS terrorists in Syria, despite an increase in American assistance opposition forces in the country.
"We cannot rely on an Assad regime that terrorizes its people; a regime that will never regain the legitimacy it has lost," said Obama. "Instead, we must strengthen the opposition as the best counterweight to extremists like ISIL, while pursuing the political solution necessary to solve Syria's crisis once and for all."
Until Wednesday night, Obama has largely refrained from outlining a strategy to defeat IS, despite attacks by the group against Iraqis and foreign citizens intensifying over the past few months, including the brutal, highly-publicized murders of American journalists James Foley and Steven Sotloff.
"Now let's make two things clear: ISIL is not 'Islamic.' No religion condones the killing of innocents, and the vast majority of ISIL's victims have been Muslim," said Obama. "And ISIL is certainly not a state. It was formerly al Qaeda's affiliate in Iraq, and has taken advantage of sectarian strife and Syria's civil war to gain territory on both sides of the Iraq-Syrian border. It is recognized by no government, nor the people it subjugates. ISIL is a terrorist organization, pure and simple. And it has no vision other than the slaughter of all who stand in its way."
Obama is set to chair a meeting at the United Nations Security Council later this month where he's expected to address the Islamic State threat further.