Obama Official Steve Rattner Says Biden Could Set Progressivism Back Decades if Massive Government Expansion Fails
A former official for President Barack Obama said that the progressive cause could suffer if President Joe Biden's ambitious American Families Plan isn't properly executed.
"If it fails, I think it will set back the cause of progressivism for several more decades," Steven Rattner, former head of Obama's Auto Task Force, said in an interview Thursday morning with MSNBC's Morning Joe.
Rattner's comments come on the morning after President Joe Biden delivered his first address to a joint session of Congress. In his speech, the president announced his $1.8 trillion American Families Plan, a 10-year plan that would expand access to early childhood education; provide tuition-free community college; fuels tax breaks for families; and fund paid family leave among other family-focused programs.
"When this nation made 12 years of public education universal in the last century, it made us the best-educated and best-prepared nation in the world," Biden said to lawmakers gathered Wednesday night. "But the world is catching up. They are not waiting. Twelve years is no longer enough today to compete in the 21st century. That's why the American Families Plan guarantees four additional years of public education for every person in America, starting as early as we can."
He added: "We guarantee that low- to middle-income families will pay no more than 7 percent of their income for high-quality care for children up to the age of 5. The most hard-pressed working families won't have to spend a dime."
The president explained how he will fund the plan through taxes on corporations and on the wealthiest Americans while anyone making less than $400,000 annual will not see a tax increase: "It's time for corporate America and the wealthiest 1 percent of Americans to pay their fair share."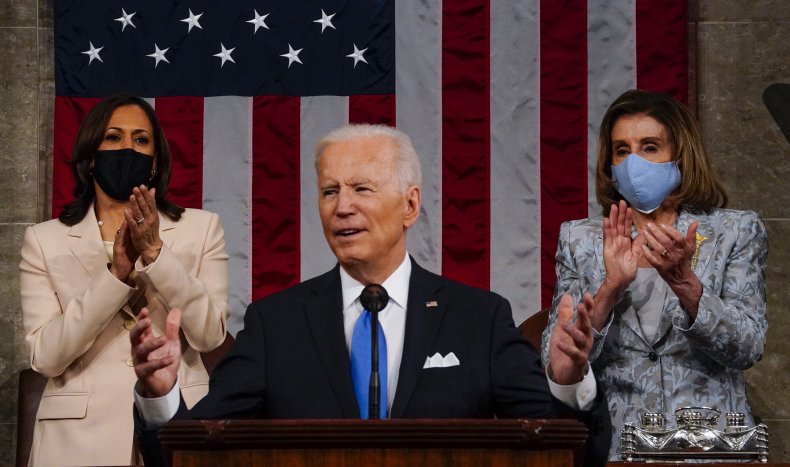 While getting the legislation passed and paying for Biden's plan may seem like robust venture, Rattner said the true challenge will be whether the new administration can effectively tackle a "massive execution job" and implement tangible results for American families—or else pay a political price.
"I think in some ways [execution] is going to be the president's biggest challenge," Rattner said. "He's got to deliver, not just passage, but actual real results for Americans and programs that people perceive are working, or else we go back to government being the enemy again," Rattner said.
In the interview, Rattner also referenced data that shows how the multi-trillion-dollar Families plan is about "seven times" as great as Obama's 2009 stimulus plan, which was only about $800 billion. The relative "size and magnitude" of tax cuts and credits versus government spending suggested in Biden's plan concerns Rattner, he said, because it suggests a potentially difficult implementation path.
"This is over a longer period of time, in fairness, and includes some tax credits in fairness, but you're talking about 50 percent more than the government spends just in one year, just audits, normal activities," Rattner said.
Rattner added that while he worries about the risk of inflation and a widening of the government deficit, he is mainly concerned about the impact an ineffective plan could have on the longevity of the progressive policy agenda.
"The last plan, the [American Jobs Plan], had 76 separate initiatives in it alone, all have to be created and executed," Rattner said, as "...the potential for mistakes, failure of execution, here is high."
Newsweek has reached out to the Congressional Progressive Caucus for comment on the plan.