Obama: U.S. Must 'Counter Extremism,' Increase Gun Control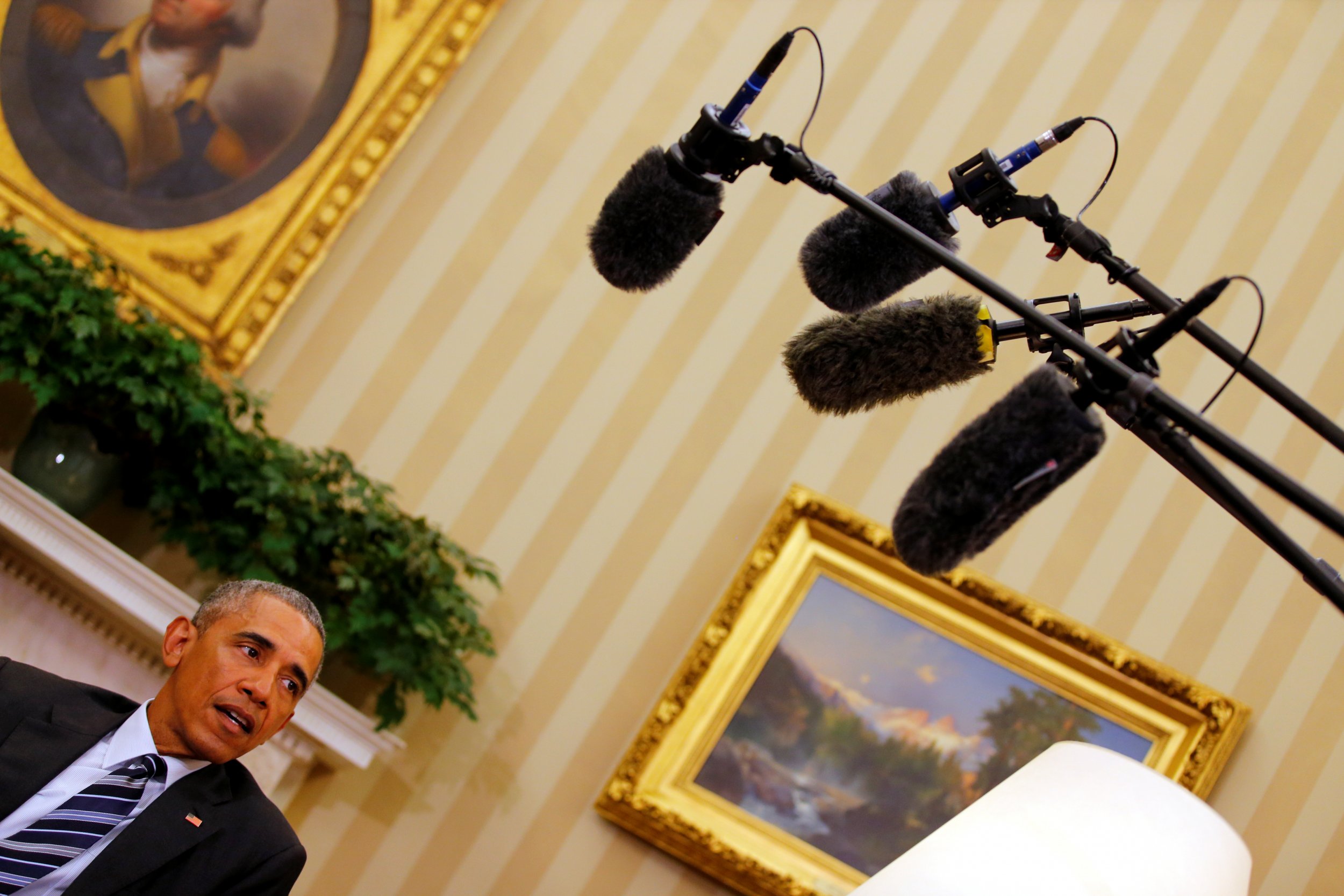 In response to the attack on an Orlando, Florida, LGBT nightclub that left 50 dead, including the attacker, President Barack Obama told reporters the massacre is "a reminder that regardless of race, religion, faith or sexual orientation, we're all Americans and we need to be looking after each other and protecting each other at all times in the face of this kind of terrible act."
The president stressed the need to counter violent extremism and the need to tighten America's loose gun control laws, calling approaches that favor one or the other misguided.
"The suggestion is either we think about something as terrorism and we ignore the problems with easy access to firearms, or it's all about firearms and we ignore the role, the very real role, that organizations like ISIL have in generating extremist views inside this country. It's not an either/or, it's a both/and," the president said, using an alternate acronym for the Islamic State militant group (ISIS). "We have to go after these terrorist organizations and hit them hard, we have to counter extremism, but we also have to make sure it's not easy for somebody who decides they want to harm people in this country to be able to obtain weapons."
"We are also going to have to make sure that we think about the risks we are willing to take by being so lax in how we make very powerful firearms available to people in this country," Obama added.
The attack is being investigated as an act of terror, said Obama, who allowed that the investigation is still in a preliminary stage. "It appears that the shooter was inspired by various extremist information that was disseminated over the internet," he said. "All those materials are being searched and exploited so we will have a better sense of the pathway the killer took."
"One of the biggest challenges we are going to have is this kind of propaganda and perversion of Islam that you see generated on the internet and the capacity for that to seep into the minds of troubled individuals or weak individuals," Obama added.
There is no evidence that Orlando attacker Omar Mateen was directed by ISIS, the president said, despite the fact that Mateen reportedly pledged himself to the group shortly before the attack. "It does appear that at the last minute he announced allegiance to ISIL, but there's no evidence so far that he was in fact directed by ISIL," he said.
The president said the attacker, who had come under FBI scrutiny before, appeared to be a homegrown extremist who became radicalized online. "Countering this extremist ideology is increasingly going to be just as important as stopping plots engineered from the outside," Obama said.
The fact that the attack took place at an LGBT club was also relevant, Obama said. "Radical, nihilistic, vicious" organizations like ISIS and Al-Qaeda are threatened by plurality and homosexuality, Obama said.
The president also stressed the need for stronger gun control. The rifle used by the attacker is similar to those carried by U.S. infantry in combat. Because the attacker had no criminal record, he was able to obtain the weapons easily, Obama said. "The fact that we make it this challenging for law enforcement, for example, even to get alerted that somebody who they are watching has purchased a gun—and if they do get alerted, sometimes it's hard for them to stop them from getting a gun—it's crazy, it's a problem," he said.
Self-radicalized individuals "are going to be very difficult sometimes to find ahead of time, and how easy it is for them to obtain weapons is in some cases going to make a difference in whether they're able to carry out attacks like this or not," he said.