Obama, Other Leaders Condemn Killing of NYPD Officers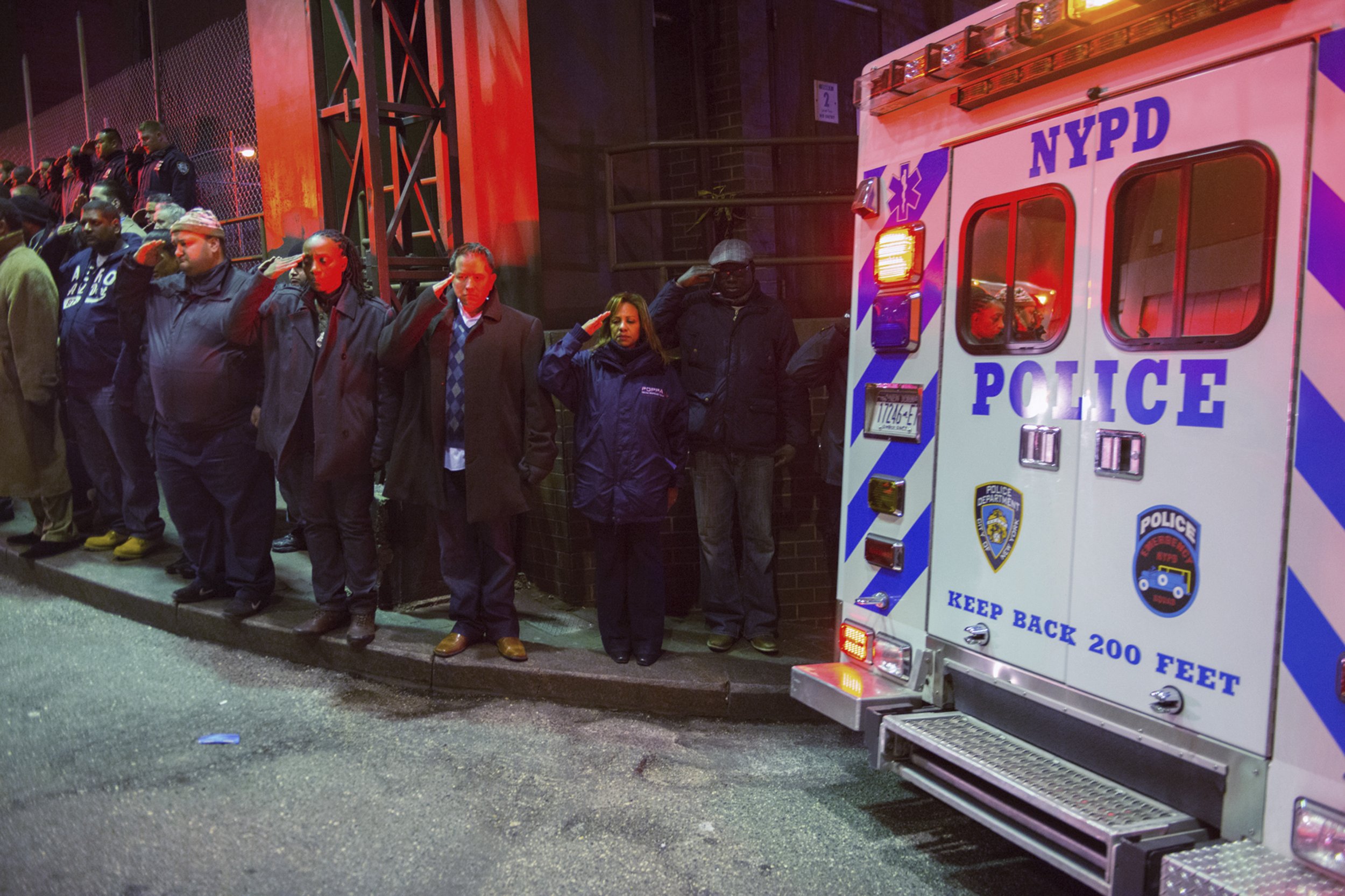 Updated | President Barack Obama "unconditionally" condemned the killing of NYPD patrolmen Rafael Ramos and Wenjian Liu, who were shot and killed on Saturday by Ismaaiyl Brinsley in what may have been revenge for the deaths of Eric Garner and Michael Brown.
"Two brave men won't be going home to their loved ones tonight, and for that, there is no justification," the president said in a statement from Hawaii. "The officers who serve and protect our communities risk their own safety for ours every single day—and they deserve our respect and gratitude every single day."
Obama rejected "violence and words that harm" and called for "patient dialogue" in the wake of the killings. Attorney General Eric Holder pledged all available federal resources to investigate the killings. "This cowardly attack underscores the dangers that are routinely faced by those who protect and serve their fellow citizens," Holder said. "Our nation must always honor the valor—and the sacrifices—of all law enforcement officers with a steadfast commitment to keeping them safe."
New York City Mayor Bill de Blasio called the shootings "assassinations," "an attack on all us," and "an attack on everything we hold dear."
Others were angry with, and even blamed, Obama and de Blasio for the killings. Pat Lynch, head of the Patrolmen's Benevolent Association, an NYPD police union, said, "There's blood on many hands tonight. That blood on the hands starts at City Hall in the Office of the Mayor." Lynch also blamed "those that incited violence on the streets under the guise of protest that tried to tear down what NYPD officers did every day," a reference to protests against the death of Eric Garner at the hands of the NYPD.
Former New York Governor George Pataki also took aim at what he called de Blasio's and Holder's "divisive anti-cop rhetoric." Pataki has announced he may be interested in seeking the Republican nod for president in 2016.
A MoveOn.org petition calling for de Blasio's resignation has received more than 48,000 signatures.
Brinsley, a resident of Baltimore, Maryland, wrote a post on Instagram suggesting his attack on police was in retaliation for the deaths of Garner and Brown. Both Garner's and Brown's families rejected the affiliation. Erica Garner, Eric Garner's daughter, wrote on Twitter that the killing had "[n]othing to do with my father."
"My husband was not a violent man, so we do not want any violence connected to his name," said Garner's widow, Esaw Garner.
In a stement on Sunday, Michael's Brown's family said, "We reject any kind of violence directed toward members of law enforcement. It cannot be tolerated. We must work together to bring peace to our communities."
Also Sunday, Reverend Al Sharpton blasted those who criticized the president and mayor, calling their attacks "misguided" and insisting critics should be focusing on "an ugly spirit that all of us need to fight."