Obama White House Photographer Suggests Trump Situation Room Photo of Unfolding al-Baghdadi Raid Was Staged
The chief official White House photographer for former Presidents Ronald Reagan and Barack Obama suggested the Trump administration was posing for Saturday's stern-faced Situation Room picture in the wake of a U.S. military raid that resulted in the death of a major ISIS figurehead.
Pete Souza, the former director of the White House Photography Office, called the timestamp of the Situation Room picture into question Sunday morning. Souza inferred that it's very unlikely President Donald Trump, Vice President Mike Pence and several top administration officials and generals were actively monitoring the raid on ISIS leader Abu Bakr al-Baghdadi's compound when the photograph was taken Saturday in Washington.
Souza took the famous photograph of Obama and a shocked then-Secretary of State Hillary Clinton intently watching the Seal Team 6 raid on the Abbottabad compound that killed al-Qaeda chief Osama bin Laden in 2011.
"The raid, as reported, took place at 3:30PM Washington time. The photo, as shown in the camera IPTC data, was taken at '17:05:24,'" Souza remarked on Twitter Sunday. He was replying to a tweet from White House Director of Social Media and Assistant to the President, Dan Scavino Jr.
The Situation Room picture was taken Saturday by Chief Official White House Photographer for President Donald Trump, Shealah Craighead, former official photographer for First Lady Laura Bush.
The al-Baghdadi Situation Room photo Saturday showed Trump; Pence; National Security Advisor Robert O'Brien; Secretary of Defense Mark Esper; Chairman of the Joint Chiefs of Staff U.S. Army General Mark A. Milley; and Brig. Gen. Marcus Evans, Deputy Director for Special Operations on the Joint Staff. All six men are shown in stiff, postured stances, giving squinted glares toward the camera.
The Trump photo is far more symmetrical and organized than the Obama White House Situation Room picture taken during the bin Laden compound raid in 2011. Clinton can be seen holding her mouth in shock and Defense Secretary Robert Gates is crossing his arms in front of a jumble of administration officials and generals who are standing behind them.
Another Twitter user said it didn't seem unreasonable that Trump and the generals "were still there 2 hours later waiting for the crew to return to the base," when the picture was taken. "Sure, it's possible," Souza replied.
In response to another now-deleted tweet, Souza continued acknowledging, that at the very least, it is possible the raid was still ongoing when Trump was photographed Saturday. "It's entirely possible that the raid was still going on at 5:05 p.m. Before drawing definite conclusions about the photo, reporters need to nail down the actual timeline of the raid."
Daily Kos Trending News Manager Jennifer Hayden remarked that a Trump golf outing tracker showed the president was golfing at 3:33 p.m. Washington time, as the raid was happening.
Many of Trump's most frequent supporters took to social media to gloat about the successful U.S. special operations mission which left al-Baghdadi dead as a result of suicide. Breitbart News blared the headline, "Iconic Photo: Trump Game Face Epic!"
An exhibition set to open November 15 at the 9/11 Museum in New York City, Revealed: The Hunt for Bin Laden, uses many of Souza's photographs to help illustrate the 10-year search for the mastermind of the September 11 terrorist attacks.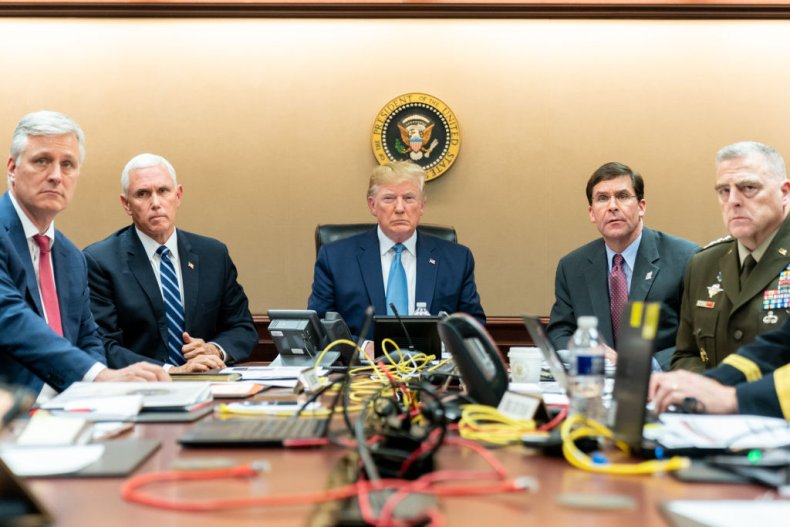 On Sunday afternoon, Souza again clarified it's "definitely possible the photo was taken during the raid," noting that Trump's own timeframe of "around 5 p.m." was relatively vague. Critics continued referring to several timelines which showed he was potentially golfing at the time of the raid.
During his news conference announcing Baghdadi's death Sunday morning, Trump told reporters he teased the announcement on Twitter hours before in order to make sure reporters weren't golfing or "otherwise indisposed" at the time of his address.