Obama's Photographer Shares Picture From 'When a World Leader Wasn't Laughing at the President' after Trump mocked at NATO
A former official White House photographer has taken a jab at President Donald Trump following his spat with Canadian Prime Minister Justin Trudeau at the NATO Summit in London.
Obama-era Chief Official White House Photographer Pete Souza posted a picture on Instagram yesterday of Trudeau smiling with former President Barack Obama as the leaders sat next to each other with their arms held high.
In a dig at President Trump, the photographer also said the picture looked back on a time when "a world leader wasn't laughing AT the President of the United States."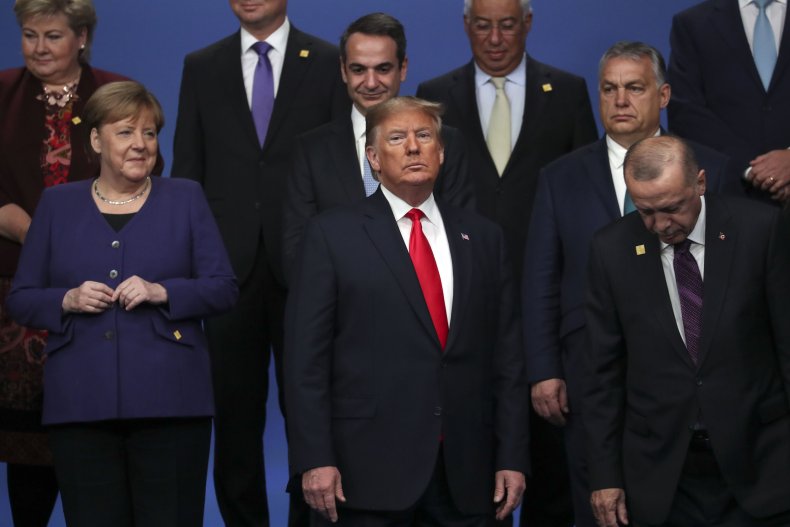 Souza released a book of his best photographs of Obama during his presidency and made The New York Times bestseller list in 2017. One of his most famous photographs is the picture of Obama and then-Secretary of State Hillary Clinton watching Seal Team 6 raid the compound occupied by Osama bin Laden in 2011.
He also published a book in October this year arguing that President Trump is unfit for office through visual contrasts with Obama.
Captioning his Instagram post on Wednesday night, Souza wrote: "Back when a world leader wasn't laughing AT the President of the United States. #Throw Shade Then Vote."
The former White House photographer made his comment after a hot mic video emerged in which Canadian Prime Minister Trudeau appeared to be making fun of Trump with other NATO leaders.
He appeared to mock the president while standing with U.K. Prime Minister Boris Johnson, Princess Anne, Dutch Prime Minister Mark Rutte and French President Emmanuel Macron at a Buckingham Palace event marking the 70th anniversary NATO summit on Tuesday night.
A video of the conversation published by CBC appeared to show Trudeau joking about lengthy press conferences with Trump causing delays, although he did not mention Trump by name. The Canadian Prime Minister also told the other world leaders he saw the jaws of staffers "drop to the floor," in what appeared to be a reference to Trump.
President Trump responded to the footage at a bilateral meeting with German Chancellor Angela Merkel on Wednesday, calling Trudeau "two-faced" and told massed reporters that he would be leaving the NATO summit early.
"When today's meetings are over, I will be heading back to Washington," the commander-in-chief later tweeted. "We won't be doing a press conference at the close of NATO because we did so many over the past two days. Safe travels to all!"
His early exit from the meeting of NATO leaders followed tense moments with both Macron and Trudeau, with the president taking issue with the Canadian prime minister's decisions on military spending levels.
During the press conference at the top of his meeting with German Chancellor Angela Merkel, Trump suggested Trudeau was "not very happy" about being asked to spend two percent of Canadian GDP on the country's military.
"He's not paying two percent and he should be paying two percent," Trump said. "It's Canada. They have money and they should be paying two percent."
Newsweek has contacted the White House for comment.