Obama Points to McAuliffe's Positions on Voting Rights, Abortion in New Campaign Ad
Former President Barack Obama urged Virginians to support Democratic gubernatorial candidate Terry McAuliffe in a new ad McAuliffe's campaign released Wednesday.
The ad's release came just days before Obama was expected to visit Richmond in-person to campaign alongside McAuliffe.
In the 30-second ad, titled Our Values, Obama said Virginians "have a lot of responsibility" heading into the November 2 election, one of two regularly scheduled gubernatorial elections taking place this fall.
"Not only are you choosing your next governor, but you're also making a statement about what direction we're headed in as a country," Obama said.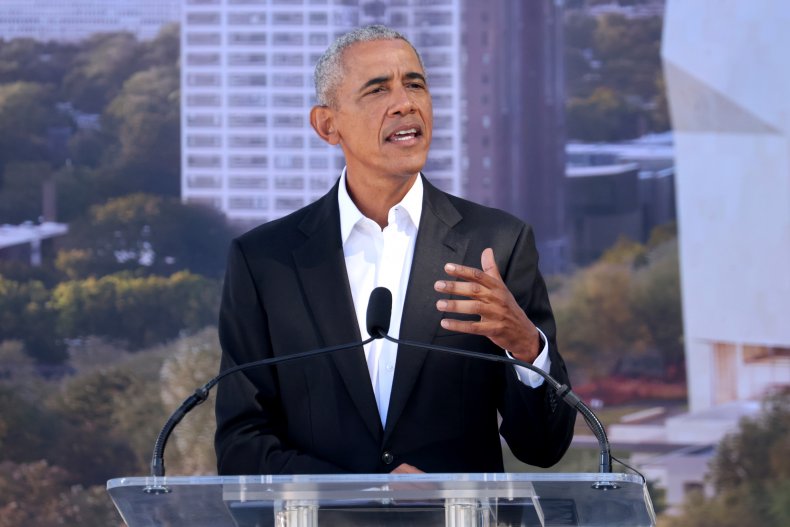 The former president referenced his history with McAuliffe, who served as Virginia's governor during Obama's final years as president. Virginia does not allow its governors to serve consecutive terms in office, but McAuliffe, who was governor from 2014 to 2018, is running again in the hope of succeeding sitting Governor Ralph Northam, a fellow Democrat.
"I know Terry McAuliffe, and I can tell you: As governor, no one worked harder for their state," Obama said. "And I also watched Terry stand strong on the values we all care about: Protecting every citizen's right to vote, fighting climate change, and defending a woman's right to choose."
The ad concluded with text shown onscreen reminding voters to "vote early or on November 2."
"So make sure you vote and join me in supporting Terry McAuliffe," Obama concluded.
McAuliffe shared the ad on social media Wednesday afternoon.
"Virginia, we have a chance to send a powerful message to the nation: we are not going back. Together, we can keep Virginia moving forward. Get out and VOTE," he tweeted in a message accompanying the video.
The race in Virginia has attracted attention from politicians around the country as McAuliffe campaigns against Republican Glenn Youngkin. First lady Jill Biden, Atlanta Mayor Keisha Lance Bottoms and voting rights activist Stacey Abrams have all traveled to Virginia in support of McAuliffe over the last week, and Vice President Kamala Harris is expected to attend a McAuliffe campaign event on Thursday. Obama is expected to travel to the state for a campaign event Saturday afternoon in Richmond, McAuliffe announced last week.
Youngkin has also received support from a former president, with Donald Trump first endorsing him in May and reiterating his support for Youngkin multiple times over the months that followed.
Less than two weeks remain until Virginia voters elect their state's next governor on November 2. More than 480,000 ballots had been cast by early voters as of October 19, according to state ballot return data compiled by Virginia Public Access Project, a nonpartisan nonprofit.
Recent polling has suggested the race between McAuliffe and Youngkin is close. Polling averages compiled by FiveThirtyEight suggested McAuliffe was just over 2 points ahead of Youngkin on Wednesday, with one recent voter survey conducted by pollsters at Monmouth University finding the two candidates tied among registered voters.
Newsweek reached out to Youngkin's campaign for comment.