Obama's Portrait Shows Elitist 'Slavery Pedophilia,' Infowars Reporter Claims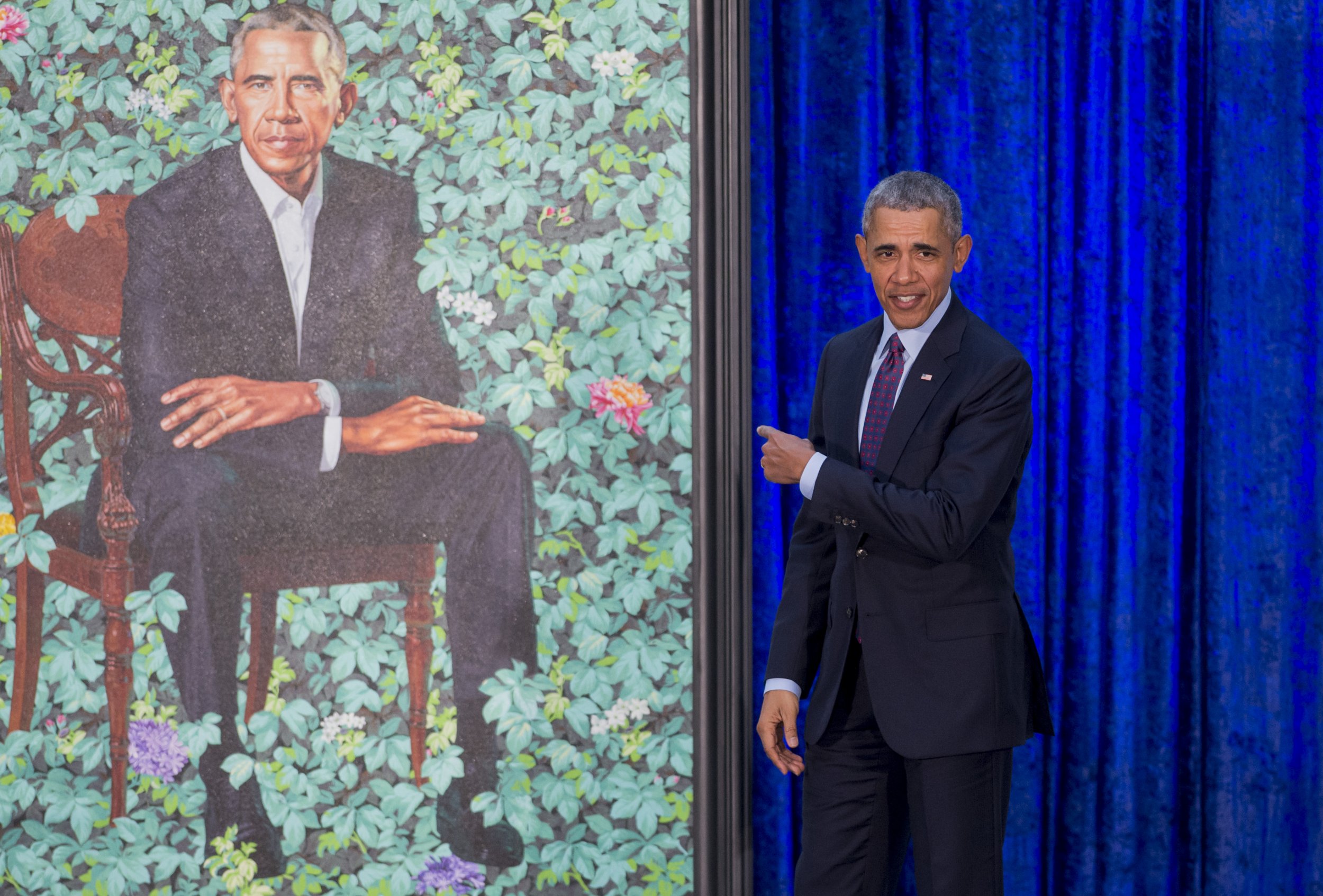 Infowars reporter and author Jerome Corsi claimed that President Barack Obama's new portrait contained elements of "pedophilia" and was "bizarre" while he attempted to decode messages on the forum 8chan.
Corsi, who heads Infowars' Washington, D.C., bureau, was trying to decipher messages from "QAnon," who some on the right believe may be a high-ranking official within President Donald Trump's administration, when he gave his breakdown of Obama's portrait on a live YouTube chat Monday.
"That is one of the weirdest presidential portraits I have ever seen," Corsi said according to Right Wing Watch. "It's a bizarre picture."
Corsi, 71, explained what he thought were hidden themes inside the portrait and the flowers surrounding Obama.
"It's a reference to the loss of virginity in terms of a physical sense," he said. "It's a very physical reference to loss of virginity…This whole elite globalist pedophilia is a major theme that Q continues to remind us underlies a lot of these globalists that we are dealing with. The fact that they are sitting on flowers and the deflowering could be easily an image of the pedophilia that they're engaging in or the slavery pedophilia, you know, tend your gardens everybody, their slave gardens."
Corsi's theory follows that of a supposed sperm being etched into Obama's portrait, according to the official website of Fox News host Sean Hannity. Hannity even tweeted out the blog post Tuesday but later took the message down. The post was also removed.
Other than working for conspiracy peddler Alex Jones's flagship website, Corsi has long been known as a major Obama defamer. Months before Obama claimed the White House in 2008, Corsi's best-selling book, The Obama Nation, detailed his views on why Obama was not a suitable candidate for the country's highest political office.
"My fundamental opposition to Obama's presidential candidacy involves public policy differences," Corsi wrote in an op-ed published by The New York Times in August 2008. "While Obama's three complete years in the Senate have given him remarkably little time on the national political stage, we still have enough information from his slim Senate record, as well as his years in the Illinois state legislature, to see a pattern of voting on the far left on a wide range of policy issues, including abortion, taxes, illegal immigration, international trade, and national security."
In December, Corsi fueled the conspiracy behind "QAnon," or "Q," after he told Newsweek that Jones had assigned him to cover the anonymous internet user. Corsi described Q's posts as "very credible."