Obama Praises Auto Industry as Michigan Contends With Crises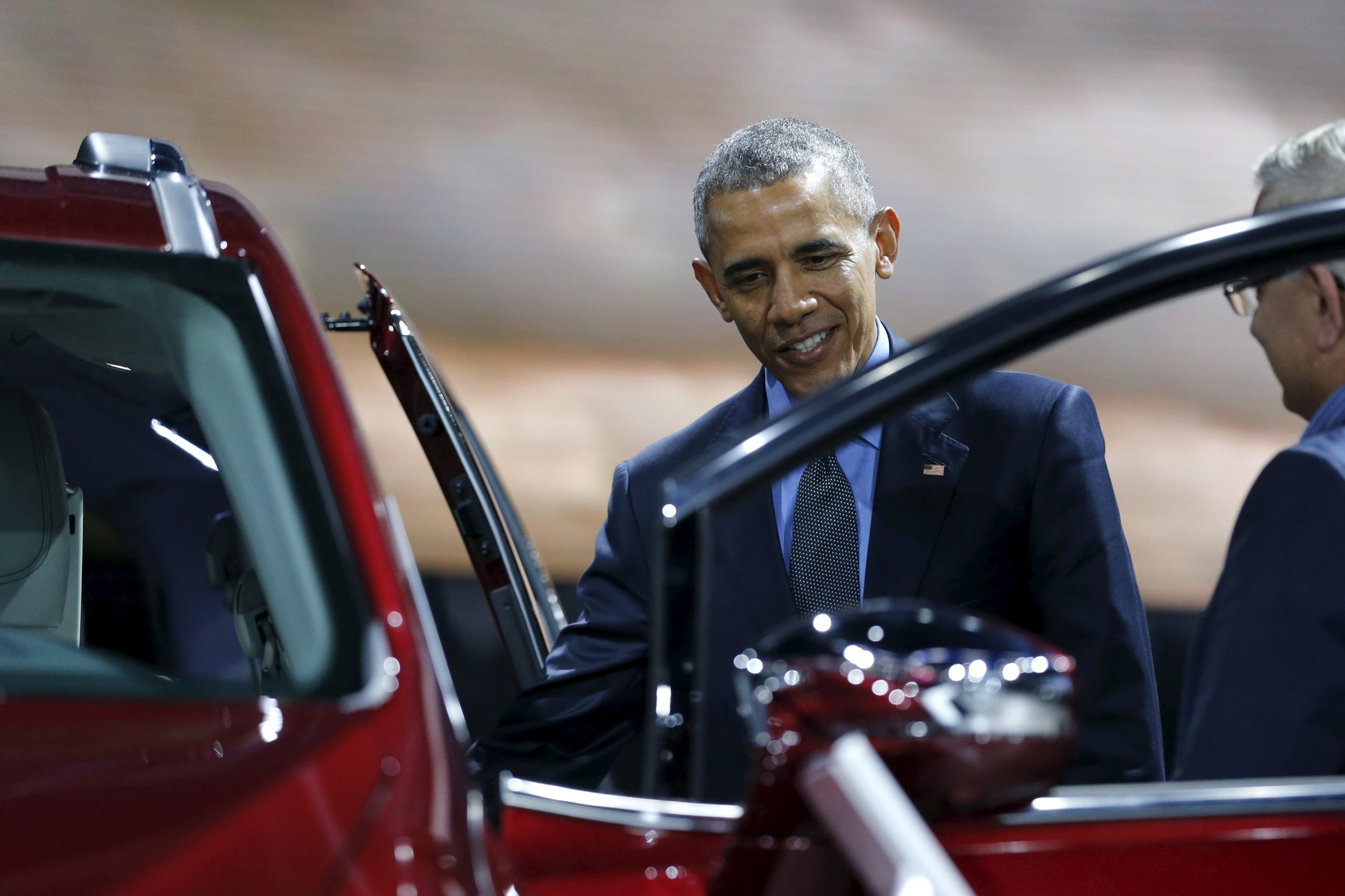 President Barack Obama traveled to Detroit on Wednesday to tout the comeback of the state's recovered auto industry, but not all residents were in the mood to celebrate. The president's visit took place against a backdrop of unrest in Michigan, where Flint residents are still dealing with the months-long fallout from a lead-laced water supply and teachers in Detroit are on day seven of a "sick-out" to protest health hazards at public schools.
Michigan Governor Rick Snyder, a Republican, has been on the receiving end of much criticism in recent months over his handling of the water crisis in Flint, which stems from a decision in April 2014 to change the town's water source from Detroit's system to the Flint River—a temporary money-saving measure. After only a month, residents complained about the quality of the new water and after more than a year, tests showed elevated lead levels in the water and in the blood of some of its residents—including children. The city switched back to Detroit's water in October 2015, but inadequately treated water from the Flint River caused lead to leak from pipes, and exposure to the tainted water could still lead to learning difficulties and other health issues for locals.
Last weekend, Obama declared a state of emergency in Michigan and signed an emergency declaration to make $5 million in federal assistance available in Flint, but he refused Snyder's additional request to declare the incident a major disaster, a designation that applies to natural disasters and similar situations. On Wednesday, Snyder objected to Obama's decision, saying the town should be given special consideration because of the imminent and long-term threats to residents. Snyder also released all Flint-related emails he sent and received between January 2014 and December 2015, in an effort to disclose what he knew about the crisis and when.
The president's visit came less than a month after Snyder first declared a state of emergency in Flint, and apologized for Michigan's role in the decision to switch water supplies. Snyder has also called in the National Guard and requested assistance from the Federal Emergency Management Agency, but his demands may be too little, too late: They come more than a year after initial complaints arose about the water's smell and taste. Snyder and other critics have also questioned the U.S. Environmental Protection Agency's response to the crisis in Flint, while the EPA said this week that Michigan had not taken action fast enough.
At his sixth State of the State address on Tuesday, Snyder devoted much of his speech to the immediate challenges facing Michigan's water supply, the conditions of Detroit Public Schools and the state's deteriorating infrastructure. "Apologies are not enough," he said. "My immediate concern is with healing Flint and ensuring all residents there have clean water. But I will also work to address the breakdown in state government that led to this crisis so that it never happens again."
Flint is the biggest controversy to hit Michigan since Snyder took office in 2011, and the scope of the crisis has protesters and activists calling for his resignation. Lawyers have filed suits on behalf of residents seeking to establish officials' accountability in Flint—a 34-square-mile area comprised of about 100,000 residents, mostly low-income and mostly black.
"To the people of Flint, I will fix this," Snyder said on Tuesday. "You did not create this crisis and you do not deserve this...I will spare no resource to effectively and permanently solve this crisis and ensure you have the quality of life you deserve."
Snyder also is facing scrutiny elsewhere in the state. In Detroit, almost all public schools were closed on Wednesday after some 865 teachers called out of work to protest poor conditions—including mildew, leaky ceilings and dead rodents—resulting in tens of thousands of students being forced to stay home. The so-called sick-out began on January 11 but has gathered steam in recent days; On Wednesday, 88 of the district's almost 100 schools were forced to close because of absent teachers, according to Detroit Public Schools. DPS is run by an emergency manager appointed by Snyder, who has pushed Michigan lawmakers to pass bills aimed at overhauling the district, including splitting DPS into separate entities to create greater financial accountability.
"As the city celebrates this 'ultra-luxury' automobile event, Detroit's public schools are in a state of crisis," the Detroit Federation of Teachers said in a statement, referring to the North American International Auto Show taking place in Detroit through January 24.
Amid the unrest, Michigan's once-flailing flagship industry does seem a lone bright spot. In 2009, the American auto sector was shedding jobs by the hundreds of thousands—industry unemployment was nearing 25 percent, according to the White House—and General Motors and Chrysler were facing possible liquidation. Just six years later and after an injection of federal assistance, the industry had its best year ever in 2015.