Obama and Raúl Castro Hold Talks, Press Conference in Havana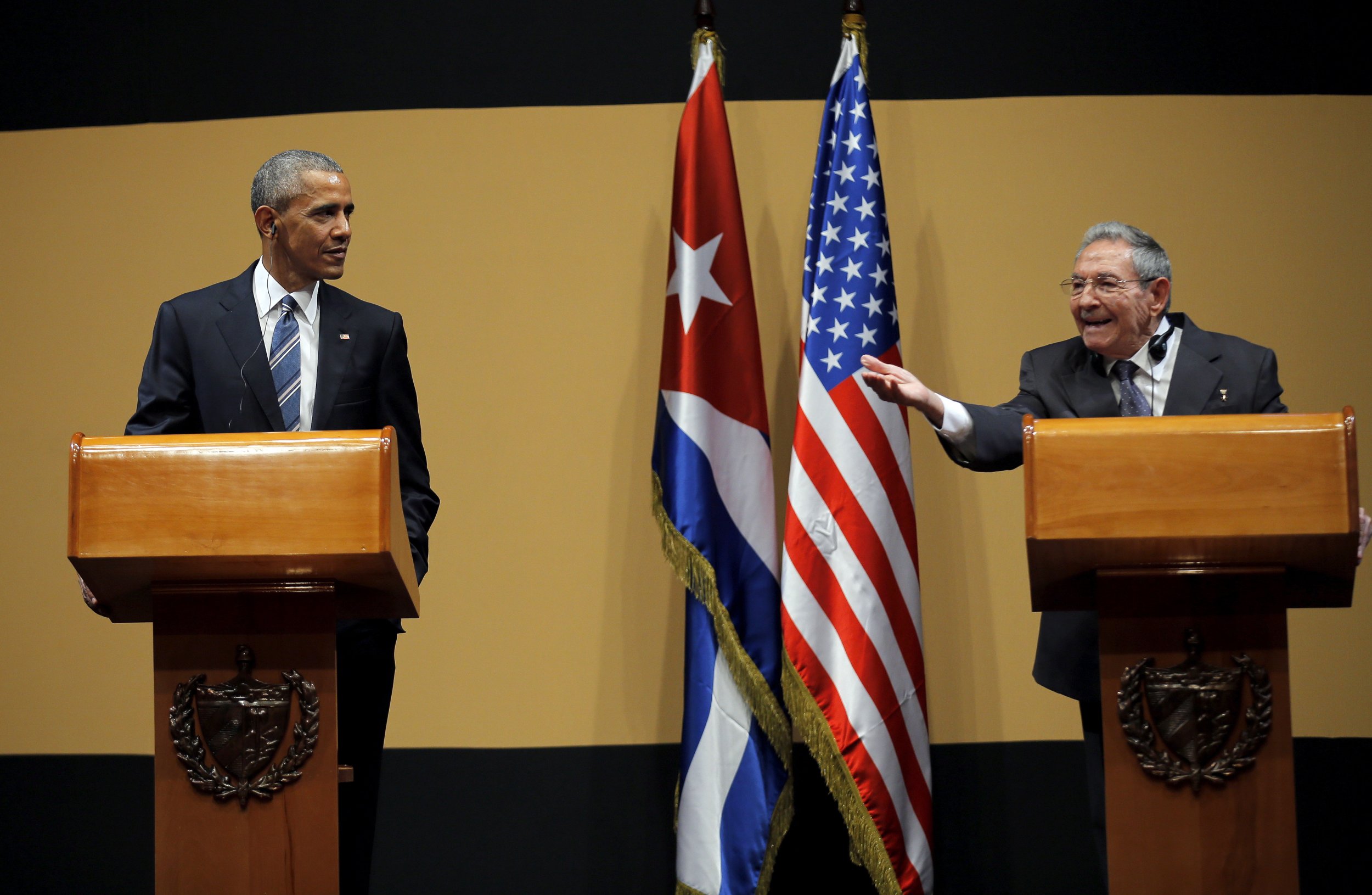 After meeting privately on Monday, President Barack Obama of the United States and President Raúl Castro of Cuba took questions from the White House press corps—a historic moment for the two nations and one that illustrated the Cuban leader's lack of familiarity with a free press.
"For more than half a century, the sight of a U.S. president here in Havana would have been unimaginable, but this is a new day," Obama said.
Obama stressed the work his administration has done to ease tensions between the two countries. That work began in December 2014, when the president announced his plan to chart a new course in Cuba.
Since then, the administration has introduced a raft of changes to U.S. policy. In May 2015, the U.S. removed Cuba from its list of state sponsors of terrorism. In July of that year, the U.S. and Cuba reopened their embassies in Havana and Washington after more than a half-century without formal diplomacy. Direct mail was restored in 2016, with the first batch of mail, which included a letter from President Obama to a 76-year-old Cuban woman, arriving in March. And U.S. airlines are in talks to restore direct commercial flights to Cuba.
"Ever since we made it easier to travel between our countries, more Cuban-Americans are coming home," Obama said, stressing the pivotal role the Cuban-American community could play in Cuba as it continues to modernize.
But Obama seemed clear-eyed about the challenges facing true rapprochement between the two countries. "We have a half-century of work to catch up on," he said. "The relationship between our governments will not be transformed overnight."
The U.S. and Cuban governments have "very serious differences, including on democracy and human rights," Obama said. Hours before Obama arrived in Cuba, police arrested more than 50 pro-democracy protesters in Havana.
For his part, President Castro attempted to remind his audience of the good the revolutionary government has done. As examples, he cited Cuba's health care system, which is universal, and its education system, which is free at all levels. But Castro also appeared flustered when questioned by American reporters, including Jim Acosta of CNN and Andrea Mitchell of MSNBC. Asked by Acosta about political prisoners, Castro appeared to deny that his government keeps any. "Show me a list of political prisoners, and I will release them before the night is out," he said in Spanish. And asked by Mitchell about Cuba's low wages—the average Cuban earns about $20 per month—Castro replied that in Cuba at least men and women earn equal pay for equal work.
With nine months left in office, Obama seemed to suggest that the ball is in Cuba's court. "The list of things we can do administratively is growing shorter," he said, suggesting that if Cuba wants the U.S. to continue down the path it started in 2014, Congress will need to see visible progress on human rights. And the Cuban government, notoriously fond of red tape, should start approving more business deals, he intimated.
But the embargo is coming to close, Obama said. "When, I can't be entirely sure, but I believe it will end."