Obama Releases 'How to Vote' State Tutorials As He Prepares to Campaign for Biden
Former President Barack Obama was featured on Tuesday in a series of videos prepared by the Democratic National Committee detailing how to vote. Meanwhile, Democratic presidential candidate Joe Biden indicated that Obama would hit the campaign trail to support his presidential run.
Democrats have been encouraging Americans to vote this year as Biden faces off against incumbent President Donald Trump. Trump has implied that if he loses the election, it will be because of meddling by the Democratic Party. Obama gave Biden his endorsement in April and presented remarks during the 2020 Democratic National Convention.
"So much is at stake in this election, from getting the pandemic under control to building a fairer economy to taking on climate change to protecting our healthcare," Obama said in Tuesday's video. "You can change our direction on every issue. That's the power of your vote."
The instructional videos released Tuesday were aimed at potential voters in Arizona, Colorado, Florida, Georgia, Iowa, Maine, Michigan, Minnesota, Nebraska, Nevada, New Hampshire, North Carolina, Ohio, Pennsylvania, Texas, Virginia, and Wisconsin.
Obama's return to in-person campaigning was confirmed by Biden on Tuesday.
"[Obama is] doing enough for our campaign, he'll be out on the trail, and he's doing well," Biden told reporters in Delaware.
Newsweek reached out to the Biden campaign for comment.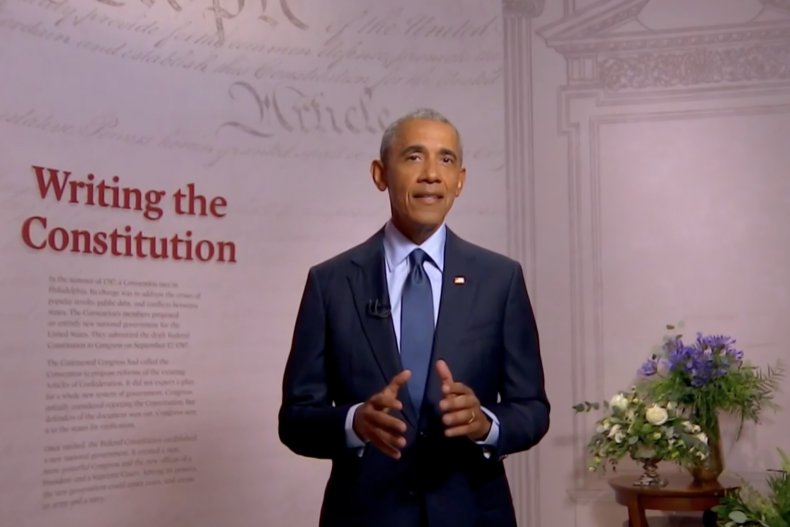 While Trump has repeatedly attacked the Obama administration throughout his presidency, the former president remains popular among Democrats. Biden, who served as vice-president during the Obama administration, has frequently touted his relationship with Obama during his 2020 campaign.
In his remarks during the Democratic National Convention, Obama said that Biden made him "a better president—and he's got the character and the experience to make us a better country."
In August, Trump said called Obama an "ineffective" and "terrible" president. "Now, President Obama did not do a good job, and the reason I'm here is because of President Obama and Joe Biden," Trump said.
Trump has claimed that mail-in voting, a process endorsed by some Democrats, could lead to elections being rigged in some states. Some observers worry that Trump could contest the results of the election and attempt to stay in office for a third term.
During a September campaign event in Virginia, Trump said that Republicans "gotta watch this ballot scam, because they're scamming us. And then they say, 'he doesn't want to turn over [the presidency].' Of course I do. But it's got to be a fair election."
Trump's hesitancy to commit to a smooth transition of power if voted out caused consternation among some Democrats. Biden said that Trump "says the most irrational things" during remarks to reporters in September, adding that the president's remarks about the transition did not surprise him.