Obama Resells the Auto Bailout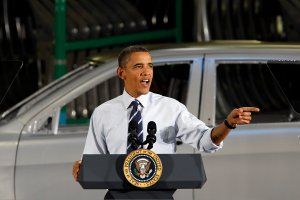 Used-car salesmen can hardly be trusted. But when President Obama scheduled his visit to Detroit today, it was to sell what was once quite the lemon. It was only a year and a half ago when Chrysler and GM were wheezing on their sides (Ford, at the time, still had decent cash flow). But the plan to bail them out was as unpopular as it was expensive. Washington funneled $85 billion to the car companies to prop them up and grease their production lines. In the face of the government assistance, critics accused Obama of using federal money to prop up an industry that failed to compete and of interfering in the private market.
But the White House has some good news to share: it actually worked. The West Wing distributed a handout to reporters this week chock-full of stats, including the independent projection that 1 million auto-industry jobs would have been lost had President Obama denied the bailout. What's more, 55,000 auto jobs have been created over the last year. And the most impressive number of all: $60 billion (of the full $85 billion in government loan money) is on target to be paid back by next year.
In other words, there's a happy ending—or at least a happier ending than what might have been. Which was precisely the message that Obama had planned to take to Michigan today. "People said we should walk away and just let those jobs go, but I wish they were standing here today," he said—an applause line to fill the factory. Of course it's always tough to prove a hypothetical. Saying "If x, then y might have been" relies on a lot of assumptions that aren't likely to quiet the White House critics.
For some of them, Rush Limbaugh being the most vocal, there are other ways to look at the numbers. For example, despite the 55,000 jobs that have been created, 334,000 have been lost. And even though the Big Three manufacturers have regained solvency, a return to being globally competitive is still far off, if it's possible at all considering the leaps Asian and European automakers have made over the last half decade. It will also be hard for Obama to sweep under the rug that the U.S. government still has a 60 percent share of General Motors, hence being dubbed Government Motors.
Still, there appears to be hope for the future of all three companies, which are now operating at a profit. Much of Chevy's hope lies on the buzz around the Volt, a new electric-car model debuting later this year to compete mainly with Toyota, which makes the Prius. What's more, Obama touted, several plants and suppliers once seriously threatened with having to shut down had just added new shifts, and research in fuel efficiency and battery technology signal that once lackluster U.S. manufacturers now want to be globally competitive. "I'll bet on the American worker any day," he said, closing his speech to roaring applause. For anyone last year who didn't, he was looking at you.