After Obama Struggled to Warn About Russia Threat, Rod Rosenstein Announces More Aggressive Approach
American organizations, businesses and individuals will be notified if they are a target of political meddling by foreign agents, the Justice Department announced on Thursday.
Deputy Attorney General Rod Rosenstein, defining the policy at the Aspen Security Forum in Colorado, said that "exposing schemes to the public is an important way to neutralize them." Rosenstein said the American public had "a right to know if foreign governments are targeting them with propaganda."
The move comes after a week of contentious debate about Russian interference in the 2016 presidential election. Rosenstein announced on July 13 that 12 Russian military intelligence officers were being indicted for hacking into the Democratic National Committee and Hillary Clinton's presidential campaign.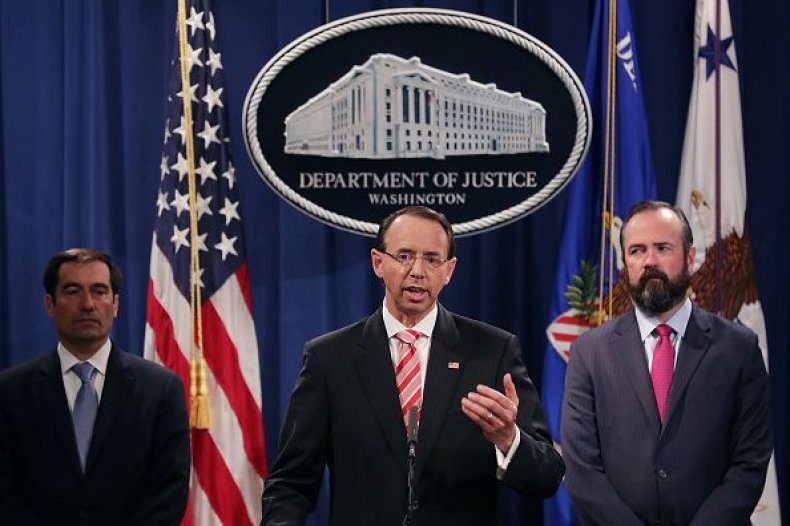 Then, three days later, President Donald Trump met with Russian President Vladimir Putin, who denied Russia's involvement in the election. Trump seemingly sided with the Russian leader over his own intelligence agencies, telling the media in a press conference that he didn't see "any reason why it would be" Russia, and that Putin was "extremely strong and powerful in his denial."
Rosenstein said that Russian election meddling was just one example of foreign countries interfering with American affairs. The new policy will apply to any nation attempting to "undermine democracy" by spreading propaganda or disinformation.
The transparency policy is a part of the Cyber Digital Task Force established by Attorney General Jeff Sessions earlier this year, which has highlighted the many ways foreign nations can try to influence political matters in the United States. A 156-page report recently published by the task force identified ways in which foreign countries could interfere with U.S. politics, including hacking into voting systems, influencing political organizations and disseminating misleading information on social media.
In his speech on Thursday, Rosenstein said the department would be strictly nonpartisan in its dealings with this issue, and that "our government does not take any official position on what people should believe or how they should vote, but it can and should protect them from fraud and deception perpetrated by foreign agents."
Informing the public of foreign interference is something former President Barack Obama and his administration struggled with and received criticism over, as more information has been made available on the extent of Russia's meddling in the 2016 election.
In a series of tweets, President Trump questioned what the Obama administration was doing to quell foreign interference and accused the Obama White House of keeping quiet because they thought Hillary Clinton would win the election.
Congressman Adam Schiff told The Washington Post that if this transparency policy had been in place in 2016, "it would have served as a meaningful deterrent after Russia's interference was first discovered, and it would have informed voters more quickly and more forcefully, that a foreign government was trying to affect their vote."