Michelle Obama Says White People Are 'Still Running' From Non-White and Immigrant Families
Former first lady Michelle Obama told a crowd at the Obama Foundation Summit at the Illinois Institute of Technology that white people moved out of the neighborhood she and her family moved into as a child.
"We were doing everything we were supposed to do—and better," Obama said, according to The Chicago Sun-Times. "I wanna remind white folks that y'all were running from us. This family with all the values that you read about, you were running from us and you're still running."
She compared the arrival of her black family with the influx of immigrant families into neighborhoods, sparking "white flight," a term referring to Caucasians leaving residential urban areas for the suburbs when nonwhites move in.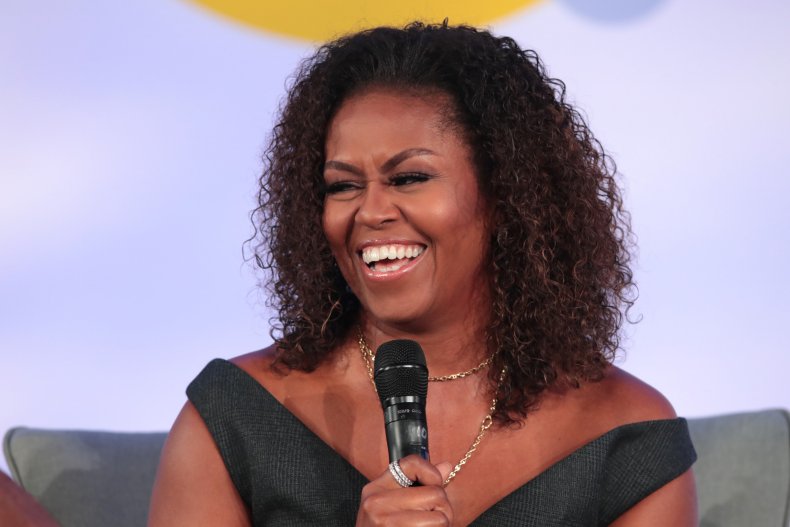 Newsweek subscription offers >
"We can so easily wash over who we really were because of the color of our skin, the texture of our hair. That's what divides countries," Obama said. "Artificial things that don't even touch on the values that people bring to life."
Details about the Obama Presidential Center were revealed during the summit, including a replica of the Oval Office, a rooftop garden and an athletic center featuring basketball courts.
The building will be 235 feet tall and is estimated to cost at least $500 million, according to Architectural Record. One acre will be designated to capture and treat rainwater and will incorporate a children's play area. Groundbreaking will probably not occur until 2020.
The center is to be constructed in Jackson Park on the South Side of Chicago, where Michelle Obama grew up.
"What better place to put it than our backyard?" Obama asked, after noting that the Presidential Library was highly sought after by other locations and that it would be an "economic engine."
"If you really are rooted in that place," she said of the values she took into the White House, "and the importance of that place, then it defines you and it defines everything you do. Being the first black first family gave America and the world an opportunity to see the truth of who we are as black people, as others. We are just as, and oftentimes, better than, many of the people who doubt us."
"You show up in your places of truth with your full story intact," she continued. "And don't let anybody tell you that it's not of value."
Referencing both her familial and spiritual roots to the area, Obama said, "Barack and I wouldn't bring some crap up in our neighborhood."
Michelle Obama Says White People Are 'Still Running' From Non-White and Immigrant Families | U.S.