Obama Says He Didn't Enjoy Congratulating Trump on 2016 Win, Troubled By GOP Going Along With President's Election Fraud Claims
Former President Barack Obama admitted during a Thursday interview that he did not relish having to call President Donald Trump in 2016 to congratulate him on winning the presidency.
Obama, who has released a presidential memoir entitled A Promised Land, fielded questions from MSNBC contributor Jonathan Capehart. During a discussion of the responsibilities of the office of president, Obama said that congratulating Trump on his election win was just an aspect of the job.
"You know," Obama said, "I didn't enjoy having to call Donald Trump and congratulate him for having won the night of his election four years ago, but I did it because that's part of my job. And the same way that George Bush called me and invited me and facilitated my transition."
"That's part of the continuity of our democracy that allows us to have arguments and have differences," Obama continued, "but at the end of the day, still be confident that this is a government of, by and for the people."
Obama said he found Trump's refusal to concede to President-elect Joe Biden disconcerting, but that he was bothered more by Republicans agreeing with Trump's claims of voter fraud.
"I have been troubled, like I think every American—whether you're a Republican or a Democrat or an Independent—should be troubled when you start having attempts to block, negate, overturn the people's vote when there's no actual evidence that there was anything illegal or fraudulent taking place," Obama said. "These are just bald assertions. They've been repeatedly rejected by the courts."
Obama described Trump as having a "flimsy relationship to the truth."
"I'm more troubled that you're seeing a lot of Republican officials go along with it not because they actually believe it but because they feel intimidated by it," Obama added.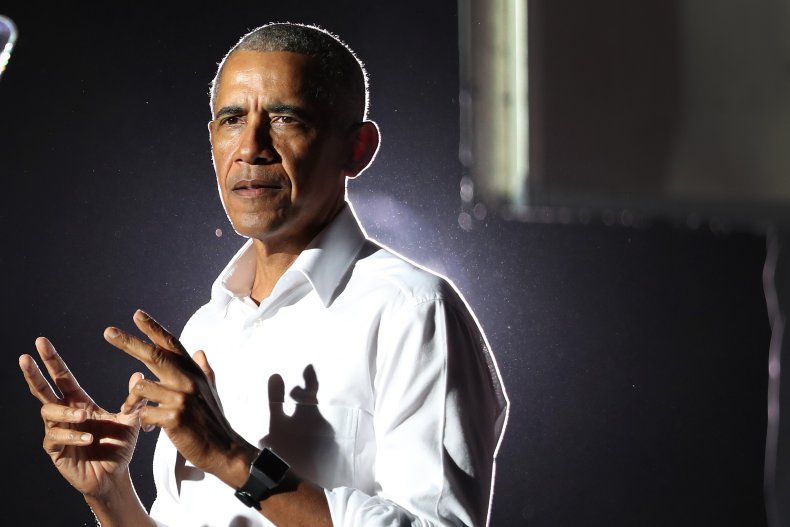 Some members of the GOP have supported Trump's claims of widespread election fraud, although many observers have referred to Trump's allegations as unsubstantiated. South Carolina Senator Lindsey Graham called Trump's claims "earth-shattering" in November and pledged to donate $500,000 to Trump's legal defense fund.
In a Thursday letter to Democratic Judiciary Committee Chairman Jerrold Nadler and House Oversight and Reform Committee Chairwoman Carolyn Maloney, two high-ranking Republicans called for an investigation into allegations of election manipulation.
"Given your role as leaders of a political party that spent four years baselessly calling into question the legitimacy of the 2016 election with debunked allegations of Russian collusion," wrote Ohio Republican Congressman Jim Jordan and Kentucky Republican Congressman James Comer, "you owe it to all Americans to fully examine allegations of actual election errors and misconduct."
Although final results have not been tallied, most media outlets have called the election for Biden. Despite Biden's projected win in the electoral college, Trump has claimed victory in the election and has thus far declined to concede.