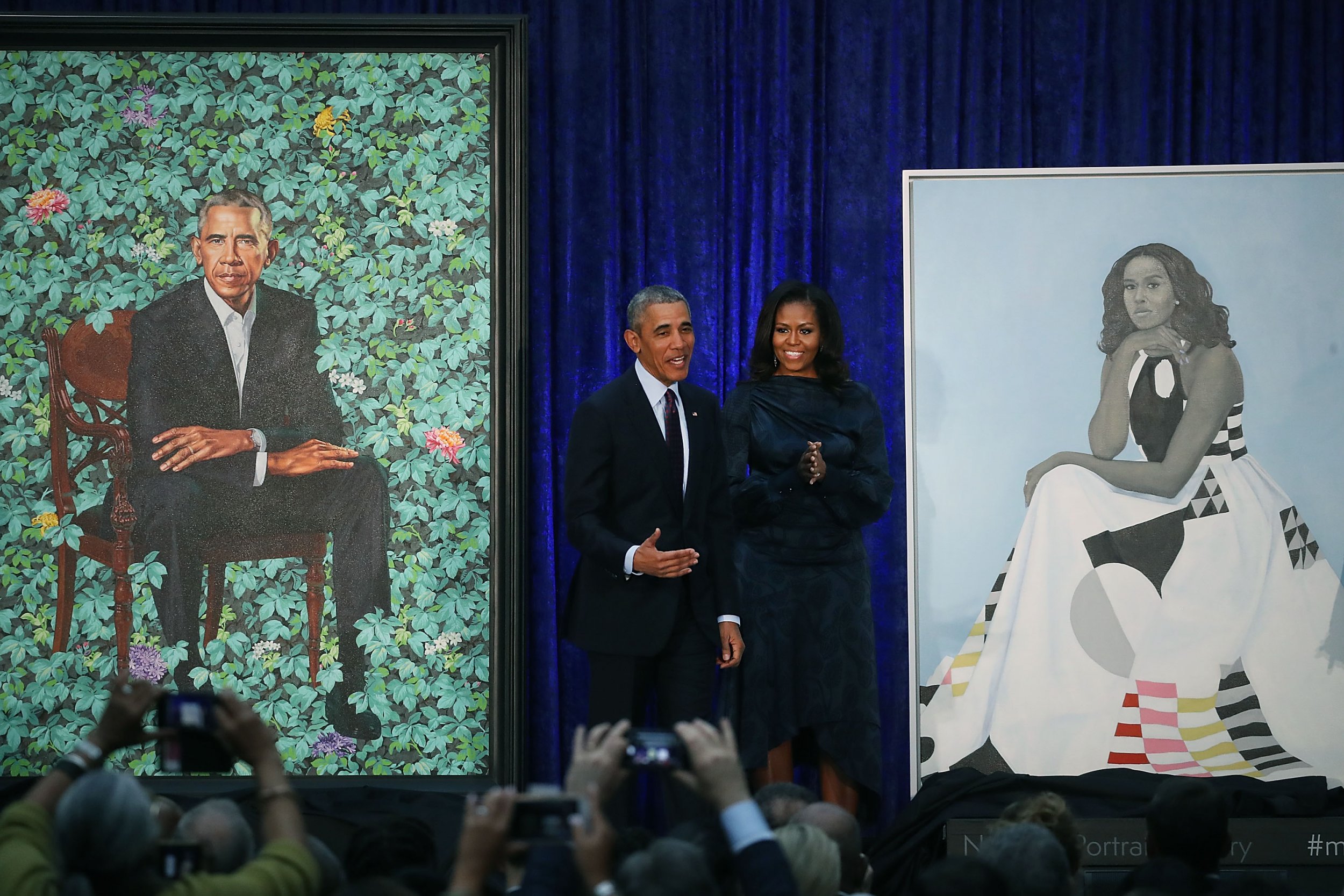 Former President Barack Obama on Monday morning thanked artists who created the first portraits of himself and his wife, Michelle Obama, for the Smithsonian's National Portrait Gallery, specifically for capturing "the grace and beauty and intelligence and charm and hotness of the woman that I love."
Related: Obama deserves more credit than Trump for good economy, Americans say in new poll
"Shout-out to my mother-in-law, who, in addition to providing the hotness genes, also has been such an extraordinary rock and foundation stone for our family," the former president said at the unveiling ceremony.
America's 44th president revealed that "like Michelle, I have never had a painting done of myself," and that no one in his family tree had, either, as far as he could tell.
The Obamas' portraits will hang in the gallery, which has been gathering presidential portraits for 50 years, said David Skorton, the 13th secretary of the Smithsonian. It maintains the only complete collection of presidential portraits outside the White House.
Barack Obama drew claps and laughs when he admitted, "We miss you guys."
"We miss the way those who worked with us on this incredible journey carried yourselves and worked so hard to make this country a better place," he said.
He also received praise when he stated another possible slight to President Donald Trump, that "part of what I believe politics should be about is not simply celebrating the high and the mighty and expecting that the country unfolds from the top down, but rather that it comes from the bottom up."
In his portrait, Barack Obama sits on a chair and is surrounded by botanicals, including flowers from Kenya, Hawaii and his home state Illinois. The artist, Kehinde Wiley, explained that the flowers chart his path on earth. Wiley said that being the first black painter to paint the first black president of the U.S. "is absolutely overwhelming."
Wiley and artist Amy Sherald, who depicted Michelle Obama in an elaborate dress, are the first African-Americans the gallery has commissioned to paint official portraits.
"Let's face it, Kehinde, relative to Amy, was working to a disadvantage because this subject was less becoming," Barack Obama joked.
Sherald, like the former president, spoke highly of Michelle Obama, describing her as "a human being with integrity, intelligence, confidence and compassion."
The former first lady expressed she was a little overwhelmed that her "amazing portrait" would hang among "so many iconic figures."
"I am humbled, I am honored, I am proud," she said. "But most of all, I am so incredibly grateful to all the people who came before me in this journey."