Selma's Legacy — the Good, Bad and Ugly — Is Now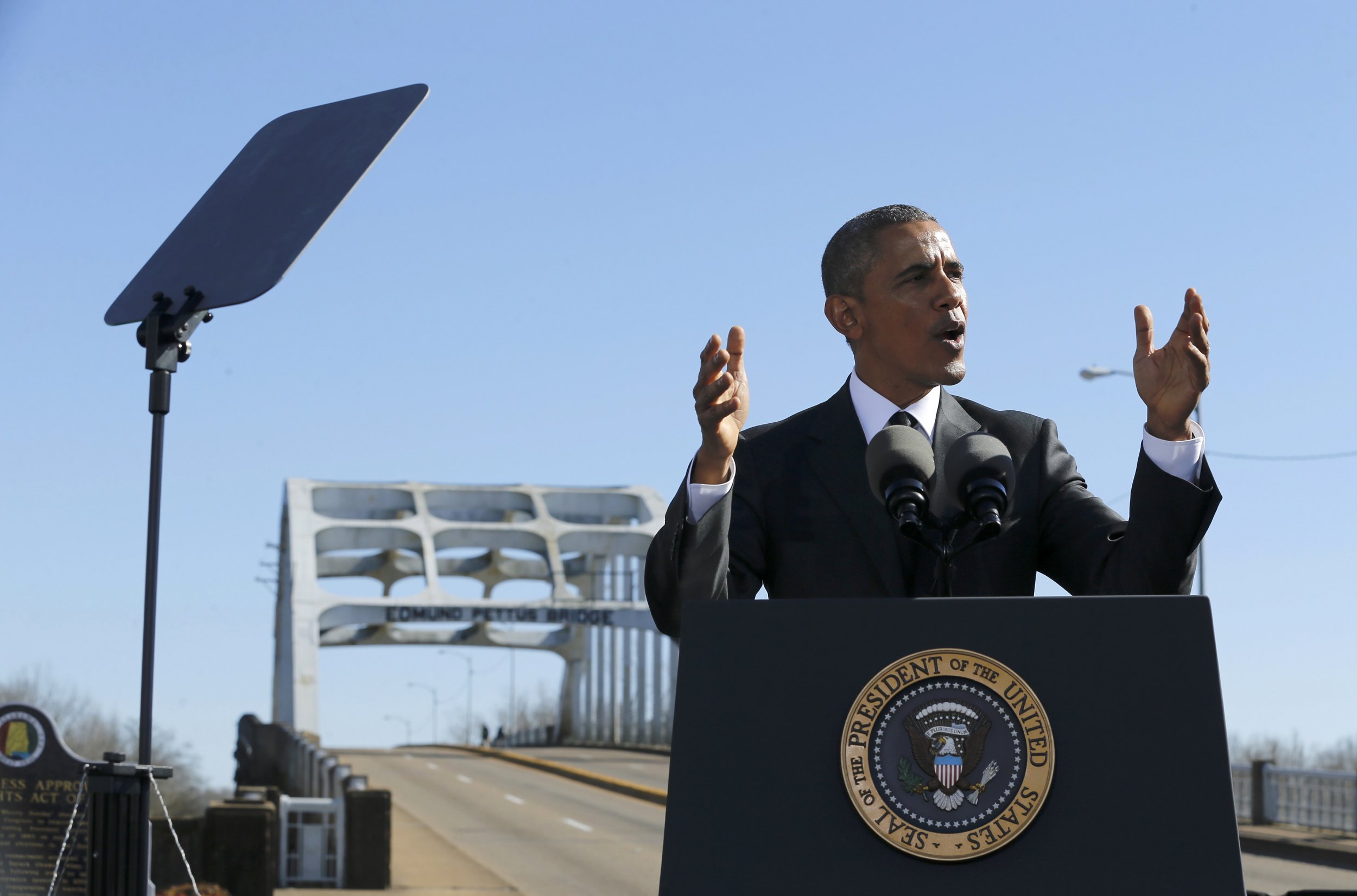 "If Selma taught us anything," said President Barack Obama during his keynote speech at the Alabama city's Edmund Pettus Bridge on Saturday, "it's that the work continues." Stating that "this nation's racial history casts a long shadow" over the present day, Obama gave a stirring address that called on Americans to renew the quest for freedom that animated demonstrators during the civil rights movement's heroic period.
But eloquent words fall short of necessary policy prescriptions.
Fifty years after a group of almost 600 peaceful demonstrators, many dressed in their Sunday best, were routed by Alabama State Police on horseback carrying truncheons, "Bloody Sunday" has become a metaphor for the nation's rough road toward racial justice and equality.
The violence that unspooled on national television that day, March 7, 1965, set the stage for two of the era's most important statesman to deliver historic speeches whose words still reverberate in our time. President Lyndon Johnson went first, eight days later, during an address to a joint congressional session, when he compared Selma's fallen heroes to the patriots who fought the American Revolution in Lexington and Concord. The time for their full citizenship had come, Johnson insisted, for "the dignity of man and the destiny of democracy." Johnson's final words, "We shall overcome," channeled the movement's defiant optimism by directing it toward the nation rather than politicians.
Martin Luther King Jr.'s March 25 speech in Selma offered a valediction of past movement triumphs and an acknowledgement of the long road ahead. Major television networks transmitted King's speech live that afternoon as he proclaimed, "Segregation is on its deathbed in Alabama." He implored the 30,000 gathered to continue protesting: "Yes, we are on the move, and no wave of racism can stop us."
A half-century later, Obama returns to Selma burdened by searing political responsibilities that are both historic and contemporary. The nation's first black president visits the site of a historic showdown over race and democracy in the wake of a contemporary American racial crisis.
The release of the Justice Department's scathing report on systemic racism in the Ferguson, Missouri police department and the President's Task Force on 21st Century Policing has produced a cascading effect, buoyed by grassroots social and policy activism, which has compelled Obama to more forcefully confront racial inequality in our own time.
Amid national headlines outlining prisoner abuse at Rikers Island and Attica, the president spoke in Columbia, South Carolina this past Friday ahead of his keynote address in Selma. While he noted that events in Ferguson were "not a complete aberration," Obama implored Americans to "work together to solve the problem and not get caught up either in the cynicism that says this is never going to change because everybody is racist. That's not a good solution."
Nor is it the lesson learned from Selma, which showcased the persistence, intelligence and self-determination (all captured in Ava Duvernay's Oscar-winning film Selma) of the black freedom struggle, which, aided by white allies, set out to do nothing less than permanently transform American democracy.
A half-century later African-Americans in the city of Selma experience disproportionate levels of poverty and unemployment and all the social and economic hardships that accompany 21st-century-style racial segregation.
The Obama administration deserves credit for passing the Affordable Care Act, promoting the My Brother's Keeper program aimed at helping black boys reach their potential and for speaking out more forcefully on issues of racial justice during the president's second term. Similarly, Eric Holder's Justice Department has made important efforts to reduce the federal prison population, end racial disparities in drug sentencing, protect voting rights and investigate police abuse in cities such as Cleveland and Ferguson.
But all of these efforts have fallen dramatically short of the radical policy transformations necessary to achieve even a semblance of racial justice in the 21st century. The best way Obama could honor Selma's legacy is to use executive action to reform the federal criminal justice system and in the process steer billions of dollars away from incarcerating black people and toward offering rehabilitation, jobs and the economic and spiritual restoration of millions of families caught in the grips of mass incarceration.
Policy implementation requires a grand, bold and ambitious political vision. Consider for a moment Lyndon Johnson's words on March 15, 1965.
Johnson challenged America to turn a day of national shame into a historic moment of democratic resolve: "For the cries of pain, and the hymns and protests of oppressed people, have summoned into convocation all the majesty of this greatest government of the greatest nation on earth."
Imagine for a moment if Obama called for a similar national political reckoning on race and democracy today. Indeed, Ferguson is the latest in a long and epic battle for black equality in America.
The irony is that, in our eagerness to commemorate civil rights heroes and past demonstrations, we prove that black lives matter more retrospectively than they do in the present. The visiting dignitaries, including former president George W. Bush, who was scheduled to visit Selma in tribute, largely ignore the nation's currently unfolding racial catastrophe. Selma is more than just a historical event marking efforts that helped in the passage of voting rights legislation. It's a metaphor for the stubbornness of America's Jim Crow system of racial segregation and white supremacy, but also for the heroic determination to defeat this system against long odds.
Contemporary Americans want to have it both ways. We celebrate the defeat of one form of moral, political and racial evil while denying its resilience and evolutionary capacity in our own time. Obama's complex biography and watershed victory in 2008 attest to this Janus-faced tendency. Americans celebrate their own capacity to transcend race by electing a black president while simultaneously refusing to acknowledge glaring racial disparities in the criminal justice system, public schools, health care and employment.
Ultimately, Selma's most important legacy, one needed now more than ever, was in the ability of demonstrators to speak their truth in a manner so unambiguously clear and courageous that it compelled presidents, priests and protesters into action. We arrive, 50 years later, at a similar historical juncture that we can dare to hope will summon the kind of national convocation that Martin Luther King Jr. and Lyndon Johnson presided over on the way to changing this country's political landscape.