Obama Says Small Minority of Violent George Floyd Protesters Are 'Detracting From the Larger Cause'
Former President Barack Obama said a minority of violent protesters against the death of George Floyd were "detracting from the larger cause" on Monday.
In a blog post published this morning, Obama said violent protesters were "putting innocent people at risk" as he urged readers not to participate in destruction.
But he also said this time of pandemic and civil unrest could be a "real turning point" in American history if people "channel our justifiable anger into peaceful, sustained, and effective action."
Writing about protesters demonstrating against the killing of Floyd in Minneapolis Police custody last Monday, Obama said: "The overwhelming majority of participants have been peaceful, courageous, responsible, and inspiring.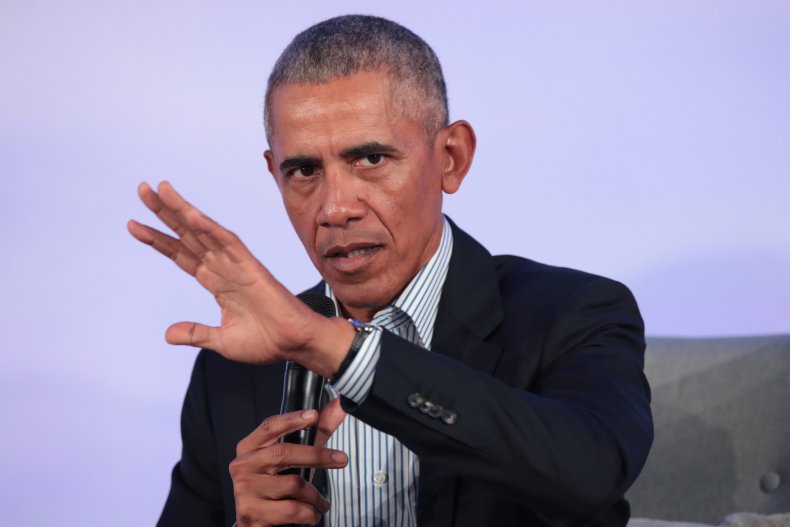 "They deserve our respect and support, not condemnation—something that police in cities like Camden and Flint have commendably understood.
"On the other hand, the small minority of folks who've resorted to violence in various forms, whether out of genuine anger or mere opportunism, are putting innocent people at risk, compounding the destruction of neighborhoods that are often already short on services and investment and detracting from the larger cause."
Obama later noted that the past few months had been "hard and dispiriting" for some Americans as more than 100,000 have died while millions have been thrown out of work amid the COVID-19 pandemic.
"But watching the heightened activism of young people in recent weeks, of every race and every station, makes me hopeful," he added. "If, going forward, we can channel our justifiable anger into peaceful, sustained, and effective action, then this moment can be a real turning point in our nation's long journey to live up to our highest ideals."
The former Democratic president issued his remarks on Medium after the U.S. witnessed protests and riots for a sixth night running on Sunday.
Over the past week, riot police in many cities have clashed with protesters, hitting them with tear gas, cars, pepper spray and rubber bullets.
There have also been some scenes of a minority of protesters looting shops and setting fire to buildings as they demonstrate against police brutality.
Several fires broke out in Washington D.C. last night as protesters demonstrated near the White House.
Footage of a car driving into a crowd of Boston protesters yesterday has also circulated on social media.
The New York Times reported that the National Guard had been activated in at least 21 states as local law enforcement struggled to cope with the size of protests.
According to an Associated Press tally, more than 4,400 people had been arrested over the protests as of Monday morning.