Obama: Sony 'Made a Mistake' by Pulling 'The Interview'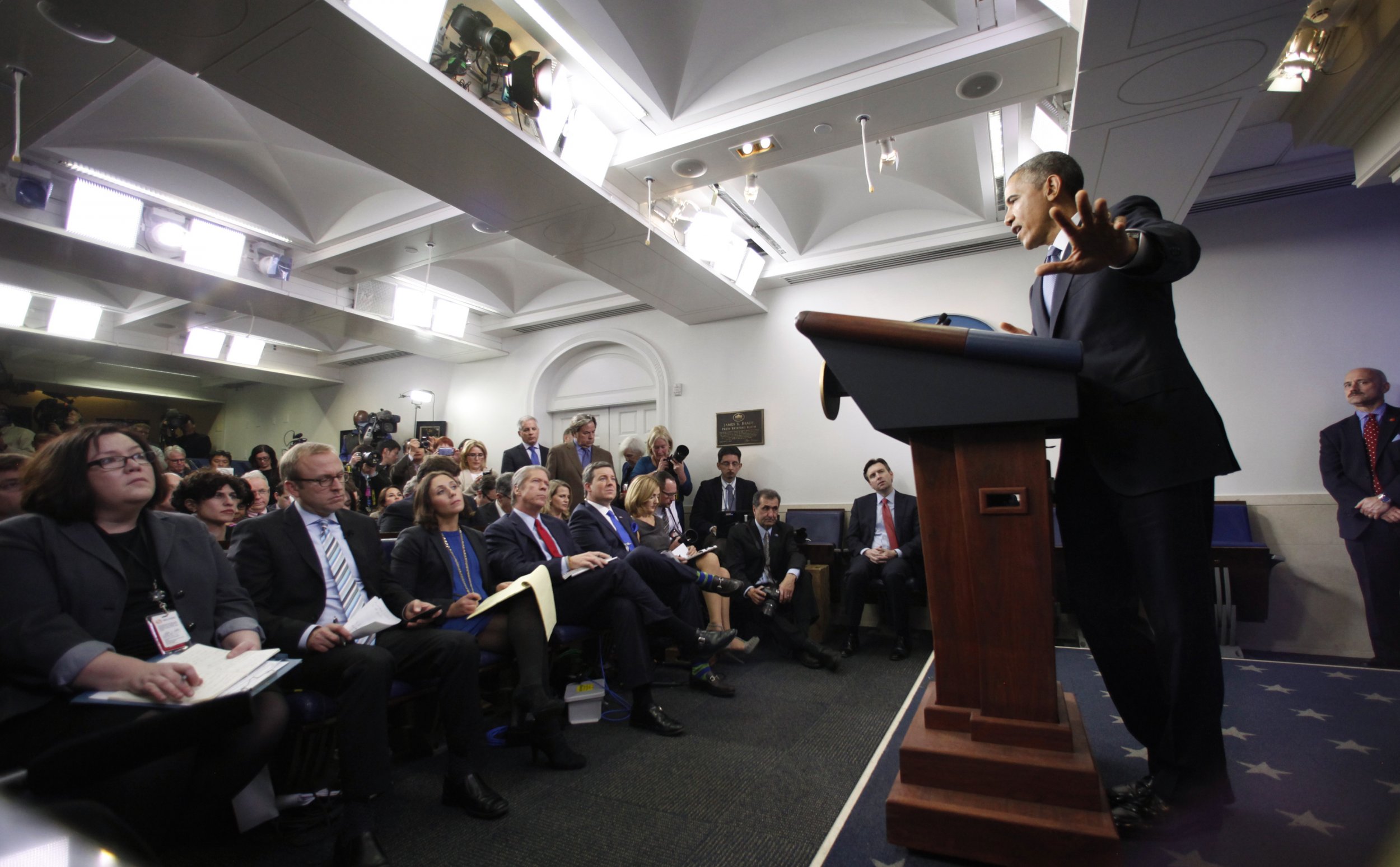 President Barack Obama said Friday that Sony was wrong in its decision to not release The Interview in the wake of a devastating cyberattack. The North Korean government, the administration confirmed Friday, was behind the attack over a film that depicts a plot to kill North Korean dictator Kim Jong Un.
"Yes, I think they made a mistake," Obama said at his final press conference of the year. "We cannot have a society in which a dictator in some place can start imposing censorship in the United States."
He continued, "Because if somebody is able to intimidate folks out of releasing a movie, imagine what they start doing when they see a documentary that they don't like or news reports that they don't like. Or even worse, imagine if producers and distributors and others start engaging in self-censorship because they don't want to offend...somebody's sensibilities who probably need to be offended.
"So that's not who we are. That's not what America is about," Obama said.
And that was just his response to the first question.
The president appeared jovial at the press conference, touting positive developments like strong job growth over the past year and joking with reporters. Answering questions from reporters, he touched on issues from the Sony hacking, to normalizing relations with Cuba, to the Keystone XL pipeline, to the state of black Americans.
"My presidency is entering the fourth quarter. Interesting stuff happens in the fourth quarter," Obama said at the beginning of the conference, which immediately took on a relaxed and forthright tone.
Obama joked that the list of reporters asking questions was a list of who has been naughty and nice. Notably, all eight reporters whom Obama called on during the conference were women, prompting a bit of a Twitter storm. "First 150+ years of press conferences featured all male casts, not sure what big deal is," tweeted MSNBC's Alex Seitz-Wald.
When the president congratulated Politico reporter Carrie Budoff Brown on her impending move to Belgium to help set up a Politico spinoff in Brussels, Obama cracked up the press corps by joking, "I think there's no doubt that what Belgium needs is a version of Politico."
His passionate response to the question about Sony caused Twitter users to refer to him variously as "Bulworth Obama" and "Obama unplugged."
The president provided humorous details about his recent phone conversation with Cuban President Raul Castro, and how they discussed Castro's brother, former Cuban president Fidel Castro. The historic conversation lasted 45 minutes, according to news reports, and was the first substantive conversation between the leaders of Cuba and the United States since 1961.
Obama relayed how he took the first 15 minutes of the conversation to deliver his thoughts on their new relationship, then apologized for being so long-winded. President Castro responded, Obama said, by saying, "Mr. President, you're still a young man and you have still a chance to break Fidel's record: He once spoke seven hours straight." Then, Obama said, President Castro delivered his own remarks, which lasted at least 30 minutes. "And then I was able to say, 'Obviously it runs in the family.'"
Obama addressed the construction of the Keystone XL pipeline, a top agenda item for the Republicans, who plan to pass a bill mandating construction of the controversial pipeline when they return to Washington in January and take full control of Congress. Without overtly tipping his hand on the issue, the president did offer a pretty skeptical view on the merits of the project: "It's not even going to be a nominal benefit to U.S. consumers" and would only create "probably a couple thousand...temporary jobs."
If Congress would authorize more money for infrastructure projects, Obama noted, that would create hundreds of thousands, if not a million, new jobs.
Responding to a final question, the president addressed the well-being of black Americans after a tumultuous year of protests over the deaths of two unarmed black men, Michael Brown in Ferguson, Missouri, and Eric Garner in New York City, among other victims of police shootings.
"Like the rest of America, black America, in the aggregate, is better off now than it was when I came into office," he said. But he also discussed lingering problems and what he thought was a constructive dialogue the country had engaged in this year to address them.
"The gap between income and wealth of white and black America persists, and we've got more work to do on that front," he said. "This is a legacy of a troubled racial past, Jim Crow and slavery. That's not an excuse for black folks, and I think the overall majority of black people understand it's not an excuse, but they're starting behind oftentimes in the race."
"Obviously, how we're thinking about race relations right now has been colored by Ferguson, the Garner case in New York, a growing awareness in the broader population of what many communities of color have understood for some time, and that is that there's specific instances at least where law enforcement doesn't feel as if it's being applied in a color-blind fashion," Obama said. He added that he expects his task force on the issue to report back with specific recommendations on how to improve the relationship between the police and minority communities.
"But I actually think it's been a healthy conversation that we've had," he said. "You're not gonna solve the problem if it's not being talked about."