Obama Strikes a Civil Tone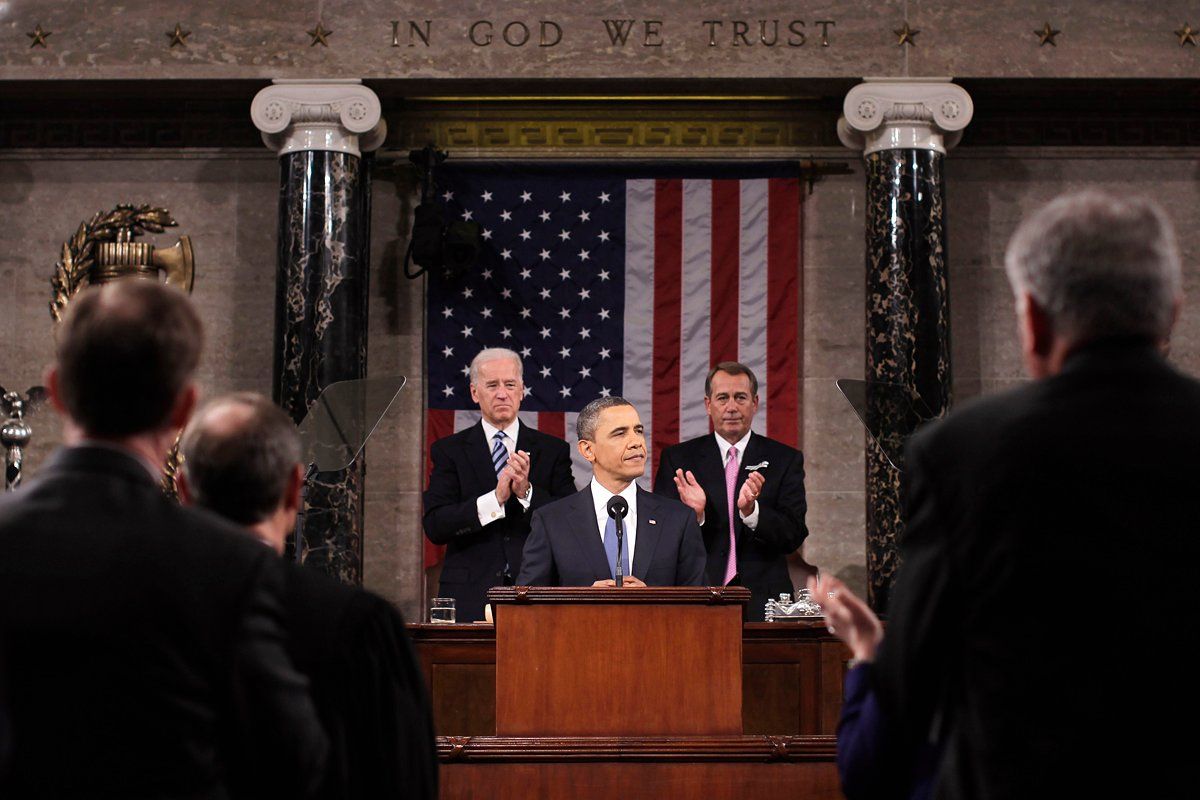 State of the Union addresses are supposed to be heavy on the broad language and sweeping rhetoric about people and parties coming together. The actual work comes days and weeks later, of course, but the president's most-watched prime-time speech was designed to argue that America's brightest days lie ahead—if we make the right choices now.
President Obama's ideas for the moment include new investment in energy, education, and infrastructure. Cutting the deficit is imperative, and the tax code could use a hard look.
There wasn't much in Obama's Tuesday speech that people didn't like. In Statuary Hall, the room adjacent to the House chamber, members of Congress mingled with reporters after the speech, delivering zingy one-liners about the president's words. All who spoke with The Daily Beast thought Obama's tone was spot-on, and his ideas for making the future stronger were about as disagreeable as eliminating world hunger.
"He struck a nice tone. I thought it was appropriate," said Sen. Scott Brown, a Republican from Massachusetts.
But that might be the White House's problem. While few in the chamber disagreed with the ideas behind Obama's push, some members said the speech fell flat because it tried to be too much. While Obama talked about investing in new areas, he talked about cutting the nation's deficit. While he asked Congress to eliminate earmarks, he asked lawmakers to approve new spending. And while he asked for Congress's help to close tax loopholes, many of his proposals are likely to require increased tax revenue.
Rep. Darrell Issa, the Republican who earlier this month became chair of the House oversight committee, complained that "the president tried to use two to three hands all evening. He wanted to have everything, and I think some of us realized he simply can't." Many presidents do just that in such a sweeping address, which tends to reach about 50 million people. But the real challenge is to get Congress to come to work with the same cordiality and ambition the day after.
Texas Rep. Joe Barton, the lawmaker who butted heads with the White House over the summer when he apologized to BP after the oil spill, summed up many of his colleagues' conflicting feelings about Obama's polite yet ambitious address. "I think everyone realizes that there are major issues that need to be addressed, and I do agree with the president that to do that we have to work in a bipartisan way, but I would put more emphasis on tightening our belts, budget reform, and reducing the deficit."
But he stopped his praise short, skeptical that much would actually come to pass. "Now let's see if his actions match his rhetoric."