As Obama Prepares to Join Campaign, Trump Moves to Discredit Russia Probe Started Under His Watch
In a leaked private call, former President Barack Obama outlined plans to campaign for Joe Biden, and he renewed his criticism of President Donald Tump in the wake of the Justice Department's attempt to drop charges against Michael Flynn.
Obama conveyed his belief that the "rule of law is at risk" to a conference of around 3,000 administration alumni on Friday, emphasizing the importance of working to elect his former vice president in November.
A spokesperson for Obama confirmed to Newsweek the accuracy of the recording, which was obtained by Yahoo News. The spokesperson said that the focus of the call was to discuss electing "Biden and Democrats up and down the ballot this fall."
"The news over the last 24 hours I think has been somewhat downplayed—about the Justice Department dropping charges against Michael Flynn," Trump's former national security advisor who pleaded guilty in 2017 to lying to the FBI, Obama said in the call.
The Trump administration has worked to discredit the Russia investigation, which generated the Flynn case, and its foundations. Trump himself has repeatedly called the probe a "witch hunt," especially after the special counsel's final report did not offer evidence of a criminal conspiracy with Russian officials.
The same day as the Obama conference call, Trump dragged Biden into the fray, accusing the former vice president of being "involved in this very much," referring to the Russia probe.
The Biden campaign did not immediately return a request for comment.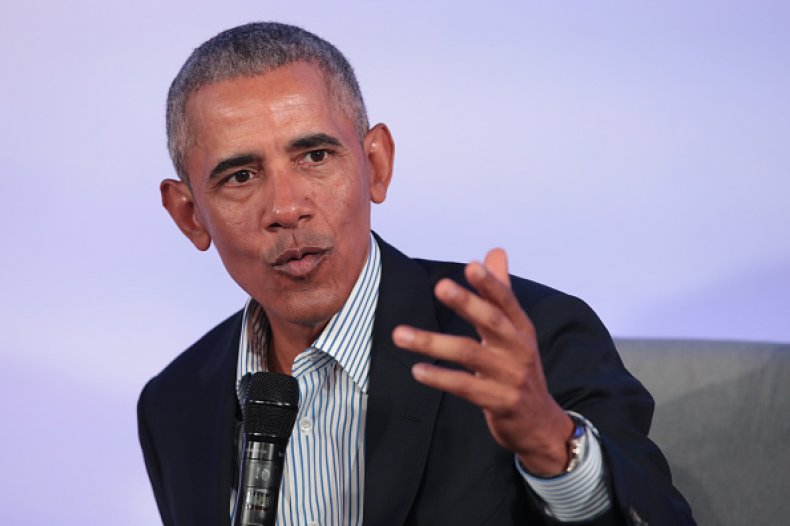 Obama has wavered on making a direct entrée into the 2020 campaign. These latest comments are certain to enflame an already tumultuous week for the now-terminated investigation into Russian interference in the 2016 election, which had been conducted by Special Counsel Robert Mueller's office and two congressional committees.
The investigation has already yielded prosecutions of six Trump associates and, owing to this latest flare-up from the Flynn case, it is likely to be a major touchpoint for the 2020 campaign.
A collection of new documents released this week further heightened fallout from the probe.
After receiving a request from Republican Senators Lindsey Graham and Chuck Grassley, the current and former chairmen of the Senate Judiciary Committee, the Department of Justice unveiled a less-redacted copy of a "scope memo" outlining Mueller's remit in late 2017.
The memo, from Rod Rosenstein, then the deputy attorney general overseeing the FBI's Russia inquiry, explains that Mueller's reach included potential dealings between former Trump campaign chairman Paul Manafort and Russia, Ukraine and bank executives.
Manafort was later sentenced to 7.5 years in prison following two separate prosecutions for tax fraud, bank fraud, money laundering and witness tampering.
Mueller's expansive mandate, as outlined in the newly released memo, also included probes of George Papadopolous and Carter Page, two campaign associates, for potential Russian coordination.
Papadopolous was given a two-week jail sentence following a guilty plea for lying to the FBI. Mueller's investigation "did not establish that Page coordinated with the Russian government in its efforts to interfere with the 2016 presidential election," according to a final report released last year.
But ongoing scrutiny of the process that led to FBI surveillance of Page has spurred critics to question the bureau's candor, especially in highly sensitive investigations such as the Russia matter and its predecessors. A report released by the Department of Justice inspector general in December found "serious performance failures" in the FBI's multiple applications to surveil Page.
The newly released memo also shows that Mueller was given wide latitude to investigate Flynn, including for potential crimes involving acting as an unregistered agent for Turkey, making false statements to the FBI, failing to report foreign contacts and conversing with Russian officials.
That final mandate has irked critics, who believe that Rosenstein was conveying an authority to probe potential violations of the Logan Act, a law which has never before sustained a conviction and some scholars believe is unconstitutional.
Flynn's case has become among the most contested of the Mueller team's prosecutions. Trump has repeatedly voiced his view that the prosecution was a sham and has floated the prospect of a pardon.
Flynn's attorneys have recently sought to withdraw his guilty plea. And new evidence was obtained showing what Flynn's defenders believe to be improprieties surrounding the FBI's fateful 2017 interview, which spurred the charges against Flynn of lying to federal investigators.
In internal notes from the time of the Flynn interview, FBI officials wondered what the goal of their conversation would be.
"Truth/Admission or to get him to lie, so we can prosecute him or get him fired?" one note said.
The Department of Justice then made the stunning move of requesting that Flynn's prosecution be withdrawn, saying that the 2017 interview was not material to the FBI's investigation, a prerequisite for a successful prosecution.
Also this week, the House Intelligence Committee published thousands of pages of transcripts from closed-door interviews while its Russia investigation was still active. Most of the contents of the interviews have already been characterized publicly, but the documents provide a clearer picture of how House lawmakers were conducting a politically charged probe.
"Counsel, it sounds like what you're saying then is you have not been instructed to invoke privilege," Congressman Adam Schiff, then the ranking member on the Intelligence Committee, said in February 2018, butting heads with counsel during an interview with Hope Hicks. "You've merely been instructed to refuse to answer questions. We don't recognize that as a valid claim of privilege."
Claims of privilege and refusals to answer questions would become a familiar refrain in the House's probe.
Hicks, then the White House communications director, divulged later in the interview that senior Trump associates had discussed concerns Manafort was stealing from the campaign.
An interview the following month with Corey Lewandowski, a former Trump campaign manager in 2016, contained multiple expletives, including one that was directed at Democratic lawmakers, who themselves used expletives when conducting the interview.