Obama says Trump 'Doesn't Have the Patience' to Change U.S. Foreign Policy
President Donald Trump 'doesn't have the patience' or the focus to "substantially change" the bulk of U.S. foreign policy, Barack Obama said in an intervention ahead of last night's town hall events.
The former president told Pod Save America that Trump had tried to "decimate our entire foreign policy infrastructure" while not being "all that active" on the world stage.
Obama also claimed that Democratic nominee Joe Biden had "learned a lesson" from his vote in favor of the Iraq War and repeatedly came down in favor of military restraint while serving as vice president.
Speaking on the podcast earlier this week, Obama said: "And the thing that over the last four years, it's not as if Trump has been all that active internationally. I mean, the truth is he doesn't have the patience and and the focus to really substantially change a lot of US foreign policy.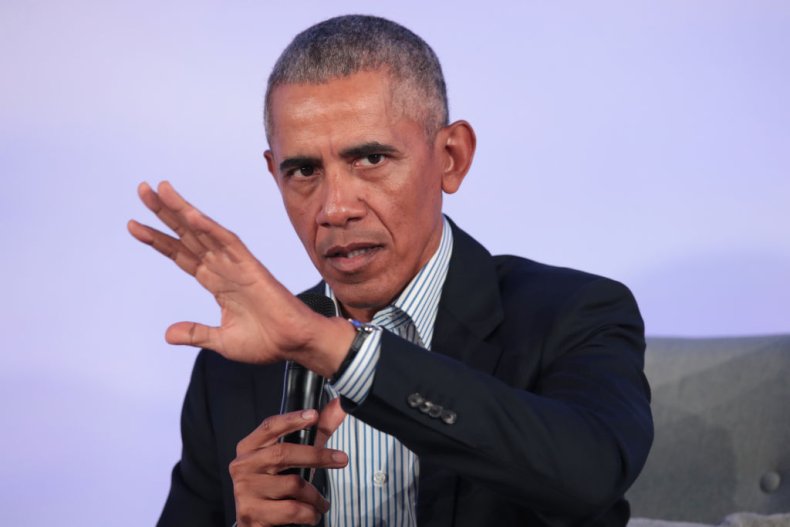 "What he's done is he's systematically tried to decimate our entire foreign policy infrastructure."
He added that Biden would not refer to other nations as "I won't say the word countries," should he win control of the White House in less than a month's time.
Addressing his vice president's championing of the Iraq War, Obama tried to paint Biden as a dovish character during his time in the Obama administration.
"He was probably the person who was most restrained in terms of use of military force among my senior advisers during the course of my presidency," the former president said. "He consistently believed that we should show restraint and humility and think through the use of military power and had huge confidence and faith in the use of diplomacy as a strategy for showing American leadership."
Newsweek has contacted the White House for comment. This article will be updated with any response.
Obama rebuked the foreign policy record of President Trump as Biden was pressed on whether he would give his rival credit on the issue in light of the Israel-United Arab Emirates peace deal.
Appearing at a town hall hosted by ABC News in Pennsylvania on Thursday night, Biden said he would give Trump "a little, but not a whole lot" of credit on the foreign policy record of his first term.
"We find ourselves in a position where we're more isolated in the world than we've ever been... America First has made America alone," the Democratic nominee said. "You have Iran closer to having enough nuclear material to build a bomb. North Korea has more bombs and missiles available to it."
He added that America was "less secure" than it had been before Trump took office in January 2017 and was "not very well trusted" by other world powers.