Obama at the U.N.: World Cannot Stand By as Russia Violates Ukraine's Sovereignty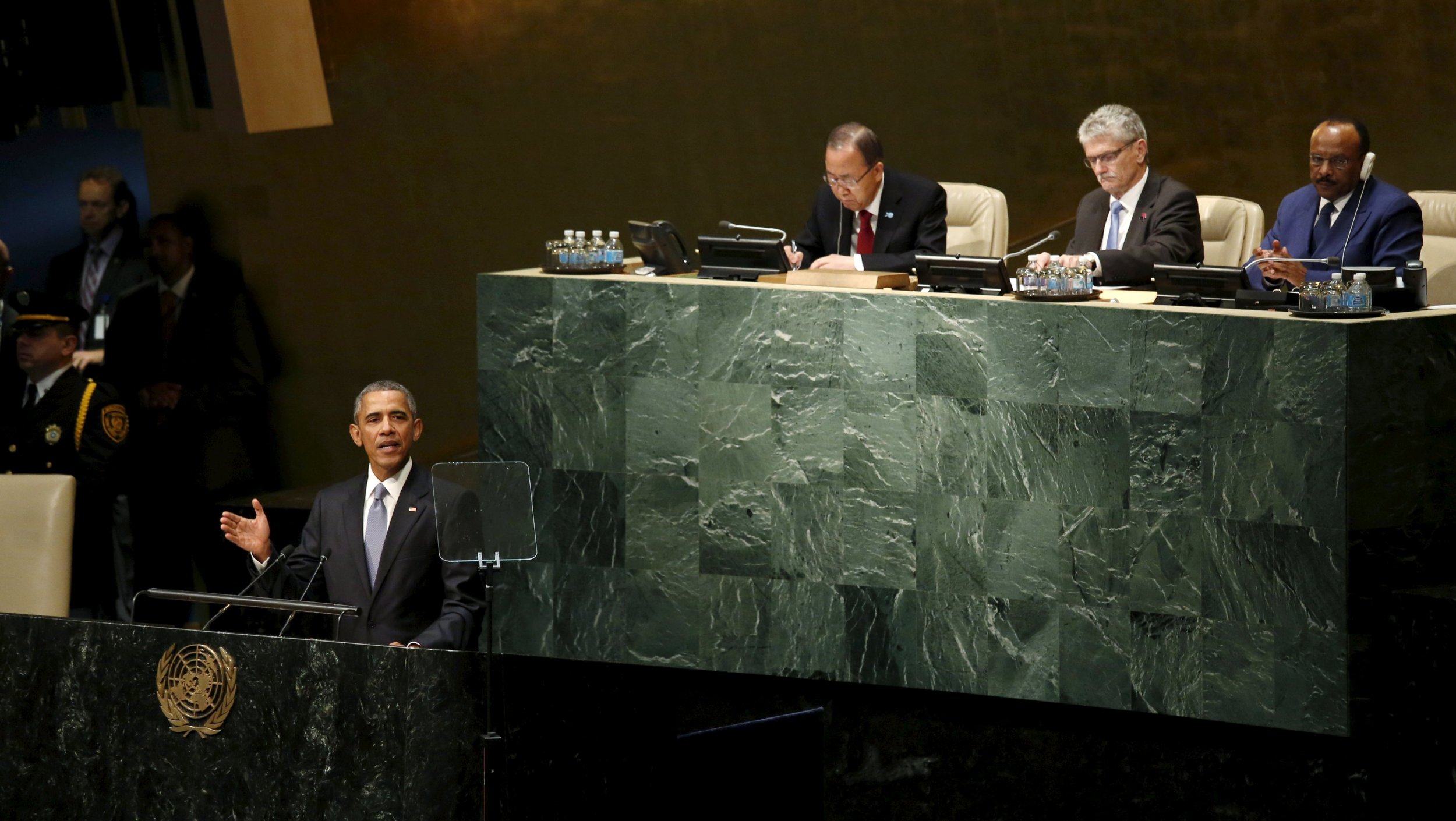 Updated | In a speech to the United Nations on Monday, U.S. President Barack Obama criticized Russia for its actions in Ukraine and Syria but said he wanted Russia to be a strong partner in international affairs.
Obama also had strong words for Iran, China and Syria in his speech at the 70th session of the U.N. General Assembly, where Russian President Vladimir Putin was due to speak later in the day. Obama and Putin are also due to meet after months of growing tension between the two countries stemming from Russia's annexation of Crimea from Ukraine and the subsequent imposition of sanctions by the United States and other Western countries.
"If that happens without consequence in Ukraine, it could happen to any nation gathered here today," Obama said, adding that the world "cannot stand by" as the sovereignty of Ukraine is violated. "Look at the results. The Ukrainian people are more interested than ever in aligning with Europe than Russia."
The president said the U.S. doesn't want to isolate Russia, but instead wants a "strong Russia" to work with the U.S. to strengthen international order as a whole. U.S. International sanctions against Russia, which have resulted in a decline in the Russian economy and a weakening ruble over the past year, do not stem from "a desire to return to a cold war," Obama said.
Obama also addressed the war in Syria, which entered its fifth year in March and said the U.S. is prepared to work with any country, including Russia and Iran, to work to solve the conflict that has killed more than 220,000 people. Like the regime of Syrian President Bashar al-Assad, the "apocalyptic cult" of the Islamic State (ISIS) cannot be tolerated, he said. A U.S.-led coalition has been targeting Islamic State targets for the past several months, military action the U.S. should make "no apologies for," said Obama.
"When a dictator slaughters tens of thousands of his own people, that is not just a matter of one nation's internal affairs—it breeds human suffering on an order of magnitude that affects us all," Obama said. Likewise, the brutal executions perpetrated by ISIS are "an assault on all humanity," he said.
During his address, Putin expressed his support for Assad in fighting ISIS in Syria and said it's "an enormous mistake to refuse to cooperate with the Syrian government and its armed forces." Russia has been escalating its military presence in Syria, sending fighter jets, tanks and armoured vehicles into the country.
Putin also spoke of creating an international coalition to defeat ISIS, likening such an alliance to the "anti-Hitler coalition" of the Soviet Union, the U.S., the U.K. and France during World War II.
"After arming a regime responsible for atrocities and blocking U.N. action, Putin is now trying to rebrand Assad as a bulwark against ISIS and other extremists," Kenneth Roth, executive director of Human Rights Watch, said in a statement emailed to Newsweek following Putin's remarks. "Anyone tempted to buy this narrative should remember that the Syrian regime's brutal tactics against civilians are a bonanza for ISIS recruiters, a major spur for refugee flight, and an obstacle to any peace process."
Obama spoke about the Iran nuclear deal during his address, which he used as an example of countries successfully working together and obeying laws. In exchange for the lifting of tough economic sanctions against Iran, the country will have limited access to nuclear materials and will eventually be allowed to pursue a peaceful path to nuclear energy. While he praised the deal, Obama still warned Iran against the anti-American sentiments expressed by some in Iran.
"Chanting 'Death to America' does not create jobs, or make Iran more secure," he said.
Iranian President Hassan Rouhani said the nuclear deal is "a brilliant example of victory over war" that can provide the basis for change in the Middle East during his speech on Monday. He criticized the international community for not doing enough to end conflict in Iraq, Syria and Yemen and blamed the U.S. invasions of Iraq and Afghanistan for turmoil in the region today.
Obama said the world cannot return to the "old ways of conflict and coercion" and must work together with other countries to prevent future conflicts and instability. The U.S. learned that lesson in Iraq, he said; billions of dollars and thousands of troops "cannot by itself impose stability on a foreign land."
"Today, we see the collapse of strong men and fragile states breeding conflict and driving innocent men women and children across borders," he said. "Brutal networks of terror have stepped into the vacuum." Obama said the U.S. "should have done more" to fill the power gap in Libya left after the death of former Libyan dictator Col. Muammar Gaddafi.
"We see some major powers assert themselves in ways that contravene international law," said Obama.
The president also addressed free speech during his address, saying, "You can jail your opponents, but you can't imprison ideas." Just last month, the U.S. government launched a campaign called #Freethe20, highlighting the plight of 20 female activists; among them are three Chinese women and Nadiya Savchenko, a Ukrainian held in Russian custody.
Obama also criticized China's aggressive movement in the South China Sea and encouraged China and other claimants of islands in the sea, such as the Phillippines and Vietnam, to "resolve their differences peacefully."
Later on Monday, Obama will chair a meeting on U.N. peacekeeping operations, which have recently come under fire for allegations of sexual abuse against women and children in some of the countries where peacekeepers operate.