Barack Obama Volunteers at Food Bank for Thanksgiving While Donald Trump Plays Golf in Florida
Former President Barack Obama made a surprise visit to a Chicago food bank on Tuesday, lending a helping hand to volunteers tasked with preparing Thanksgiving food for people in need.
The Greater Chicago Food Depository tweeted a video of the former president's visit where he threw on a pair of latex gloves and aided other volunteers in bagging potatoes ahead of Thursday's holiday.
"We believe no one should go hungry, especially this time of year, and that's why we're working to address the root causes of hunger in Chicago and Cook County," the food bank wrote on social media.
At the same time, President Donald Trump was aboard Air Force with his wife, Melania, and youngest son, Barron, en route for West Palm Beach, Florida. Trump will spend his Thanksgiving holiday at his exclusive Mar-a-Lago estate club, dubbed the "Winter White House," like he has each year since he was elected in November 2016.
White House pool reporters showed Trump arriving to his nearby exclusive golf club Wednesday morning just down the road from Mar-a-Lago, Trump International Golf Club, where he'll be presumably hitting the links for a round of golf in South Florida's 75-degree weather. The president did not have any public events scheduled for the day. The last time Trump visited Mar-a-Lago was in April and his last round of golf was in mid-October.
The White House did not immediately respond to a request for comment on how the president plans to spend this Thanksgiving.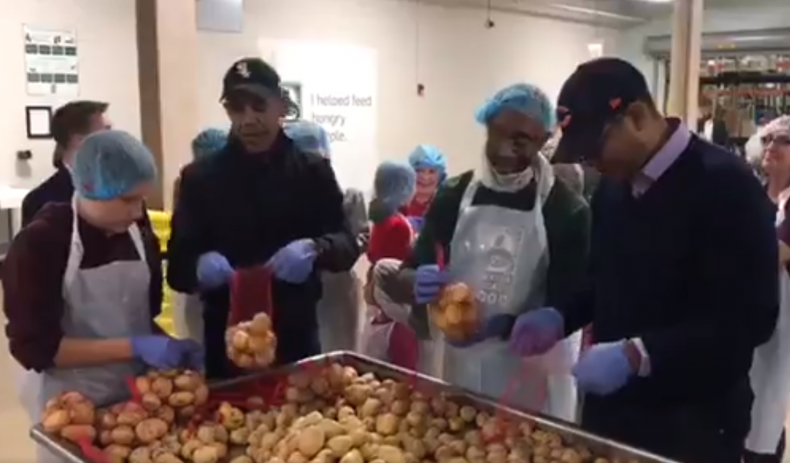 Last year, Trump and his family delivered pre-packaged sandwiches, chips and fruit to U.S. Coast Guard members in Riviera Beach, a roughly 20-minute drive from Mar-a-Lago. Trump's own Thanksgiving meal at his resort later that day included "turkey, mashed potatoes and gravy, sweet potatoes with marshmallows—as well as local produce, red snapper, Florida stone crab and a variety of baked goods, cakes and pies," according to Melania Trump's spokeswoman, Stephanie Grisham, at the time. Trump also made a video message for troops overseas.
Trump's predecessors before him celebrated the holiday a little differently. The Obamas often volunteered at food banks or pantries to distribute food while George W. Bush and Bill Clinton made visits to troops overseas.
Trump has received criticism for the thousands of troops he deployed to the U.S.-Mexico border weeks before the so-called "migrant caravan" is expected to arrive and seek asylum, which will cause thousands of military families to be separated over the upcoming holiday. Before heading out for Mar-a-Lago on Tuesday, Trump told reporters not to worry about those troops who are forced to spend Thanksgiving away from their families.
"Don't worry about the Thanksgiving—these are tough people," Trump told reporters on the White House lawn. "You're so worried about the Thanksgiving holiday for them. They are so proud to be representing our country on the border."
Since the election, the president has been far less vocal about the caravan he calls an "invasion." The group of migrants is comprised of thousands of Central American asylum-seekers who have said it's not safe for them to return to their home countries. Newsweek confirmed reporting by NBC News on Tuesday that revealed the Trump administration was spying on the caravan with paid informants and by infiltrating private messaging groups through WhatsApp.