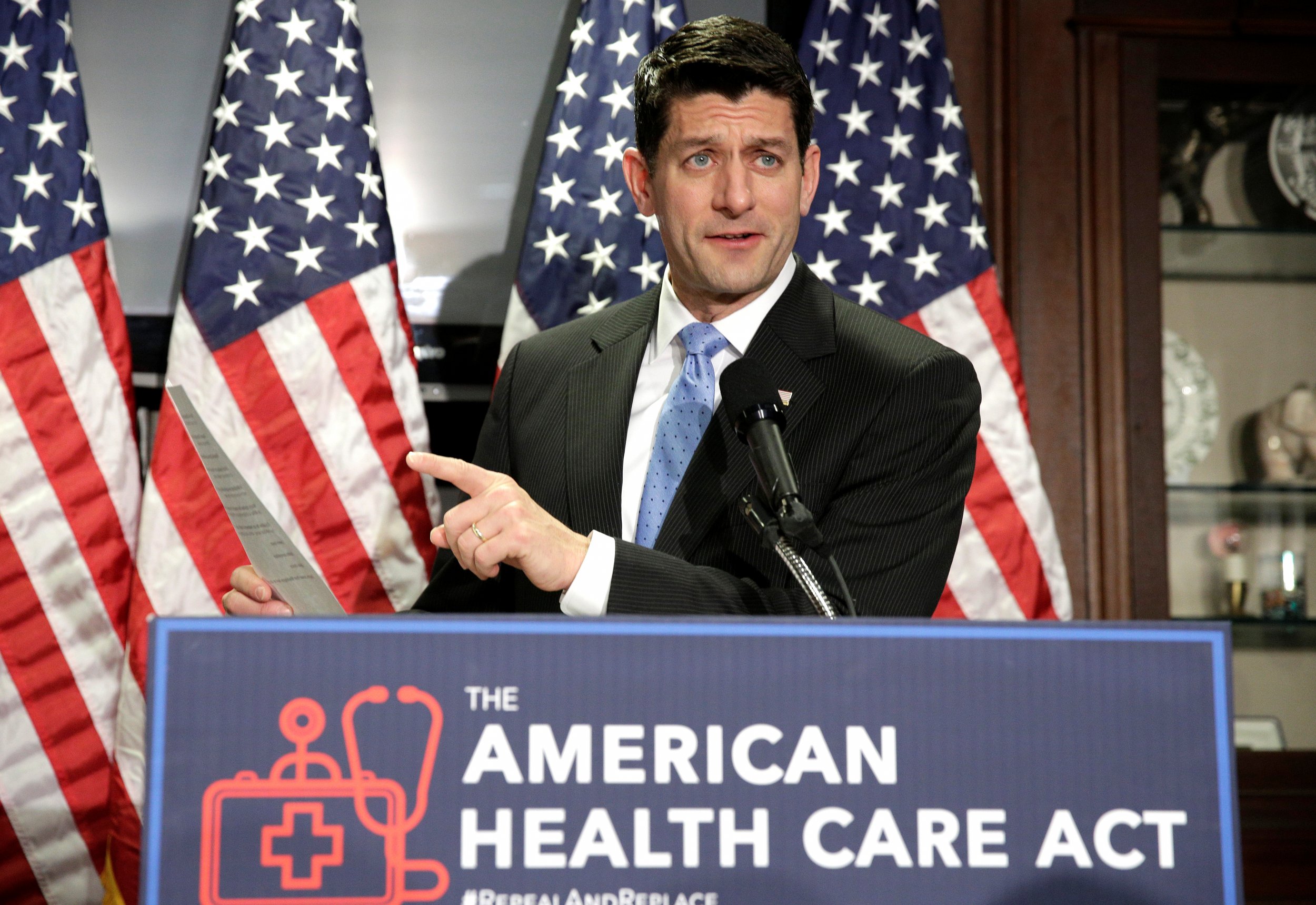 The top U.S. doctors' organization and several hospital groups came out strongly on Wednesday against a Republican plan backed by President Donald Trump to overhaul America's healthcare system as Democrats mounted a fierce battle to thwart the bill.
Two House of Representatives committees began debating the bill and considering amendments two days after it was unveiled by Republican leaders. The legislation aims to dismantle and replace the Obamacare law, which Republicans call a government overreach that has ruined healthcare in the United States.
While House Speaker Paul Ryan tried to mollify conservatives who have condemned the bill as too similar to the law it is supposed to supplant, Democrats during the panel proceedings denounced it as a gift to the wealthy that will take away insurance from millions of Americans.
Doctors and other providers said the bill would probably cause many patients to lose insurance and raise healthcare costs. The American Medical Association doctors' group urged senior lawmakers in a letter to reconsider drastic changes to Medicaid, the government health insurance program for the poor.
The AMA, which supported Obamacare, said the replacement of income-based subsidies with age-based tax credits to help people buy insurance would make coverage more expensive, if not out of reach, for poor and sick Americans.
Obamacare enabled 20 million previously uninsured people to obtain medical coverage, about half through a Medicaid expansion the new bill would end.
Seven hospital groups, including the American Hospital Association, America's Essential Hospitals and the Catholic Health Association of the United States, also voiced opposition, writing in a letter to lawmakers that the proposal could lead to "tremendous instability" for people seeking affordable medical coverage.
"Furthermore, we are deeply concerned that the proposed Medicaid program restructuring will result in both the loss of coverage for current enrollees as well as cuts to a program that provides healthcare services for our most vulnerable populations, including children, the elderly and disabled," the hospital groups said.
Many hospital operators have reported a surge in low-income patients whose bills are paid by Medicaid and a decrease in uninsured patients.
The AARP, the lobbying group for older Americans, also opposed the plan, saying the loss of tax revenue would mean billions of dollars less for funding for the Medicare insurance program for the elderly.
Trump and fellow Republicans in Congress campaigned last year on a promise to dismantle the signature domestic policy achievement of Democratic former President Barack Obama, formally called the Affordable Care Act.
The White House said Trump would meet with leaders of conservative groups on Wednesday as he seeks to shore up support for the plan.
Ryan touted the bill as "a conservative wish list" and "monumental, exciting conservative reform."
"This is what we've been dreaming about doing," Ryan told reporters.
Republicans control both chambers of Congress and the White House for the first time in a decade, but the proposal's fate is far from certain, with Democrats and many conservative Republicans opposed and moderate Republicans expressing reservations.
The House Ways and Means Committee, with jurisdiction over taxes, and the House Energy and Commerce Committee, which oversees health issues, kicked off what could become marathon sessions working on the legislation.
"Prescription For Disaster"
Democrats unsuccessfully sought to delay consideration of the measure so lawmakers could have more time to examine it. The top Energy and Commerce Committee Democrat, Representative Frank Pallone, called the Republican plan "a prescription for disaster." Pallone said not a single hearing had been held to develop the bill.
Republicans insisted on committee action even though the nonpartisan Congressional Budget Office had not yet done its customary assessment of the cost of the measure and how many people it would cover. White House spokesman Sean Spicer said, "If you're looking at the CBO for accuracy, you're looking in the wrong place."
Ways and Means Democrats raised questions over the bill's proposed tax break for insurance company executives, with Representative Lloyd Doggett calling it a "$400 million windfall" for insurance company executives.
"You would think we're asking for President Trump's tax returns," Doggett said of the Republicans' lack of explanation for the need for such a tax break.
The plan would scrap the Obamacare requirement that most Americans obtain medical insurance and would replace its income-based subsides with a system of fixed tax credits of $2,000 to $4,000 to coax people to purchase private insurance on the open market.
In afternoon trading, hospital stocks were higher, clawing back some of Tuesday's losses after the bill's unveiling. Community Health Systems Inc rose 4.5 percent and Tenet Healthcare Corp gained 1.5 percent. Health insurer shares were mostly modestly higher, with WellCare Health Plans Inc up 0.3 percent and Aetna Inc gaining 0.9 percent.
Ipsita Smolinski, managing director at healthcare research consulting firm Capitol Street, said investors are confused about the bill's new tax credits and potential changes to Medicaid and other hospital payments.
"I don't think that this committee process is doing much to clear things up," Smolinski said.