Obama's Afghanistan Surprise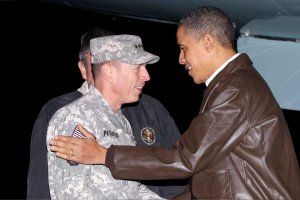 The White House has been on deadline this month to accomplish a number of legislative goals before the transition to a new Congress, but officials added one other item to the president's already busy schedule. They announced Friday morning that he had made a surprise overnight trip to meet with troops in Afghanistan. The trip is being framed as an end-of-year opportunity to thank the men and women serving. Deputy National Security adviser Ben Rhodes called this a "particularly tough time of the year" for the forces.
The visit comes nine years into U.S. combat operations in the country and just days before the administration's December review of the wars in Afghanistan and Iraq. The White House, as it often does, kept the visit a tight secret for security reasons. It's Obama's second trip to the country since becoming commander in chief. At this time last year, he announced that he would begin ordering the withdrawal of American troops beginning in the summer of 2011, a somewhat controversial deadline that's quickly approaching.
Just after 9 p.m. local time, Obama exited Air Force One in a leather bomber jacket. After visiting with wounded service members, he was expected to speak to a hangar full of troops, many of them from the 101st Airborne Division, a unit that has been particularly strained in terms of its contribution to the war effort.
The president's strategy with the surprise visit seems apparent. When waylaid by domestic issues, presidents often enjoy an uptick in popularity when they appear with American troops. President George W. Bush made several visits to Iraq and Afghanistan—once over the Thanksgiving holiday—to speak with military leaders and award honors such as the Purple Heart and the Medal of Honor. For Obama, the appearance with on-the-ground brass could aid his push to repeal the military's policy on gays serving openly in the services. It could also boost his credibility with congressional Republicans, currently at odds with the White House over tax cuts and the ratification of a nuclear-arms treaty with Russia.
But the most intense point of focus for this trip is Obama's interaction with Afghan President Hamid Karzai. Upon landing, Press Secretary Robert Gibbs announced that poor weather would inhibit Obama's plan to meet with Karzai in Kabul. A subsequently planned teleconference was also cancelled. White House officials declined to give reasons, but strained relations between the two leaders is seen as a likely factor.
Over time, Obama and Bush have both offered public support for Karzai, but private discussions reveal a significant lack of trust in the Afghan leader. At one point, even Karzai's judgment has been questioned. A series of diplomatic cables divulged last week by WikiLeaks revealed further U.S. concern about Karzai's government and suggested the existence of widespread corruption. Still, Obama met with Karzai two weeks ago during a NATO conference in Portugal. The White House denies that the absence of a meeting between the two leaders Friday in any way constitutes a snub.