Barack and Michelle Obama Pick Two Black Artists For Presidential Portraits in a First for Smithsonian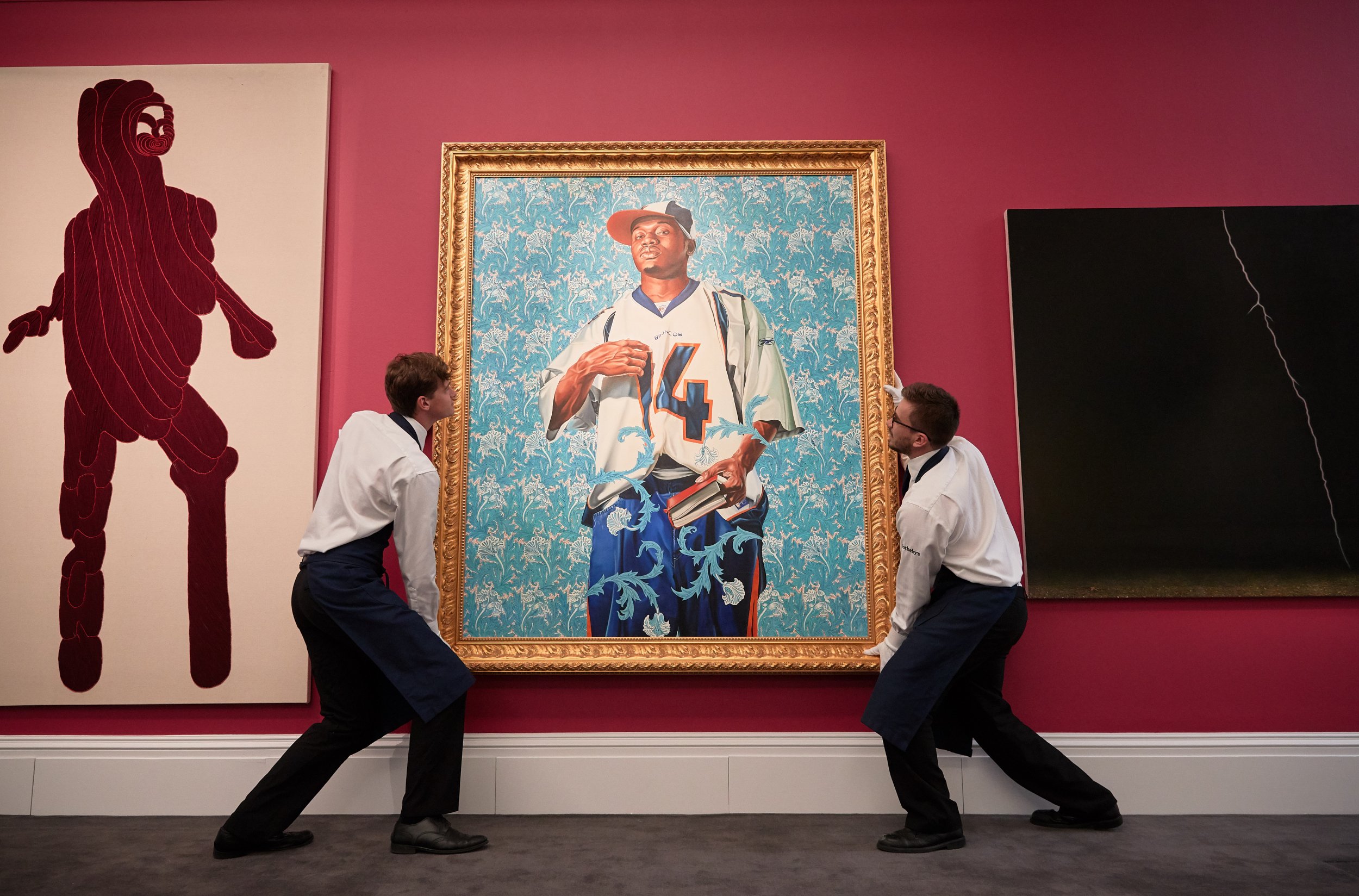 Barack and Michelle Obama could get the royal treatment for their presidential portraits. The former president and first lady, known for opening the White House doors to black artists, have chosen stereotype-breaking painters Kehinde Wiley and Amy Sherald to paint their likeness.
Wiley, known for his larger than life paintings of black men in hip hop gear posing like European royalty, will paint the former president, and Sherald, who paints her black subjects with her signature greyish, blue hues, will portray the former first lady. Both paintings will be revealed at the National Portrait Gallery next year.
"Both have achieved enormous success as artists, but even more, they make art that reflects the power and potential of portraiture in the 21st century," Kim Sajet, director of the National Portrait Gallery, said in a statement.
It is unclear how Wiley will pose the former president given that he has painted black men on horses, holding swords and laying on bed sheets. In one painting, a subject dons a camouflage outfit and Timberlands while sitting, Napoleon-like, atop a stallion — with a backdrop that includes tiny sperm cells.
The Obamas have honored many black artists, including Smokey Robinson, Stevie Wonder and Cicely Tyson, so it's not surprising that the former president would choose Wiley, who has painted such stars as LL Cool J and Biggie Smalls, to immortalize his presidency.
Wiley plucks his subjects off the street from New York to Haiti and paints them in backgrounds reminiscent of African fabrics, which play into his Nigerian heritage.
Like Wiley, Sherald, a Baltimore artist, paints ordinary people but with a twist. Her images of black men and women looking stoically are captioned with "Welfare Queen" or "Miss Everything (Unsuppressed Deliverance)" and depicted with colorful backgrounds. Sherald was awarded the National Portrait Gallery's prestigious Outwin Boochever Portrait Competition, making her the first woman to win.
Wiley and Sherald's paintings are sure to bring a vibrant touch to the gallery's exhibition of past presidential portraits. After each presidency, the gallery now collaborates with artists to paint the former presidents and first ladies. The National Gallery portrait tradition first started with George H.W. Bush, whose portrait is a standard take on a man in power.