Obama's Former Defense Secretary Compares Ukraine Conflict to WW II
Former Defense Secretary and CIA Director Leon Panetta compared the ongoing conflict in Ukraine to World War II, saying that the actions taken to respond to the crisis with Russia will show whether the international community has learned how to respond to tyranny and aggression.
"What's at stake is whether we've learned the lessons from World War II—that we can't allow a tyrant to invade a sovereign democracy and get away with it," Panetta, who served in the Obama administration, told MSNBC's Joe Scarborough on Wednesday. "That's the most important lesson we've got to learn at this moment of crisis."
Panetta's comments come a day after the U.S. began imposing new sanctions against Russia. President Joe Biden stressed that Russian President Vladimir Putin has "directly attacked Ukraine's right to exist" and that the unfolding situation amounted to "the beginning of a Russia invasion." Coordinating with NATO allies, he said that in response to Russia's formally recognizing the independence of two separatist regions in eastern Ukraine, its government would be cut off from international financing.
The move is in stark contrast to the position taken by some top Republicans, like former President Donald Trump and his former secretary of state, Mike Pompeo, who have praised Putin in recent days.
On Tuesday, Trump called Putin's latest recognition of the Russia-backed separatist regions as "genius" and "pretty savvy"—comments the White House was quick to slam.
"As a matter of policy, we try not to take advice from anyone who praises President Putin and his military strategy, which I believe is what happened there," White House press secretary Jen Psaki said on Tuesday evening.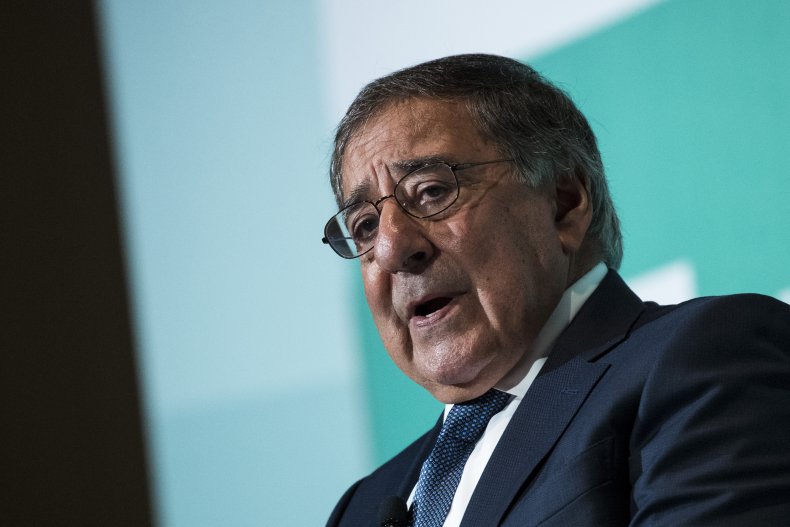 On Wednesday, Panetta stressed that the world is at a "dangerous point," but it is also a "pivotal point in terms of determining what happens in the 21st century...in this conflict between democracy and autocracy."
"I've always felt very strongly that the American people—as much as we detest war—recognize that we cannot allow a bully and a tyrant to be able to suddenly take over sovereign democracies," he said. "That was the lesson that came out of World War II: that if you don't stop a tyrant now, that ultimately you will have to face him later."
Panetta also warned that Putin has always prioritized weakening the U.S. by doing "everything possible to try and cripple our democracy." He added that this was a critical moment for the NATO allies to show "a strong and unified force" that is opposed to the Russian president's actions.