Obama's Money Worries: The Republican SuperPac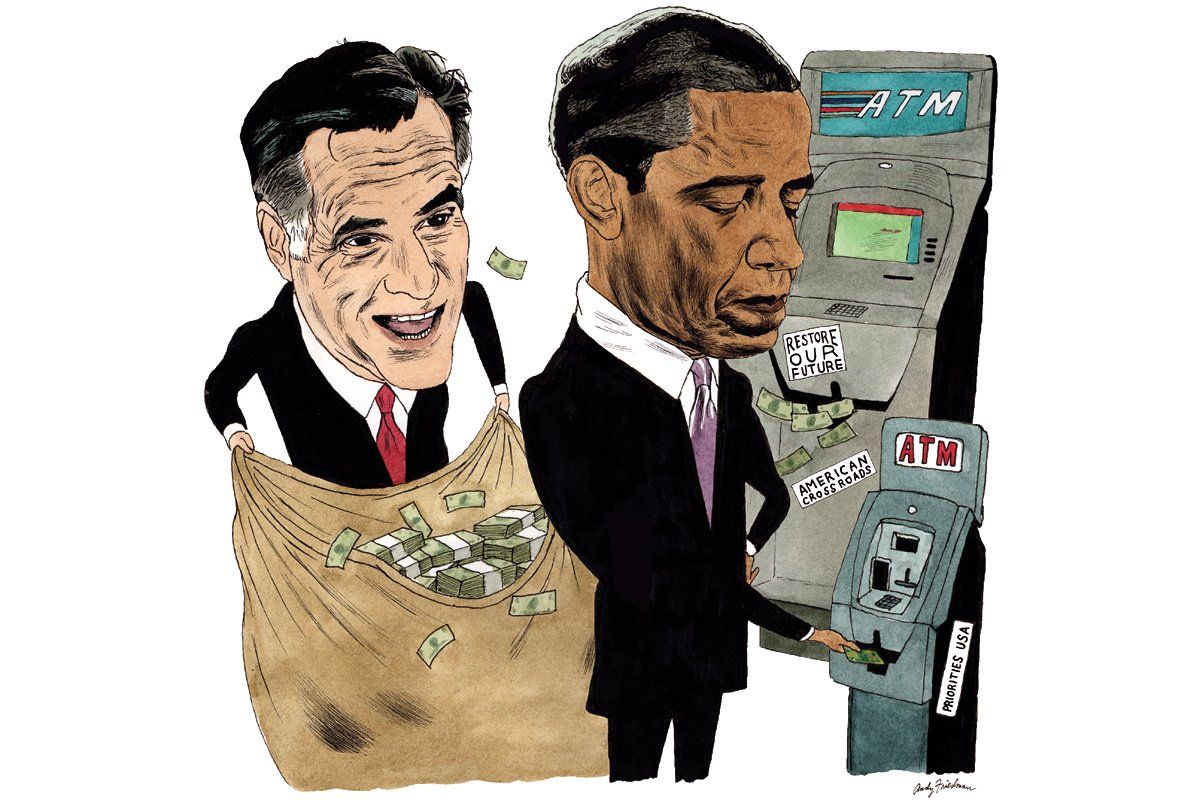 David Axelrod was feeling upbeat. Over an oatmeal breakfast late last month with an old friend at one of his favorite Chicago haunts, the talk was mostly about family and Axelrod's beloved Bulls. The conversation turned to the campaign. He said he liked the way "the argument was being framed" against Mitt Romney, recalls Chris Sautter, a longtime Democratic strategist, who worked on campaigns with Axelrod in the late '80s and '90s. A few days before, The Washington Post had published an explosive story about how, under Romney's stewardship, Bain Capital had invested in companies that shipped American jobs overseas. It was just what the Obama team needed as it sought to transform Romney's image from a can-do businessman who would turn around the economy into Gordon Gekko, a rapacious capitalist more interested in profits than creating jobs. Armed with stinging soundbites and a raft of ad copy aimed at painting Romney as an avatar of the 1 percent, the president's top political strategist left straight from breakfast to hop a flight to Iowa, where he would join Vice President Joe Biden on the trail.
But by nightfall, a little anxiety had crept in. Axelrod had wandered down to the bar of the Waterloo Ramada Inn to have a drink with one of Biden's top political strategists, Mike Donilon. Peering over Donilon's shoulder at a large TV set, he watched an ominous cascade of attack ads—the vast majority of them aimed at his boss. The torrent—largely funded by super PACs, the newly minted vehicles for unlimited independent spending born of the Supreme Court's Citizens United ruling—seemed out of season. "Holy smokes! Is this June or mid-October?" Axelrod asked Donilon, astonished by the onslaught this early in the cycle. "The volume of ads was unreal," Axelrod later said in an interview with Newsweek, "and it's only going to get worse."
A lot worse, especially for Democrats, if current fundraising patterns continue as expected. Iowa and about a dozen other battleground states have never experienced a barrage of negative advertising quite like this. Republican super PACs aligned with Romney have raised four times as much money as those supporting Obama, according to a new analysis by The Boston Globe. Some predict that imbalance will grow even further as Election Day looms. Conservative casino magnate Sheldon Adelson recently gave $10 million to the pro-Romney super PAC Restore Our Future, and in a recent interview with Forbes pledged to spend $100 million to defeat Obama.
Meanwhile, Texas billionaire Harold Simmons and his wife, Annette, have shelled out close to $20 million to a variety of GOP super PACs. No Democrat has played in the same league. DreamWorks CEO Jeffrey Katzenberg has come closest with $2.3 million in contributions to two Democratic super PACs. Priorities USA Action, the most significant pro-Obama super PAC, raised $4 million in May, its largest haul so far (and officials there say June will be considerably better). It now has amassed a total of $40 million with $20 million on hand. But Axelrod concedes it seems unlikely that Democrats will close the gap. "One thing I can tell you with utter certainty is that we will be outspent this election," he says.
And the president himself may bear some of the blame.
Barack Obama is widely seen as his team's steady hand, with a preternatural ability to resist the emotional highs and lows of campaigns. Axelrod in the interview said that characteristic reminded him of Michael Jordan, an uncommonly cool athlete under even the most intense pressure. But he is not a natural at the glad-handing rituals of Washington politics. And he doesn't much seem to relish the job of raising money. Listen to some of the leaders of the Democratic Party, and they sound downright incensed over the treatment they receive from their standard-bearer. They feel neglected, ignored.
"Obama is weak on the business of the White House," says one senior House Democrat, who asked not to be named. "He doesn't woo members or schmooze them, and his staff doesn't invite people to the White House." This disaffected Democrat describes Obama as "more constitutional law professor than politician," adding, "he doesn't smooth people or cuddle up to them. He sort of treats politics like changing diapers."
That dynamic filters down into donor maintenance—the careful care and feeding of big-dollar, big-ego Democrats Obama needs now more than ever. A generation of the party's largest spenders, spoiled by years of Bill Clinton's tender ministrations, are feeling left out at a dangerous juncture.
"The fact is the president doesn't build personal bonds the way other politicians do," says one mega-bundler who recently hosted a fundraising dinner for Obama. "It's just not the way he's wired." One Clinton ally likes to point out that Bill seldom went golfing without taking along a partner he could pump for intel—or a check. Obama tends to hit the links with a couple of longtime aides or close friends—using the outing as a release from the pressures of the job rather than an opportunity to shake the money tree.
One of the party's most prominent donors underscored how the Clintons were far more attentive to him than Obama, whom he is backing. After holding a 2008 fundraiser for Hillary, he noted, he received a gift tea set and note from her, then a personal phone call. It was "maybe an inexpensive, maybe $40 tea set," he says, but along with the call reflected a level of attention he now finds lacking. This donor does not fault the president himself for not being more personally involved. What's galling, he says, is poor staff; a lack of follow-up and insufficient stroking of egos, such as invitations to social and other events at the White House.
Lately the president has taken pains to try to warm the wallets up. He's done high-profile fundraisers with the likes of George Clooney and Sarah Jessica Parker. And last week, the public got a rare glimpse of Obama sweating when a recording of an Air Force One fundraising plea leaked to The Daily Beast's Lloyd Grove. Striking a tone of urgency, a clearly concerned—if not panicky—fundraiser-in- chief warned that he could be the "first sitting president in modern history to be outspent in his reelection campaign." He admonished his supporters not to end up "surprised ... that a couple of billionaires wrote $20 million checks and have bought all the TV time and we find ourselves flat-footed in September or October."
Axelrod characterizes Obama's tone as "motivational," but said it reflected a realistic assessment of the money stakes. "If you had asked me six months ago what I was most worried about, I would have said Europe and super PACs, and I haven't changed my thinking about that at all," says Axelrod. "We have the better candidate, the better message, and the better campaign. But there are certain externalities that we can't control, and those are the two big ones."
It's an odd place to be for a campaign that smashed all previous fundraising records with its $750 million haul in 2008. Obama's prodigious machine was built on grassroots fervor, pioneering use of Web and social-media techniques, and even some Wall Street types not accustomed to giving to Democrats who got caught up in the historic nature of his campaign.
Ironically Obama's fundraising prowess back then set up expectations that his reelection campaign would once again be a moneymaking juggernaut. As far back as last year the Obama campaign had to aggressively push back against a stream of news stories proclaiming Obama the "billion-dollar man." The campaign even cut an ad that was intended, in part, to undercut the fundraising meme. "People have speculated that this was a billion-dollar campaign," Obama for America campaign manager Jim Messina told supporters last December. "That's bulls--t," Messina said with a slight shake of his head.
If Obama's team wants to get anywhere near that number, they'll have to overcome a number of hurdles beyond their candidate's talents at the till.
For starters, it's the economy, stupid; amid recession, getting folks to pony up can be a harder proposition. Obama has had four long years since arriving at the White House covered in pixie dust; familiarity, in today's polarized political climate, has a tendency to breed contempt. There is simply a much smaller wellspring of wealthy Democrats who can afford to write seven-figure checks for political causes. Then there is the commonly cited proposition that many liberals are philosophically opposed to super PACs, which they contend are already having an insidious, corrupting impact on electoral politics. "We hate big money—even our own," says former Clinton aide Paul Begala, an adviser to USA Priorities Action (and a contributor to Newsweek and The Daily Beast). "I have had more donors than you can imagine tell me they are morally opposed to super PACs." Those sentiments were underscored by Obama himself, who passionately opposed the Supreme Court's 2010 Citizens United decision, which unleashed the current deluge of unlimited campaign spending.
"It's hard to pass the plate among Democrats when the pastors have been lecturing about the evils of super PACs," notes Robert Zimmerman, a New York public-relations executive and Democratic fundraiser.
Christie Hefner, former CEO of Playboy Enterprises and a big Obama supporter, discussed that dynamic at the Aspen Institute Ideas Festival last week. "I have believed for a long time in public financing of campaigns," she says. "Nevertheless, just as candidate Obama eschewed public financing in the last presidential election, believing that to win he needed to raise the maximum possible amount of money, and just as George Soros contributed large sums in the past to electing Democrats, I believe that wealthy Democratic donors in this election should strongly consider the stakes before declining to support progressive super PACs." To date Hefner has not herself donated to a super PAC.
Obama's rocky relationship with Wall Street also figures in; by blasting bank brass as "fat cats," faulting them for their bonuses, and calling for greater regulation, the Democratic incumbent has given Romney's team a big opening where the pockets run deepest.
Despite those hurdles, there are signs that things are looking up. A story last month in The Wall Street Journal reported that Obama and the Democratic National Committee had pulled in more than $14 million from the securities and investment worlds through April—less than they'd raised at a comparable stage in 2008, but more than the press coverage might suggest. What's more, Obama's decision to speak out in favor of same-sex marriage helped spur fundraising from the gay and lesbian community. And Obama campaign aides point out that while press attention has focused heavily on the high-dollar big-ad buys, their team has been quietly building a sophisticated ground game that will help see them through the downpour of Republican cash.
Obama's team knows that there will be many more ups and downs before the vote in November. They know, too, that money follows a winner; if his approval ratings stay higher than Romney's and the jobs numbers don't tank, even the loudest grumblers among Democratic donors will get aboard.
Axelrod, who along with Valerie Jarrett, has been on the receiving end of complaints from frustrated supporters, gently pushes back, perhaps stifling a bit of exasperation at such tender egos. "I'm sure they're aware the president has been wrestling with some tough challenges that's required a bunch of his time," he says. "Is it a fair critique that he'd rather spend an evening with his family than at a fundraising event?" he asks. "That's probably true. He doesn't have an aversion to it but nor does he wake up every morning eager to go out and raise money."
He might need to start. On Friday, just hours after the new, static jobs numbers were released, a Karl Rove–backed Super PAC announced it was unleashing a new $25 million ad campaign, bombarding Obama in nine battleground states.
With additional reporting by James Warren and Eleanor Clift