Obama's New Effort to Curb the Spread of HIV/AIDS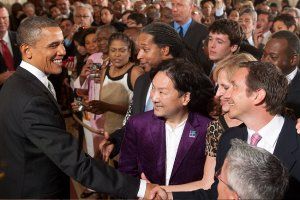 Preventing people from contracting HIV, one of the biggest obstacles in the fight against AIDS in America, is getting renewed attention from the Obama administration. On the same day that Bill Gates called for more funding and stronger leadership to combat HIV/AIDS, President Obama, in a move activists dubbed "significant," outlined a national strategy that's meant to be more comprehensive than previous measures and announced the allocation of $30 million to drive the effort.
This is not the first time this administration has tackled HIV/AIDS. Last year the government budgeted $45 million over five years to highlight the alarming rate of infection in the U.S. and to refocus attention on the issue. But that plan, called Act Against AIDS, didn't address prevention, which activists regard as essential in any anti-AIDS campaign. "We've had a broken model that doesn't fund prevention, but treatment alone," says Nancy Mahon, executive director of the MAC AIDS Fund and among those involved in discussions leading up to formulation of the new policy, which was announced by Obama on Tuesday in the East Room of the White House and spelled out in a presidential memorandum.
The policy builds on previous efforts by making a stronger attempt to tie together many levels of state, federal, and private cooperation. It will focus specifically on gay and bisexual men, black men and women, male and female Hispanics, and substance abusers. It aims, by 2015, to reduce the number of infections by 25 percent, decrease the number of people living with HIV by 30 percent, and increase the number of people aware of their positive status from 79 percent to 90 percent. "Reducing new HIV infections; improving care for people living with HIV/AIDS; narrowing health disparities—these are the central goals of our national strategy," Obama said.
How those goals will be accomplished is not yet clear: Obama tasked all agencies involved—the departments of Health and Human Services, Justice, Labor, Housing and Urban Development, and Veterans Affairs, along with and the Social Security Administration—to submit a report to the Office of National AIDS Policy and the Office of Management and Budget within 150 days of the presidential memo, detailing their plans for implementing the strategy. Obama also called for more private-public partnerships like the one between Washington, D.C., and the MAC AIDS fund to distribute free female condoms around the city. He did not elaborate on how such partnerships should be achieved, but Mahon says she's buoyed by the announcement, particularly because of the emphasis on prevention and the tangible targets and goals set by the president, which she said represents significant progress. "Could they have given $60 million instead of $30 million? Sure," she says. But overall, Obama "has shown more leadership than all presidents combined on the domestic front" in combating HIV/AIDS, she adds.
The president's announcement followed a speech by Gates, whose Bill and Melinda Gates Foundation helps raise and invest billions of dollars every year to fight HIV/AIDS, which called for greater funding and better prevention strategies. Speaking to an audience via teleconference, Gates said the global recession should not be allowed to hinder practices that have worked, noting that HIV-infection rates have declined 17 percent since 2001. "There are countries that despite the economic challenges they face are being quite generous both on a relative and absolute basis and substantially the biggest funder is the U.S. with the PEPFAR program," Gates said, referring to America's international HIV/AIDS strategy. "We should highlight the cases where governments are doing the right things and hopefully draw others in to do the same."
Gates's remarks were a preview of the keynote address he will deliver at the International AIDS Conference, which kicks off Sunday in Vienna.
Obama's New Effort to Curb the Spread of HIV/AIDS | U.S.