Obama's Proposed Ban on 'Green Tip' Bullets Misfires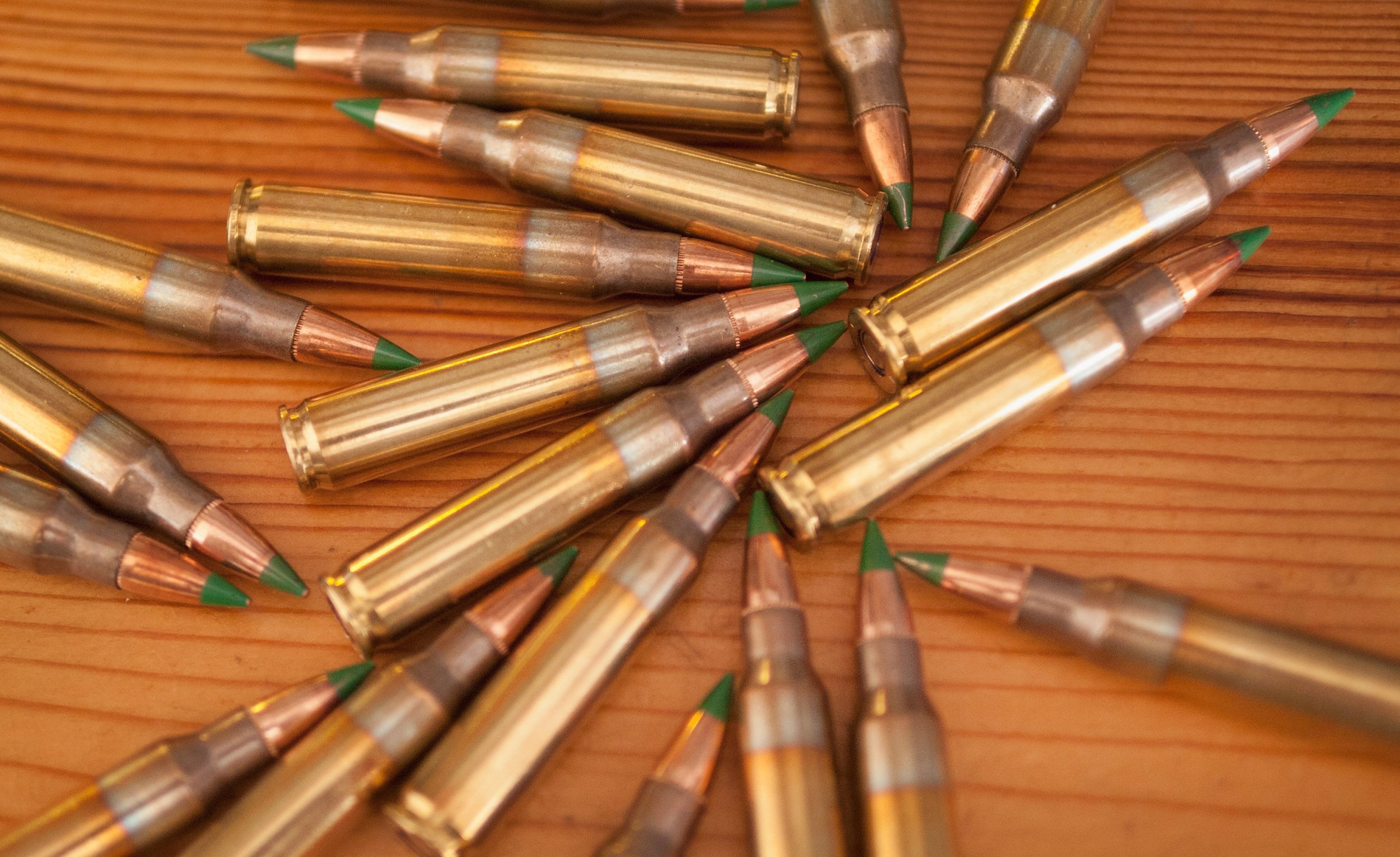 The Obama administration is reconsidering its proposal to ban a popular type of rifle bullet—named for their distinctive green tips—after gun owners, lobbyists and members of Congress opposed the ban, the Bureau of Alcohol, Tobacco, Firearms and Explosives (ATF) said on Tuesday.
At issue is whether green tips qualify as armor-piercing ammunition, and if so, whether the ATF should revoke a 30-year-old regulatory exemption for the rounds based on their popularity in shooting sports.
The ban would have come under a new framework for interpreting the so-called sporting exemption for armor-piercing ammunition contained in the Law Enforcement Officer Protection Act (LEOPA) of 1986. The law makes the import, distribution and manufacture of armor-piercing ammunition illegal unless "primarily intended for sporting purposes." But the ATF and gun rights advocates disagreed over whether green tips qualify as armor-piercing.
Both groups say green tips are capable of piercing the light body armor typically worn by police. But that alone doesn't qualify them as armor-piercing under 1986 measure. Rather, the statute defines armor-piercing projectiles as those "which may be used in a handgun" and which are constructed from "one or a combination of" tungsten alloys, steel, iron, brass, bronze, beryllium copper or depleted uranium. Green tips, made primarily of lead and fitted with a steel "penetrator" head, do not qualify as armor-piercing under the statute, gun rights advocates said. But the question has never been resolved legally because the ATF granted green tips an exemption in 1986 based on their widespread use in shooting sports.
Now, the Obama administration wants that exemption revoked. Under the ATF's new framework, green tips would be banned because the proliferation of so-called "AR-type handguns"—fully automatic pistol-sized weapons capable of firing rifle rounds—means green tips are now effectively handgun bullets and should be subject to regulation. "These AR-type handguns were not commercially available when the armor piercing ammunition exemption was granted in 1986," the ATF said.
But gun rights advocates argue that just because these handguns exist does not mean that green tips aren't primarily used for sporting purposes. "Anybody can take any particular cartridge or caliber and build a handgun around it," says Mike Bazinet, public affairs director of the National Shooting Sports Foundation. He claims no member of law enforcement has ever been injured by a handgun firing green tips.
At least 238 members of the House of Representatives agreed. They signed a letter to the ATF that expressed "serious concerns" that the new ban would interfere with Second Amendment rights. "The idea that Congress intended LEOPA to ban one of the preeminent rifle cartridges in use by Americans for legitimate purposes is preposterous," wrote Bob Goodlatte, the chairman of the House Judiciary Committee and the author of the letter. The ATF also received a separate letter, signed by 52 senators, which said, "ATF should not propose to ban….any widely used form of ammunition used by law-abiding citizens for lawful purposes."
The proposal also received more than 80,000 comments from the general public, most of them critical, the ATF said.
Many observers, including Robert Cotroll, a professor of law at George Washington University and expert on gun laws, believe the ban was "a backdoor way of trying to limit public access to the AR-15," a popular rifle based on the military's M-16 design. Since the 2012 Newtown massacre, President Barack Obama has pushed for stronger gun control, including a ban on assault weapons, without success. Now, his latest attempt appears to have foundered as well.