Barack Obama's West Bank Strongman: Mahmoud Abbas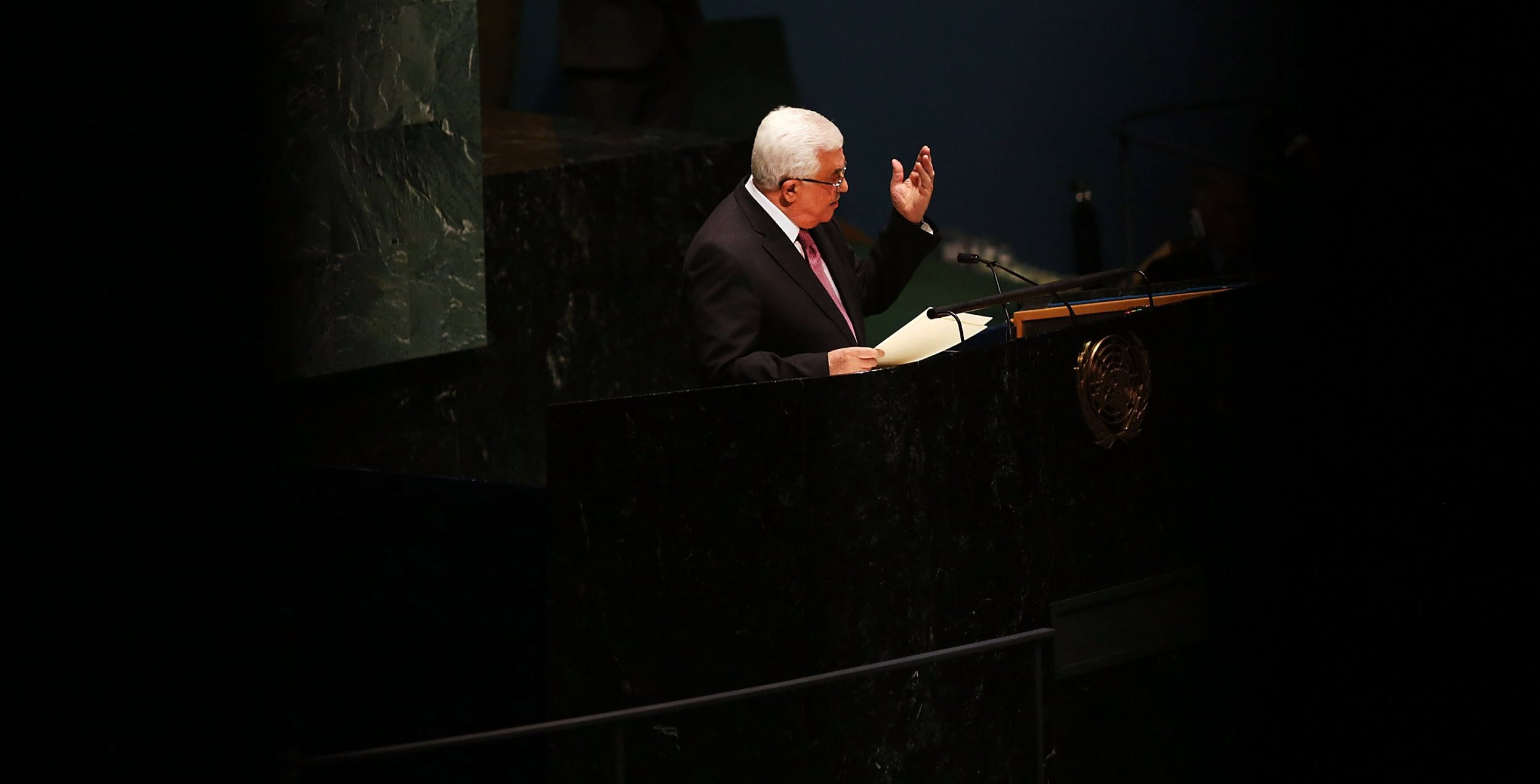 Amid all the preparations for a French-led conference on Israeli-Palestinian peace in the next year, Western officials continue to turn a blind eye to the increasingly autocratic tendencies of Palestinian leader Mahmoud Abbas.
In the past year alone, Abbas has cracked down on journalists, teachers, and political rivals without serious rebuke from Europe or the U.S. Indeed, Western leaders have only two apparent demands for the Palestinian leader: continue to maintain security coordination with Israel, and pay lip service to the moribund peace process. So long as Abbas continues to check these boxes—and his recent interview on Israeli television confirmed he would—his Western flank is secure.
Abbas knows this all too well. Since the collapse of the U.S.-led peace negotiations in 2014, he has tested the limits of Western leniency. As the Obama administration withdrew from the day-to-day slog of Israeli-Palestinian peacemaking, Abbas gradually tightened his hold on Palestinian civil society. He is now 11 years into a four-year term, with no sign of stepping down. And now, he's set up an entirely new judiciary body to reinforce his rule. Earlier this month, Abbas issued a presidential decree forming a Palestinian constitutional court that would, naturally, confirm his own presidential decrees. The nine members of the court are all hand-picked by Abbas.
His rivals say the move was illegal. They allege that the new judiciary body is simply a vehicle to muscle his edicts into law and circumvent a parliament that has been defunct since a political stalemate with the terrorist group Hamas first began in 2006. In bypassing the Palestinian Authority's (PA) parliament, Abbas's rivals say he seeks to ignore the clause in Palestinian law that states power is to go to the speaker of the parliament—currently a member of Hamas—in the event of a sudden vacation of his post. One critic called the move "uspicious" and an attempt to replace one institution with another; a member of Hamas called it an attempt to "liquidate" his political rivals. Their complaints fell on deaf ears: Within days of issuing the decree, Abbas swore in the new judges at the PA's headquarters.
Abbas's critics should know by now that resistance to his rule is futile. When a member of his own Fatah party accused one of his ministers of corruption last month, Abbas issued a warrant for her arrest. The parliamentarian, Najat Abu Bakr, then sought refuge for two weeks in the parliament building until senior party leaders intervened. Similarly, when a member of his own Fatah party challenged him over peace process tactics in 2013, Abbas simply replaced him with his intelligence chief. When the No. 2 official in the Abbas-led Palestine Liberation Organization (PLO) challenged him last summer, Abbas fired him and appointed his long-time peace negotiator Saeb Erekat to the position. When two other political parties in the West Bank—the U.S.-designated terror group Popular Front for the Liberation of Palestine (PFLP) and the Democratic Front for the Liberation of Palestine (DFLP)—challenged him earlier this month, Abbas slashed their funding. And when the governor of Nablus criticized the PA's leadership earlier this week, Abbas fired him.
Political rivals aren't Abbas's only targets. The largest West Bank protest in years occurred in February when approximately 50,000 teachers marched on Ramallah. The protests accompanied a large-scale teacher strike—which shut down classes for months—over the PA's refusal to honor previous agreements between the government and the teacher unions regarding salaries. In an attempt to prevent the teachers from marching on the capital, PA security forces arrested the heads of the union, set up checkpoints to restrict travel to Ramallah, and threatened legal action against the teachers if they didn't return to work. The PA's blatant assault on the protestors caused one prominent Palestinian journalist to write that the PA, "really should not continue to exist."
Meanwhile, a Palestinian watchdog group found that 60 percent of the nearly 200 violations of media freedoms in 2015 occurred in the PA-controlled West Bank as opposed to the Hamas-run Gaza Strip. Since the start of 2016 alone, Abbas's security forces have arrested journalists for reporting on security coordination with Israel, television presenters for criticizing Abbas, and photojournalists for unknown reasons. When a German news channel grilled PA Prime Minister Rami Hamdallah on the dismal state of press freedoms last month, Hamdallah conceded merely that, "mistakes can happen anywhere." Yet it seems "mistakes" are becoming standard practice for Abbas and his camarilla.
Abbas clearly sees a window of opportunity in the last year of Obama's term. The previous two U.S. administrations made pushes for peace in the last year of their terms, but the Obama administration shows little eagerness to seriously reinvest in bilateral talks. This tacit withdrawal from peacemaking is fueling Abbas's consolidation of power at home and his belief that he can further isolate Israel, particularly given Obama's animosity toward Israel Prime Minister Benjamin Netanyahu and the willingness of European allies to support his campaign of "internationalizing" the Palestinian issue. Indeed, Abbas knows that now is the time, as the next American administration might not be so indulgent.
The failure of the U.S. and Europe to address Abbas's autocratic tendencies could have a devastating effect on the long-term prospects for a viable Palestinian state. As one former Bush administration official remarked in 2013, Palestinian self-governance—with free and fair elections—were "a powerful argument that it was time for Israel to stop governing Palestinians." In other words, Abbas's increasingly tyrannical government in the West Bank does not only handicap political expression—it also sets back the very legitimacy of the Palestinian national project.
Grant Rumley is a research fellow at the Foundation for Defense of Democracies.