Uber's Self-driving Trucks Are Already Delivering Goods in Arizona
Ride-hailing app Uber has taken a new step in self-driving car innovation with the introduction of automated trucks available as part of their freight trucking app, Uber Freight.
The shipments will move across the state of Arizona but won't be travelling the entire journey. For the time being, the truck will be driving only along the highways and passing cargo off to human drivers at hubs.
The machines also won't be totally humanless—they will still have an operator in the driver's seat for safety.
"The big step for us recently is that we can plan to haul goods in both directions, using Uber Freight to coordinate load pickups and dropoffs with local truckers," product lead for Uber's self-driving trucks, Alden Woodrow, said to USA Today. "Keeping trucking local allows these drivers to make money while staying closer to home."
Woodrow added that though the company now runs a fleet of the automated trucks, that might not be the business model going forward. "[O]ur desire is to partner," he said.
Related: Guy Blacks Out, Ubers From West Virginia to New Jersey, Racks Up $1,600 Bill
The trucks are part of Uber's Advanced Technologies Group which says it's "committed to creating a new approach to modern transportation," adding, "a large part of that effort is the development of self-driving technology to improve the safety and efficiency of the trucking industry."
According to Uber ATG 70 percent of goods in America are delivered by long-haul trucking. The company said that "consistent patterns and predictable road conditions" of America's highways make them "optimal" for the introduction of self-driving vehicles.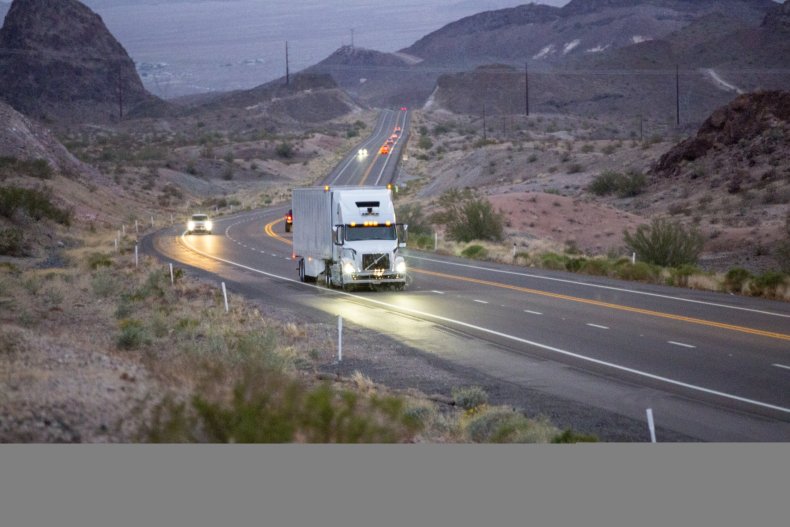 Not much else is known about Uber's self-driving truck routes. The company has not said what they've shipped, with who or how many trucks they are operating. When asked by Newsweek, a spokesperson said they had a "small fleet" and that they could not say exactly what is being hauled but it's "consumer goods."
The trucking technology does come with a somewhat controversial background though after Google's Waymo, who similarly develop self-driving vehicle technology, accused Uber of stealing their technology when they bought a self-driving truck start-up founded by a former Waymo employee.
The two companies later reached a settlement.